With the overwhelming appreciation from our readers for the first part of Quick Tiffin Box recipes, we decided to come up with part 2 – The Instant Tiffin Box Recipes. We had asked for tiffin recipe suggestions from our readers and friends and they had showered with loads of them. So, unfortunately, we can't share all, just a few selected ones that we felt were healthy, nutritious, delicious and quickly prepared.
Special Thanks To
Sayani Ghosh, Gitanjali Nayak and Neha Mittal for sharing their recipes with us and making our post more interesting. A special shout-out to Sayani Ghosh for being our regular supporter and contributor
All-time favourite Pancakes/Uttapam/Hybrid of Uttapam and Gola Ruti, etc.
You must have read about the Pancake recipe shared in our last post. Most of you must be making your own versions. We thought of sharing one more version, just adding to the family of our Bengali Pancakes or Golaruti – a cross/hybrid between the Tamil Rava Uttapam and Bengali vegetarian Gola Ruti.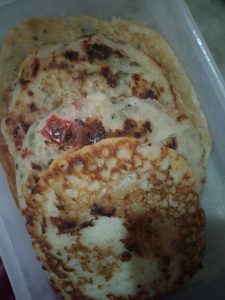 Ingredients
We would just need one cup of Rava or Fine Suji, ½ cup of curd/yoghurt, salt to taste, sliced onions, tomatoes, Curry Leaves and 4 tsp of maida (all-purpose flour). You can also add your choice of finely chopped vegetables if you want.
Preparation
Mix the Suji with the curd and keep it aside for 20 minutes while you chop the vegetables. Add all the ingredients and prepare a batter. Add the maida and check for consistency. Finally, add some water to reduce the thickness if you need it.
Heat the pan well and grease it. Start putting a ladle full of the batter and spread it with the back of the ladle. Cover the pan with a lid. Let the pancake cook in simmer. Keep checking if the lower side has started browning. Flip it to let the other side cook. When both sides are done, pack it inside the tiffin box.
Preparation Time: 20 minutes to ferment and 5 minutes to prepare the pancakes.
Egg Fried Rice
If you have a bowl of left-over rice, you can use it to make egg-fried rice for tiffin the next day.
Ingredients
You will need an egg or two for a medium bowl of cooked rice, chopped onions, beans, capsicums, carrots, tomato ketchup, soya sauce, salt and a pinch of black pepper if needed.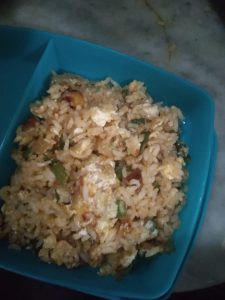 Preparation
Heat 3 tbsp refined oil, add in the chopped onions and let it fry till it's transparent. Add in the other chopped vegetables. Add salt to taste. Fry till the veggies become tender. Now break in the eggs in the pan. Fry till done. If you want more giant clumps of fried eggs, just don't keep stirring. Add in a tbsp of tomato ketchup and a teaspoon of soya sauce. Mix well. Add in the rice. Stir in gently to mix up the rice with the veggies and eggs. Tada!
If veggies are unavailable, onions, eggs, soya sauce, and tomato sauce can do the trick equally well. So, no worries!
Preparation Time: 8-10 minutes
Scrambled Egg/Egg Salad with Toasts
Ingredients
One Egg, one medium-sized potato, onion, salt and pepper.
Preparation
Boil Egg and potato. Cut them into small pieces. In a wok, heat ghee or white oil and add onions. Fry them till brown. Now add the chopped potato and Egg. Add salt and pepper. Mix everything properly and let it fry for a few minutes on medium heat. Serve it with crispy toast.
If you want to make it into a more instant tiffin box recipe – simply make a scrambled egg and add slices of boiled potato, salt and pepper as a variation.
Preparation time: 8-10 minute
Homemade Plum Cakes – All-time Instant Tiffin box recipes
We have shared a simple plum cake recipe in our homemade Christmas cake article – get it here. No, it's not an instant tiffin box recipe. But cakes have a week's shelf life if you store them in a cool place. So, prepare it over the weekend and add it to your kid's tiffin box in the mid-week, when you're nearly drained out of ideas.
Preparation time: If you cook it over the weekend, then it only requires slicing and packing time – no preparation time!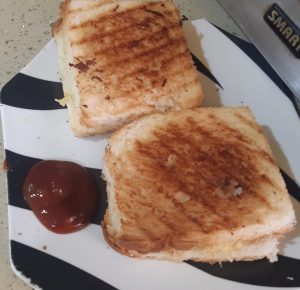 Cheese Sandwich
Another finger-licking yet instant tiffin box recipe that kids love primarily, thanks to the cheese!
Ingredients
All you need is brown bread, cheese, Parsley seasoning & Barbeque seasoning and butter for grilling.
Preparation
Cut off the sides of the bread, and grate a generous amount of cheese on one of the slices. If you are preparing two sandwiches, use a whole cube. Sprinkle some Barbeque seasoning & Parsley seasoning on it. Put the other bread on top. Grease the griller with butter and put the sandwiches in it—grill as per your kid's taste.
Preparation time: You can prepare this tasty dish in 10 mins.
Makhana Chaat
The calcium content in makhana strengthens the bones and teeth of kids and growing babies. And with a few tricks, you can make it tasty too.
Ingredients
Half bowl makhana.
Capsicum, mushroom, boiled
Corn (2 tablespoons each)
Onion (Optional – 2 tablespoons)
Tomato & mayonnaise (1 tablespoon each)
Salt, pepper & oregano as per taste
Preparation
Roast the makhanas in a pan for about 5 minutes on low to medium flame and keep it aside. In another pan, or on
Once the makhana is done, toss the veggies in butter for about 40sec.
Put the veggies and the makhana in a bowl. Then, add the taste enhancers (salt, pepper, oregano) and the mayonnaise. Mix them well.
Pack your kid's tiffin box with the wholesome meal.
Preparation time: 10- 15 minutes. And lesser, if you prepare the veggies the previous night and store them in an air-tight container.
Conclusion
Cooking is an art, and when it comes to preparing school tiffin, this art is put to a real test. We are sure you have some ideas, which all our readers will love to try. And we, the KolkataFusion team, are all ears!