In two of our previous posts, we shared a trivia on the 'Dolma' preparation prevalent in Bengali households and a trick to cook the shortcut of Potoler Dolma (the shortcut trick was shared by one of our mothers.) A few days ago, a simple preparation of Potoler Dolma was made in our house. I instantly decided to share the preparation guideline I followed while cooking this savoury starter dish.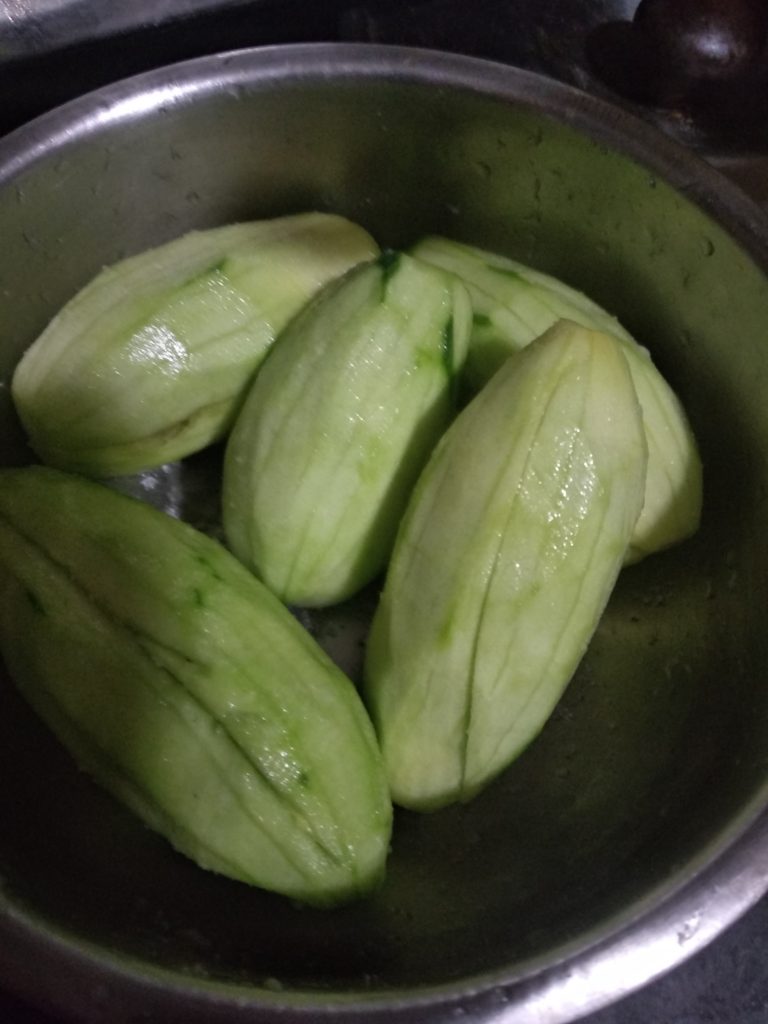 The pointed gourd or Potol has a smooth ability to adapt its flavour to the ingredients and tempered spices it's cooked along. That makes it a perfect choice to be cooked with strictly vegetarian ingredients, or non-vegetarian ingredients. You can experiment a lot with Potol. We, Bengalis, have a wide range of dishes made from this vegetable, right from the starters, through the side dishes and desserts. We make Potol Bhaaja, Potoler Dolma, Potol-Alur Chocchori as starters; Alu Potoler Dom, Potol Chingrir Korma, Doi Shorshe Potol as side accompaniments with hot rice; and Potol Kheer as dessert.
I cooked this Potoler Dolma with homemade chicken keema filling but it can be done with prawns or eggs as fillings or fillings made from grated coconut, cashew paste and posto baata (poppy seed paste). Whichever way you choose to cook, the taste will be equally amazing.
Ingredients for Potoler Dolma Recipe
Preparation
Slit the Pointed Gourds as shown in the below photo.
Scoop out the seeds and the pulps inside them.
After scooping the seeds out, smear some salt on the pointed gourds and keep aside. The salt will help them to become softer.
Throw out the seeds which have become hard and fully formed and take the pulps. If you feel like the pulp part is inadequate, take two or three fresh and unripe pointed gourds with bare minimum seeds. While preparing the filling this time, I had to take two kochi Potols (fresh and unripe Pointed Gourds) for adding up the filling.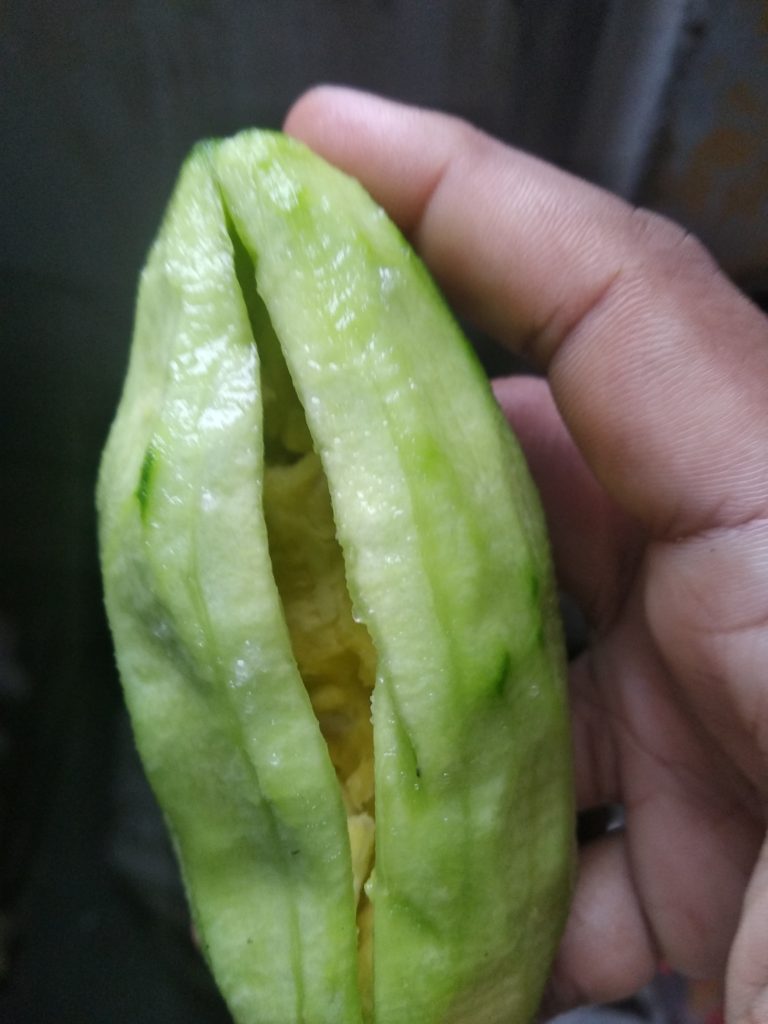 Prepare the Chicken Keema as instructed. In case you have stored it in the refrigerator, bring it outside in order to normalize the temperature.
Chop the onion, garlic and ginger in dices and add to the mixer. Add the Pointed Gourd pulps and unripe seeds too. Mix them to a fine paste. Keep aside.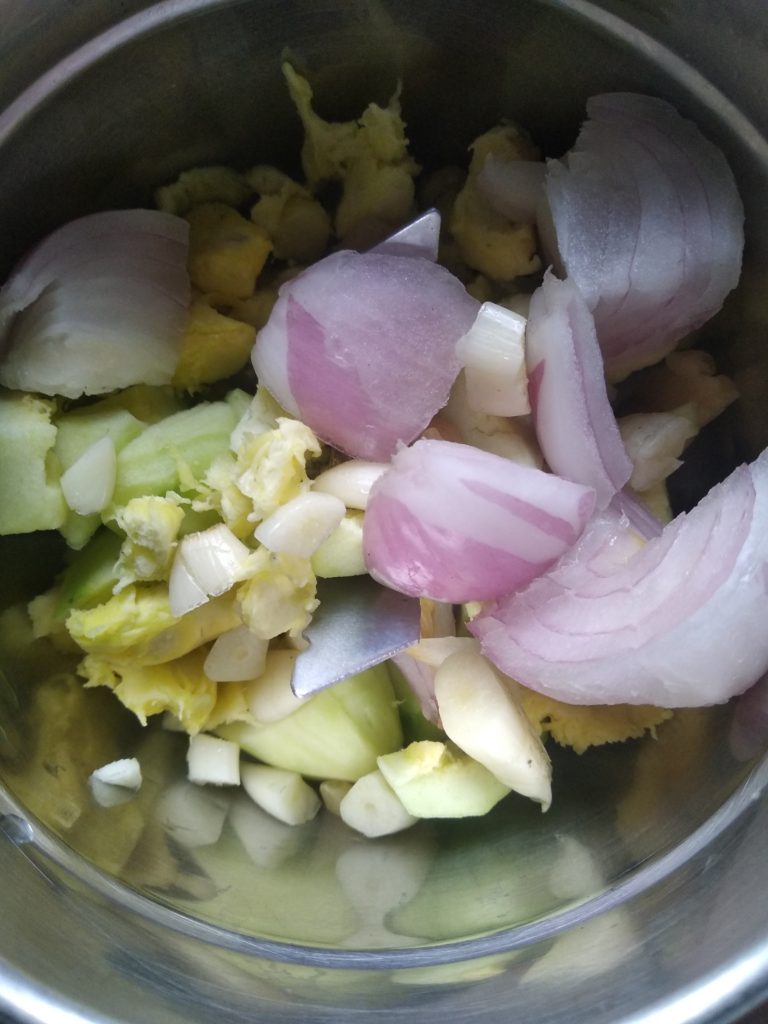 Heat 3 tbsp mustard oil. Fry the pointed gourds till light brown. Keep aside.
In that same oil, add 1 tbsp more oil if required and sauté the pointed gourd pulp, onion, ginger and garlic paste. If you feel like you can add green chilli paste or chilli powder too. I have opted that out because we don't like the hot taste that much.
When the paste starts getting reduced and the oil starts coming out while stirring, mix 5 tbsp chicken keema or according to your requirement. Mix well.
Add a dash of Garam Masala and keep aside the filling for cooling a bit.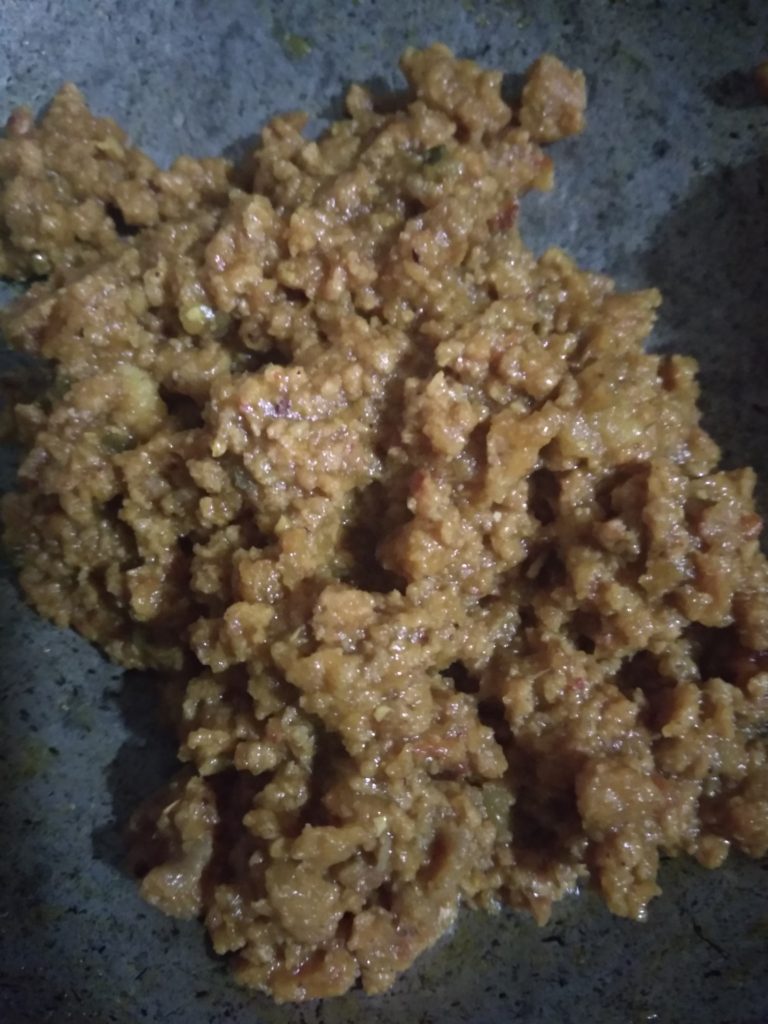 Take the fried pointed gourd shells and fill up the insides with the cooked filling and serve hot.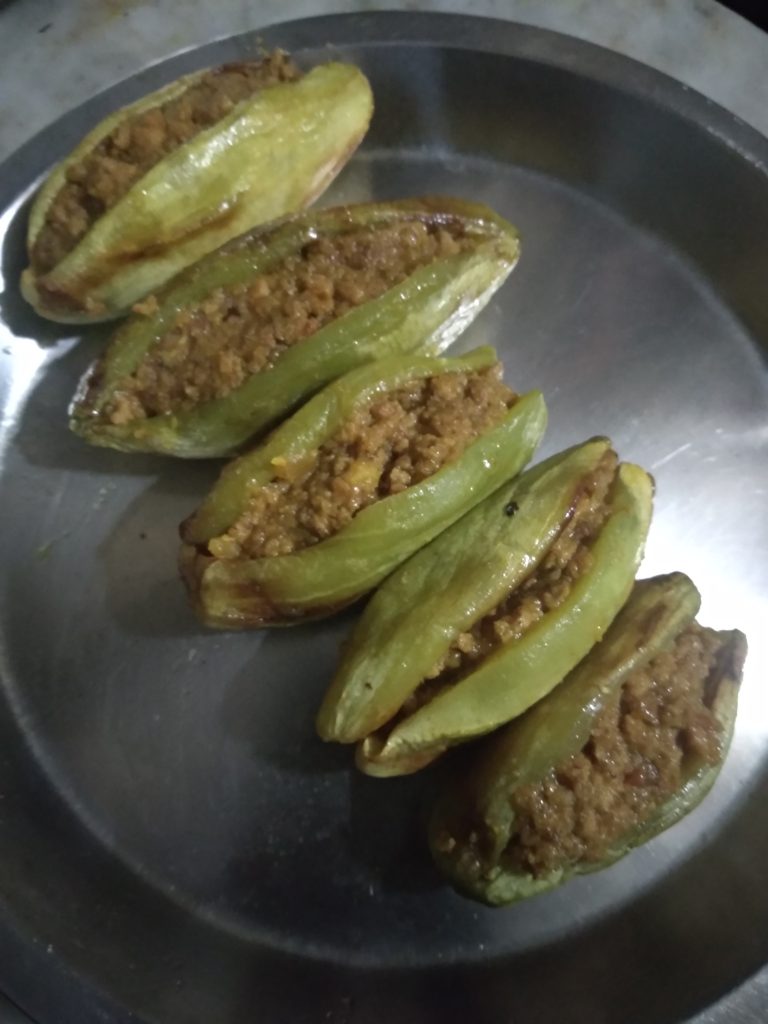 The Potoler Dolma goes best with piping hot rice as starters, but you can also have it alongside Rotis during dinner or as snacks with tea.
Recipe by Parna's Mother In Law, a silent but prominent recipe blogger of KolkataFusion.