-Bhaater Paatey Niramish Enchorer Dalna
Bhaater Paatey is the traditional Bengali term for side courses served with steaming hot rice. Enchor or green jackfruits had been a staple in the Bengali homes since ages. It was often used as a substitute of meat due to the high cost of meats as well as rare availability in the early days. The Enchor is also termed as Gaach Paantha (oxymoron of vegetarian mutton) due to its mutton like taste and nutritional values upon following the proper way of cooking it.
One of the fondest memories of my childhood is to observe my mother processing the green jackfruits picked up from our garden and preparing the delicious curry. In those days when meat was a rare occurrence in our house, this curry served as an able substitute. As irony would have it, the Green jackfruit curry (Enchorer Dalna in Bengali) was the last dish cooked for me by my Maa before she died.
Just a few days ago, I got the opportunity to prepare Enchorer Dalna ; thanks to my husband as he had managed to procure a portion of dressed and chopped Enchor from market. My mind retraced back to my childhood and recollected the recipe my mother followed. I took great care to ensure that the curry tasted same as my mother's preparation. The satisfactory result is the cause I have taken to our blog to write about it.
Preparing the green jackfruit for cooking: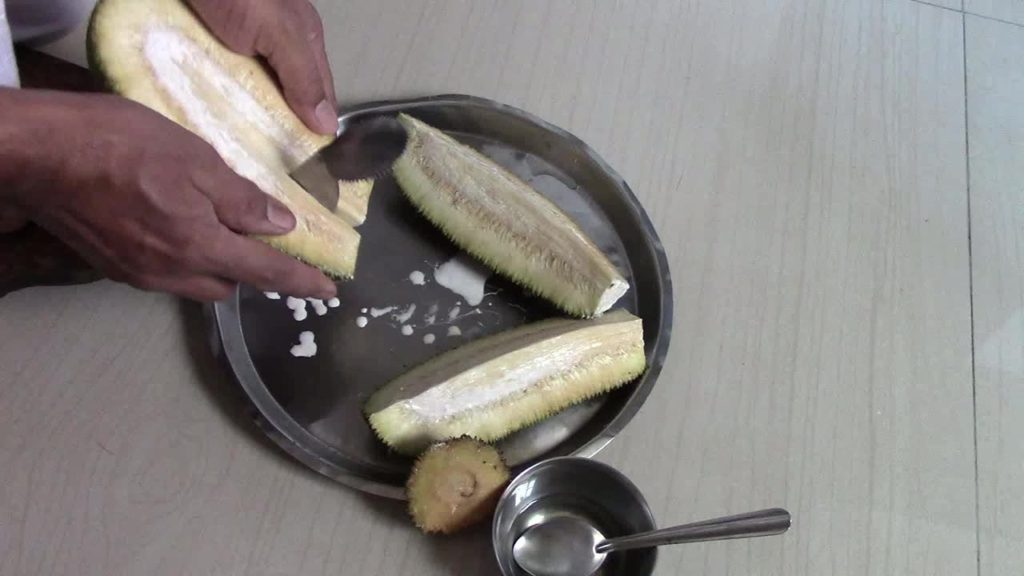 Traditionally, our grandmothers and mothers would sit with a Boti, salt and mustard oil while peeling off the thick pricky skin and chop the jackfruit into medium sized square pieces. Through the process of chopping, they would keep applying salt and mustard oil to their hands to keep off the natural gum from the green jackfruit from getting stuck. But, nowadays, the vegetable sellers in the market take this pain. So, when you would be getting the jackfruit cut, please make sure that they remove the hard layer above the seed part before packing them for you. The hard layer which forms the core of the jackfruit does not get cooked no matter how hard you try.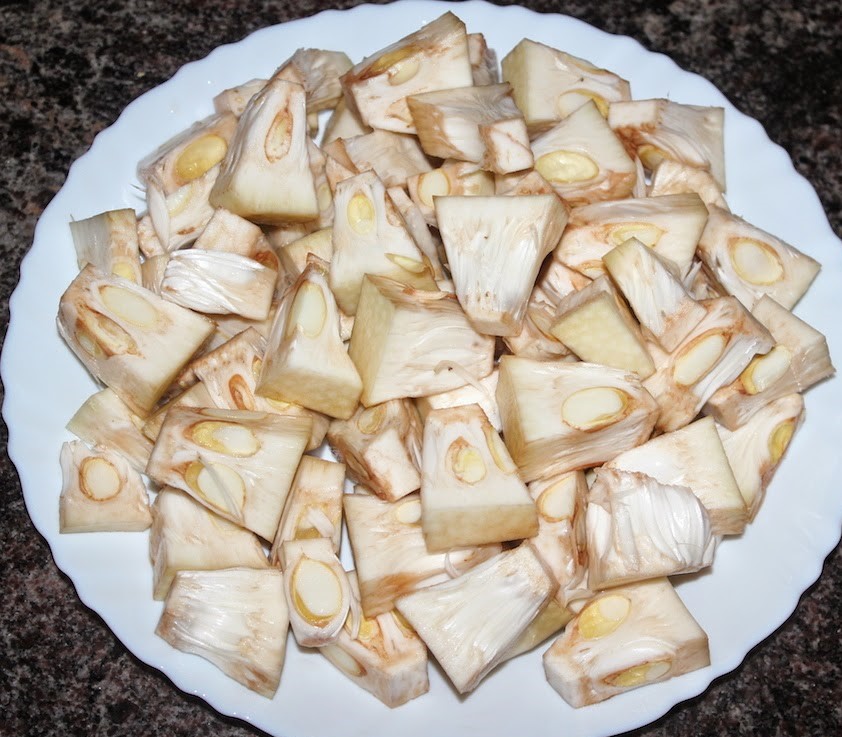 After the chopping part, you need to boil the pieces with some salt, turmeric powder, mustard oil and water in a pressure cooker in a low flame until two whistles. After 5 minutes of standing time, it should be checked whether the jackfruit pieces are 80% boiled, if not, wait until two more whistles.
Related: Check out our Potol Bata recipe for a quick starter.
Enchorer Dalna (Green Jackfruit Curry) Recipe:
Ingredients:
Enchor (Green Jackfruit) – 16 medium sized square pieces (you can take more but accordingly increase the proportion of the other ingredients too)
Potato (adding potato is optional) – 1 medium sized, chopped into medium sized square pieces
Onion – 3 medium; 2 finely chopped, 1 to be added in the gravy paste
Garlic – 5-6 cloves, to be added in the gravy paste
Ginger Paste – 1.5 teaspoons.
Tomato – 1 medium sized.
Green Chillies – 2-3
Red Kashmiri Chilli Powder – 0.5 teaspoon
Garam Masala – a generous pinch
Ghee – a few drops
Mustard Oil – 4 tablespoons
Bay Leaf – 1 large
Salt – Add to taste
Sugar – Add to taste
Water – 1 cup
For the gravy:
Add 1 onion, 5-6 garlic cloves,1 tomato in a grinder and get a smooth paste. Keep it separately.
Procedure:
Heat the mustard oil in a kadhai (heavy bottomed wok) and shallow fry the pieces of Enchor and potatoes till a reddish tinge shows on them. Take them out.
Add the bay leaf and the green chillies and fry till the colour of the chillies change. Take them out and keep separately. Please make sure that you tear off a part of the chillies before frying otherwise the oil can splutter on your face.
Add the finely chopped onion and a little salt to the oil. Fry the onions till golden brown. As the colour of the onions change, add the gravy paste and stir in further. When the oil will start separating, add the ginger paste and continue stirring for a few more minutes.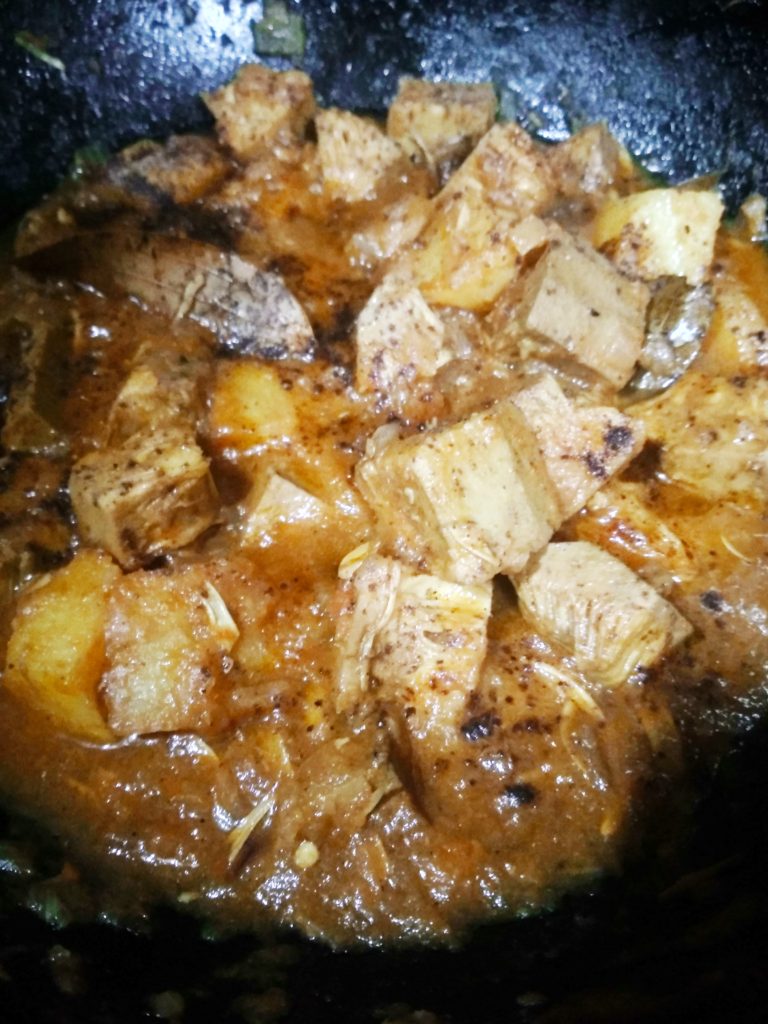 Add the jackfruit pieces, potato pieces, mix well and stir in for a minute. Put water, turmeric powder, red Kashmiri chilli powder and salt. Bring it to boil. The gravy should not be too watery. As the gravy starts to become thicker, check whether the jackfruit and potato pieces are cooked. Add a bit of sugar, garam masala and a few drops of ghee. Stir in gently and put off the flame.
Serve hot with rice after a five-minute standing time. You can also have it with hot rotis.
Expert tip for green jackfruit curry: My Maa always preferred to use garam masala roasted and grounded at home. That's one of the causes why the food prepared by her tasted so delicious!!