Much before I started reading Abanindranath Tagore's stories, I got the chance to see a few of his paintings that Bhaskar Sir, my art teacher showed us while explaining modern Indian Art forms. Later, we read the story 'Shiladitya' as a part of our ICSE curriculum. As far as I remember, I also read his vivid essay on the 'Alpana' or 'Mandala Art' of Bengal, in our Bengali textbook, before reading any of his celebrated literary works. He was a multitalented creator who left a rich legacy behind.
This year as we had observed the 149th Birth Anniversary of the multitalented Abanindranath Tagore, KolkataFusion pays homage to him by retrospecting his life and works.
Abanindranath's growing up years
Abanindranath Tagore belonged to the illustrious Tagore family of Jorasanko, Kolkata. Through familial ties, Rabindranath Tagore was Abanindranath Tagore's uncle. As he began his education, he was admitted to a formal school, but fled the school premises after being punished by his teacher for a wrong reason1. Thereafter, he was homeschooled until he took admission in Sanskrit College. Since a tender age, Abanindranath Tagore showed an affinity towards sketches and paintings. And experimented with his father Gunendranath Tagore's colour box and paintings tools.
It's apt to mention here that Gunendranath Tagore studied Art for a couple of years in the Art School at Bowbazar, which later came to be known as the Government Art College. Abanindranath's grandfather, Girindranath Tagore, was also an excellent painter who painted landscapes and portraits in the European Style2.
There was a time when Abanindranath Tagore's family moved to their garden house in Champdani, where his painting talents shaped up. He painted different birds he saw there and other natural sceneries.
Abanindranath Tagore came back to Jorasanko House after his father died and took admission in Sanskrit College. While studying at Sanskrit College, he composed a hymn on Goddess Saraswati, which was rewarded with first prize. He went ahead and started composing Bengali poems and illustrated those poems with moonlit sceneries or temples etc.
An Italian artist, Signor Gilhardi, taught Abanindranath Tagore the techniques of pastel drawing, life study, foliage drawing and cast drawing. After that, he attended the art studio of Charles Palmer, where he specialized in portrait painting in oils. In the meanwhile, he also studied the calligraphy works of Japanese Painters introduced to him by the Japanese Art Historian, Okakura Kakuzo.
Abanindranath's contribution to the Swadeshi Movement and foundation of Modern Indian Art style and Bengal School of Art
Around the year 1900, Abanindranath visited Monghyr (now called Munger). A change dawned upon him and he gave up oil paintings. In those years, painting in oils was exclusively associated with the European School of Art. He returned to Palmer's studio and got formally trained in watercolour styles.
Thereafter, he returned to Monghyr and started painting landscapes and life studies using watercolour medium.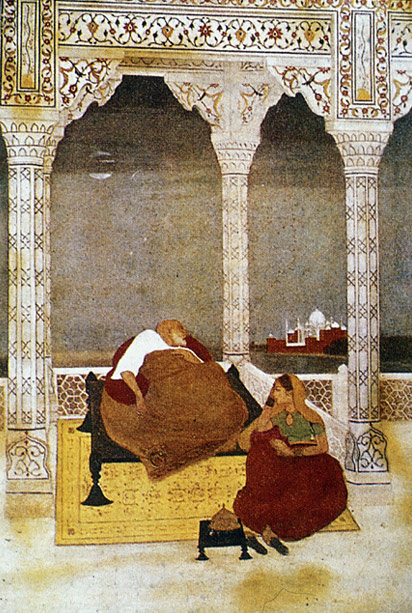 It was around this time; he discovered an illustrated Indo-Persian manuscript in his ancestral library in Jorasanko House. This incident changed him. He forever shunned the European style of painting and started implementing the Persian and Mughal form of art and other traditional Indian styles in his paintings. It was the time of Bengal renaissance. Abanindranath wholeheartedly contributed to the Bengal Renaissance Movement by reviving traditional Indian Art through his works.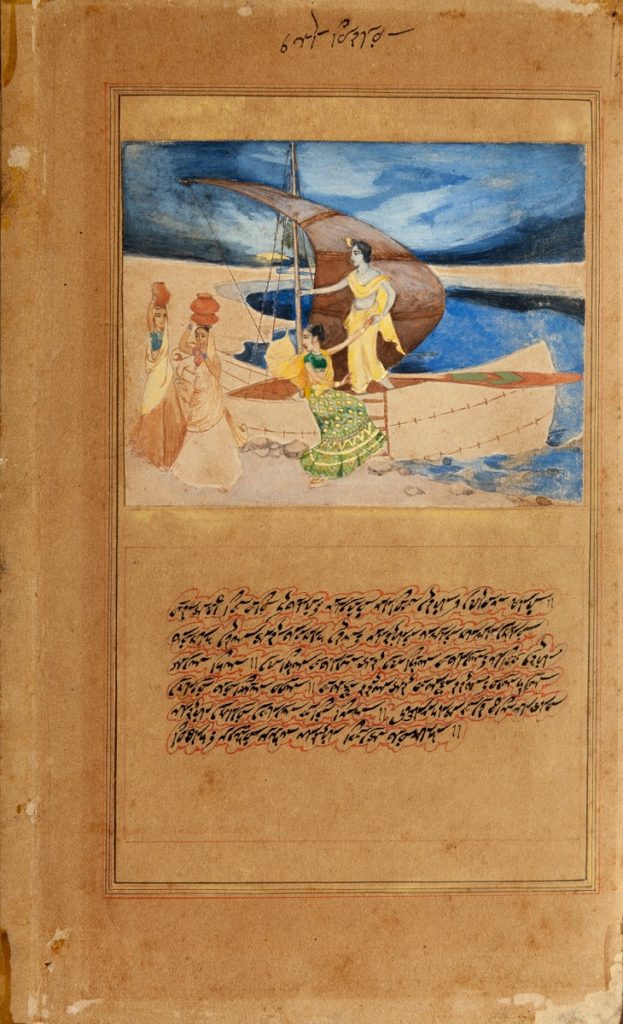 He painted a series on 'Krishna Leela' using the traditional Indian styles fused with the Persian Style of Art. The painted figures got more grace and life, which lacked in the European styles. He painted a picture of 'Bharat Mata' in the way he imagined the true nature of his motherland, India. The painting became one of the iconic identities of the Swadeshi Movement in India. His subjects ranged from Indian history to the then Indian society3.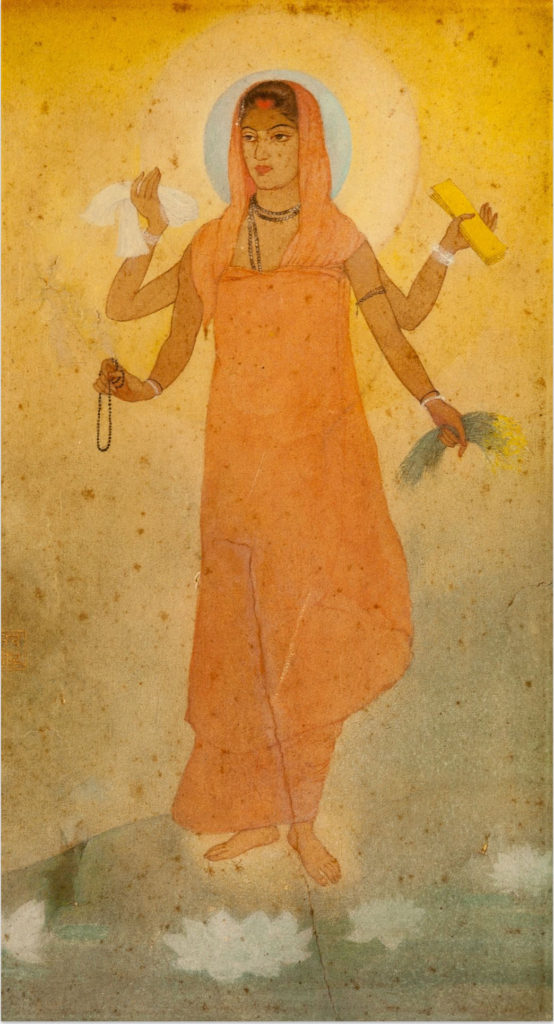 Abanindranath as the writer who painted with his words
Abanindranath Tagore wrote many books for children. The most notable among them are 'Khirer Putul', 'Nalak', 'Shankuntala' and 'Buro Angla'. I am not sure, though, whether his two other famous literary works, 'Raj Kahini' and 'Bhut Patrir Desh' can be tagged as only children's literature because, through these stories, he had left a lasting appeal to the readers of all age groups alike.
If you start reading any of the books written by him, you will realise how beautifully he painted, not merely wrote, the stories with the different adjectives he chose while writing.
Legacy
With the help of his brother, Gaganendranath Tagore, Abanindranath Tagore established the Indian Society of Oriental Art in 1907 – a place that gave birth to the Bengal School of Art, the independent Bengal style of painting.
He taught students like Nandalal Bose, who was entrusted with the responsibility of illustrating our Indian Constitution. If you catch a glimpse of the illustrated Constitution, you will know how beautifully Nandalal Bose had used the styles of Bengal School of Art.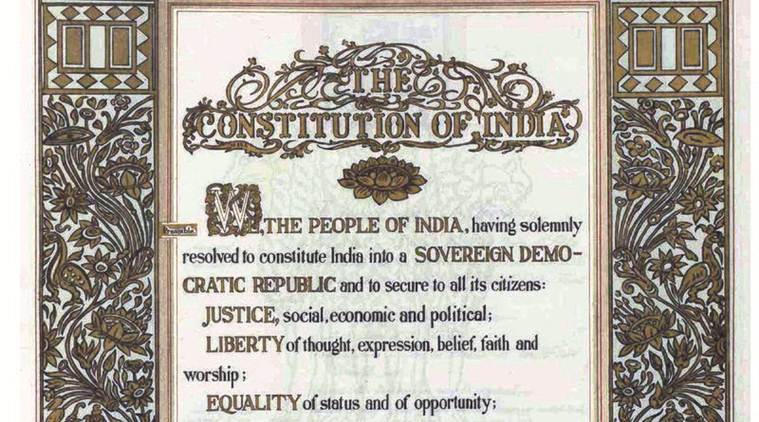 Abanindranath was the founder of Modern Indian Art Style, and inspired the later generations of Indian artists to embrace their own traditional identities and harmonize them with the Asian and European Influences.
Years have passed, but still, Abanindranath's work and legacy continue to live and will live in the times to come.
References:
Mukul Dey Archives: http://www.chitralekha.org/articles/abanindranath-tagore/abanindranath-tagore-survey-master%E2%80%99s-life-and-work
Mukul Dey Archives: http://www.chitralekha.org/articles/abanindranath-tagore/abanindranath-tagore-survey-master%E2%80%99s-life-and-work