The Phirni and Gajar ka Halwa Combo is a treat to look at with their layered bright red and white appearance as well as a pleasure to be relished well after a sumptuous meal of Basanti Pulao, with Kaankrar Jhaal or Chicken Sukka.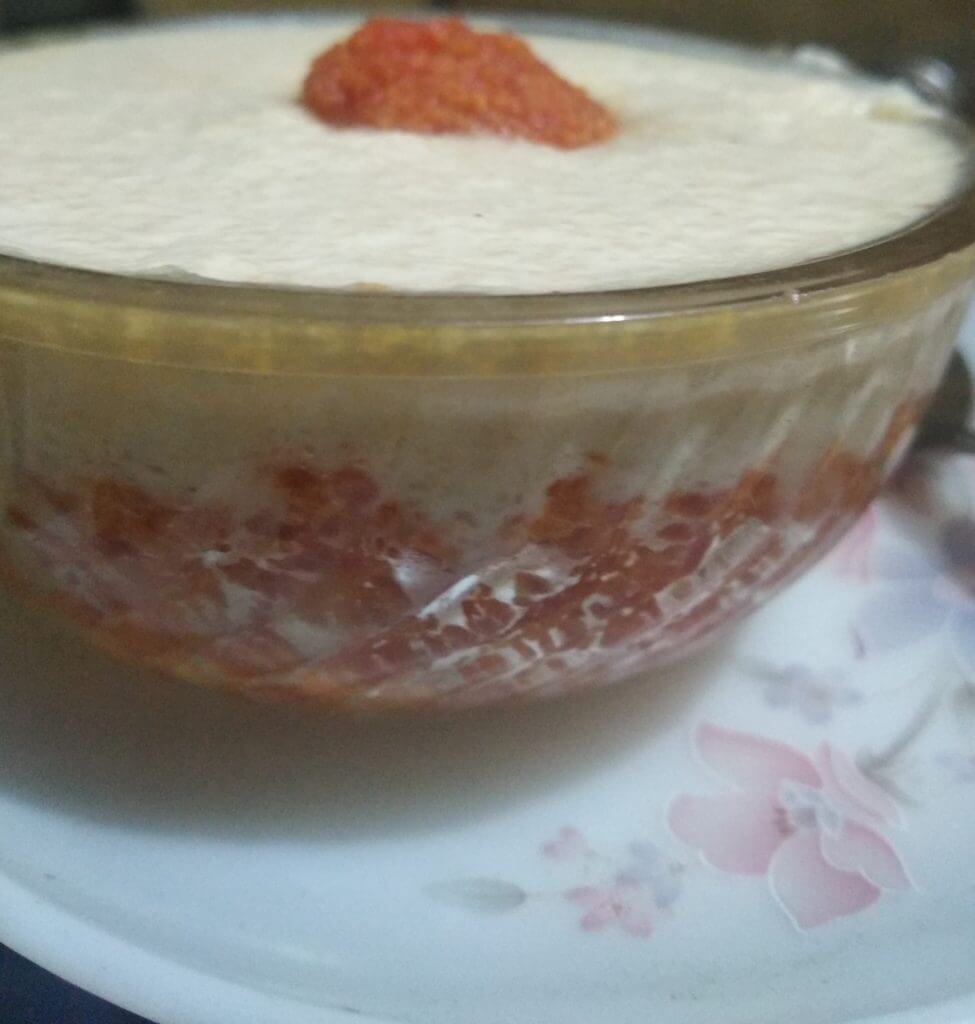 Most of us are still abiding by the social distancing norms. And with the steeping rise in the number of COVID cases, it's safer that way. But, how long can we enjoy the same types of dishes – our taste buds need a change! And those of you who have kids, you have to meet their demands, too and prepare dishes, which are healthy, tasty and UNIQUE.
Today we have brought a recipe that is pretty common yet unique. It's sure to be the most sort after dessert in your homes. And you can also pass it as an evening snack for your kids.
Let's start with the recipe of Phirni
To the Biryani lover Bongs, Phirni is a pretty typical sweet dish after the Kolkata special Biryani is polished off from the plates. The Phirni is again a Mughlai dessert that originated in ancient Persia or somewhere from Central Asia. This royal rice pudding is made rich with reduced creamy layers of milk, ground Basmati rice, sweeteners, crushed pistachios and cashew nuts.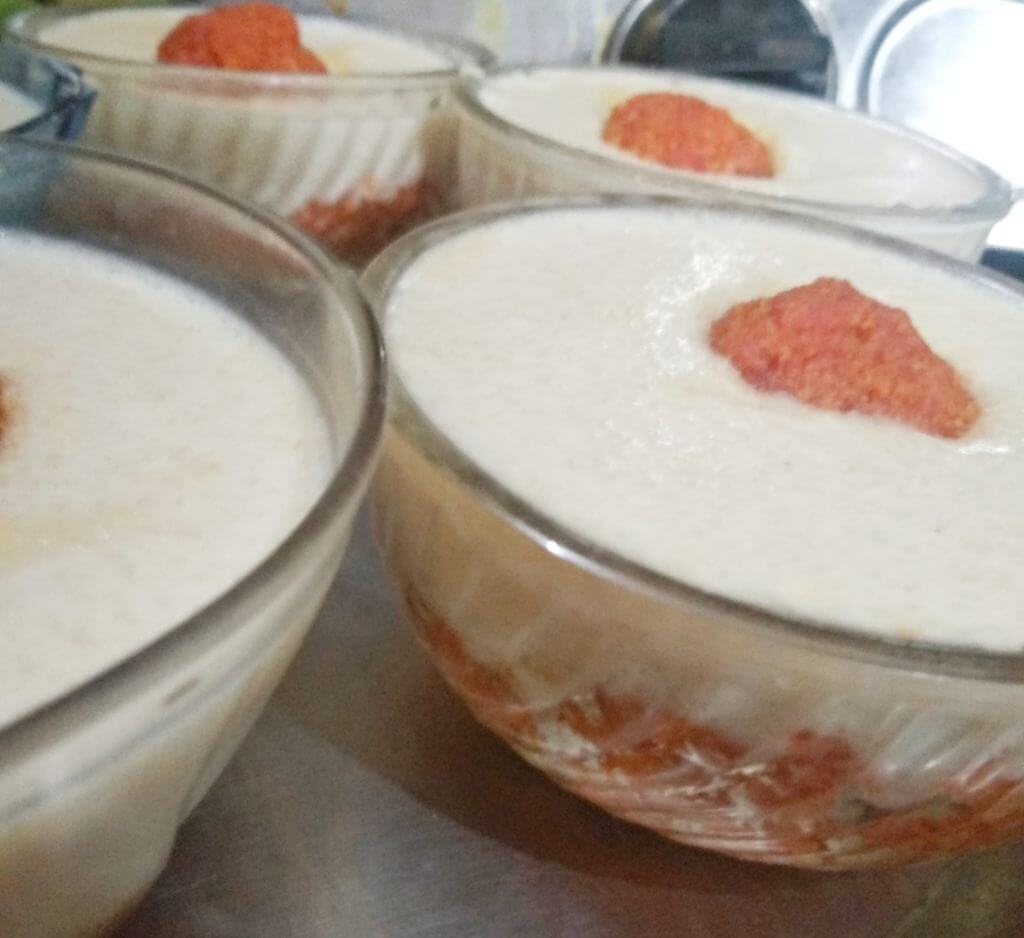 The recipe of Phirni is easy and simple. And you can enjoy it after any meal. We have described the step-by-step process below.
Ingredients For Recipe of Phirni
Soaked Basmati rice or Gobindobhog Atop Rice: 70 gms
Milk: 1 ltr
Condensed Milk: 5 tbsp
Sugar: 4 tbsp or according to taste (You have to keep in mind that Firni is going to get layered with the Gajorer Halwa)
Pistachhios: 5 gms finely chopped
Cashew nuts: 5 gms finely chopped
Clicks on the links to buy the ingredients.
Disclaimer: We are a participant in the Amazon Services LLC Associates Program. We may earn a small commission if you purchase products via our website. Your purchases support us in bringing you informative and fun-filled articles.
How to prepare Phirni
Soak the rice for 1 hour.
2. Drain the water and pat dry the soaked rice.
3. Loosely grind in the mixer. The rice should not be a fine ground one.
4. Keep aside.
5. Heat the milk. Simmer the flame and set the milk to reduce.
6. When the milk will reduce to 1/4, add the ground the rice and continuously stir using a wooden spatula so that the rice does not get lumpy.
7. Add the condensed milk and keep stirring.
8. When the texture will start consolidating, add sugar, stir and put off the flame.
9. Allow the Firni to cool down.
Gajar Ka Halwa recipe
You can simultaneously make the gajar halwa or make it earlier by following the process described in our Gajorer Halwa recipe.
And Finally…..
Once you are sure that both the halwa and firni have cooled down, take a scooping spoon and a layering spoon, set the serving bowls and arrange them by putting alternating layers of gajar halwa and phirni on top of the other.
If you have a bit of gajorer halwa left, you can make round balls and dip them upon the top phirni layer, as I have done.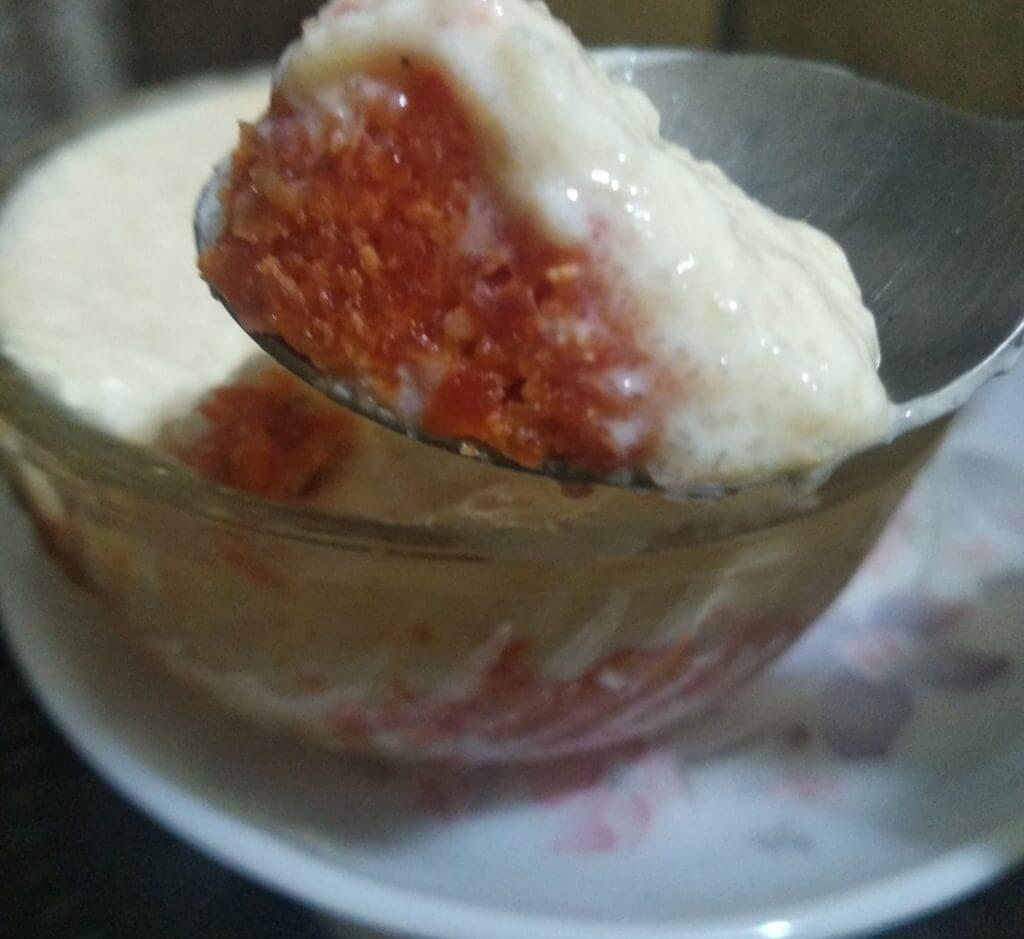 When the bowls are arranged, store them for an hour inside your fridge for settling before you serve them.
"There's no sincerer love than the love of food!"

George Bernard Shaw
Now that you know not only the recipe of phirni but also the recipe of two more desserts, what are you planning to cook tonight?
Feel free to share your ideas and we'll love to try them out in our kitchen.