There are offbeat places offered by North Bengal Tourism where one can go to find some solace from the hurried life of the concrete jungles. You just simply need to explore such hidden treasures. Parna had been to one such place last year. She shares her experience here with us.
In one of his books, Ruskin Bond says, "It is always the same with mountains. Once you have lived with them for any time, you belong to them. There is no escape." To us, it's just the case. So every year, we keep on searching for new places in the hills where we can escape for a few days. Burmaik, near Kalimpong, was one of the places we carefully selected from the paraphernalia of North Bengal Tourism spots.
We halted in Burmaik for around three days and experienced gradual detoxification from the madding city environment.
Reaching Burmaik from Darjeeling:
It took around 3 to 3 ½ hours to reach Burmaik from Darjeeling via Rishi Road. We encountered a plethora of homestays in a scenic place and feared that we might have to put up in that crowded place. But then we found out THE place called Ramdhura. It is further downslope from Burmaik.
As our cab climbed slowly up to Burmaik, turning left and not advancing towards Algarah, a pristine silence greeted us. The crickets sang as we took the stairs to Pranay Golay's Magnolia Homestay.
Staying experience in Burmaik, a new destination of North Bengal Tourism:
The homestay owner, Pranay Ji, quickly welcomed us and asked us to settle in our rooms before the sunset. His request made us curious. But once we settled down on the upstairs verandah with our teas, we saw one of the most beautiful sunsets in our lives. The vermillion-tinged sky played with the clouds as the sun decided to hide under the cloudy shrouds. The purple, orange and bluish-gray hues rioted all over the sky, protesting.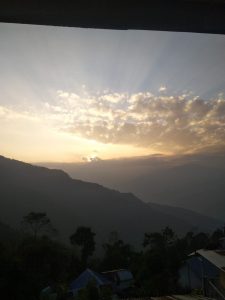 By then, our stomachs growled too. We had plates of instant noodles and retired to our rooms for evening Adda.
Also Read: Food Crawl in Darjeeling
During dinner time, Pranay Ji served hot chicken curry and rotis. The curry did not have any hint of chillies. Therefore, we could share it with our kids. The food was delicious, no doubt. While serving, he talked about his carefully nurtured farm around the homestay building, where he grew green cardamoms, turmeric, black pepper, seasonal vegetables, a few fruits, and flowers and orchids. He kept a small coop of hens, too.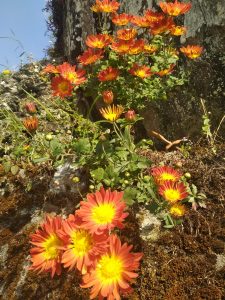 The following day, we took a round in the farm. Pranay Ji appeared to be an extremely hardworking person. His helps had gone away to their homes for Diwali leave, but he ensured that the homestay and farm premises were spic and span every day. We often saw him either with a broomstick or a floor mop roaming around, cleaning. Even the hen-coop was extremely clean, which is unusual given the hens' biological habits.
Flowering plants bordered the farm. The seasonal flowers smiled from their places, exuding warmth and vibrance. We saw a brilliant example of indigenous engineering in a water conduit channeling the water from a natural cascade to an open reservoir at about a slope of 45 degrees downhill. Pranay Ji said that he channeled the water for the watering needs. The conduit gave an aesthetic significance to the homestay also. The vacationers can hear the sound of the falling water anytime during the day or night just from their respective rooms! Long after this stay, when I write this travelogue here, I can still visualise the neatly kept farm, the orchid plants decorating the walls and an array of red chilli pickle bottles seated upon the front balcony basking in the sun.
https://youtube.com/shorts/aeUDTCBZKTM?feature=share
We headed for a walk around the place and hiked up to a place from where we could see the Teesta River. A nearly motorable road lined the Manchu Forest around. We slowly walked on that road admiring the tranquility around. Our masks were off for the first time during this vacation. We felt free and seeped in as much clean air as possible. Unfortunately, we couldn't reach the viewpoint as three of our hikers were getting tired. The two were our kids and the third one was me. Though the temperature was never less than 12 degrees, I always felt a bone-chilling cold during my stay. That feeling of chill limited my senses from inhaling the natural beauty. Maybe my body constitution needs a rejig.
Anyways, coming back to the homestay – the balcony is the star attraction of this homestay. One can while away one's time just by sitting there and looking up at the sky, counting the stars or gazing at the hills that border West Bengal and Sikkim.
A visit to the Cinchona Plantation and Teesta View Point on our way to Kolakham, another destination in North Bengal Tourism:
It was thoughtful of Pranay Ji to pack a half bottle of milk as we headed out towards Kolakham for our next part of the tour. We would be staying at Kolakham for two more days before returning to Kolkata. He also gifted us a packet of fresh turmeric and two seasonal flowering plants.
We bade him goodbye with a promise to revisit his homestay during Spring. On our way to Kolakham, we stopped at the Jalsha Bungalow to observe the Government-owned Cinchona Plantation. Before Jalsha Bungalow, we got to see a Teesta View Point, where Teesta appeared like a braided stream with sandbanks on alternating curves of the river.
The Cinchona Plantation is a fantastic place, a wonderful natural setting altogether. It was placid green with the heritage Jalsha Bungalow in the middle. We got to know from the Security Staff that the West Bengal Tourism Department allows booking options for staying at the Bungalow premises. We'll try that next time.
Address and Contact Details of Magnolia Homestay:
Owner: Pranay Golay
Contact Number: 9382131929, 7427990227
Golay Niwas
Kalimpong, Burmaik,
School dhura Burmaik,
West Bengal 734301