After a deadly COVID-19 experience, Parna & family could finally make a trip to a place close to our heart – Darjeeling. In this article, we have discussed some of the best restaurants in Darjeeling, where she and her friends managed to visit during her 2 and a half day stay in Darjeeling before travelling to other lesser known spots in North Bengal Tourism. Here follows below her account:
Picturesque Darjeeling's Food Scene – The best choice for the foodies exploring North Bengal Tourism
Darjeeling, a part of the North Bengal Tourism, undoubtedly offers one of the most spectacular views of the Kanchenjunga peak, but the food scene there is pretty interesting. There are very few travel destinations where you get outstanding qualities of fusion cuisine. Be it the continental food reminding of its colonial past, Nepali cuisine, Oriental spread along with the quintessential Bengali Alu Posto, Bhaat and Daal, or shuddh shakahari platter (Jain Cuisine) –  Darjeeling food trips would offer you all.
Since visiting Darjeeling has become our yearly ritual, we sample food in different eateries. However, we could try out only four places this year because we stayed in Darjeeling for a couple of days before heading to Barmaik.
On reaching Darjeeling, we had lunch in Glenary's, dinner back in our hotel Alice Villa, next day's breakfast in Hot Stimulating Café, lunch in Park Hotel, and dinner again at the same place. Yes!! That's Darjeeling! And these are just a handful of the best restaurants in Darjeeling. We had a brunch in Keventer's on the last day before moving out to our next destination. Let's talk about each of these astounding eateries in Darjeeling.
1. Glenary's (A must visit spot in the North Bengal Tourism for the Gourmets)
The Glenary's was established by an Italian named Vado during the Colonial Era. It might have been one of the most popular eating places along with the Keventer's where the British used to go back then. Later it was bought by the Edwards Family and rechristened to Glenary's.
The family worked to preserve the colonial heritage of this eatery and divided it into three units – a restaurant upstairs, a bakery on the ground floor and a pub in the basement. The seating arrangements are aesthetically made with a view of Kanchenjunga on clearer days. It appears as if you have time travelled and entered a British eatery during the pre-independence days.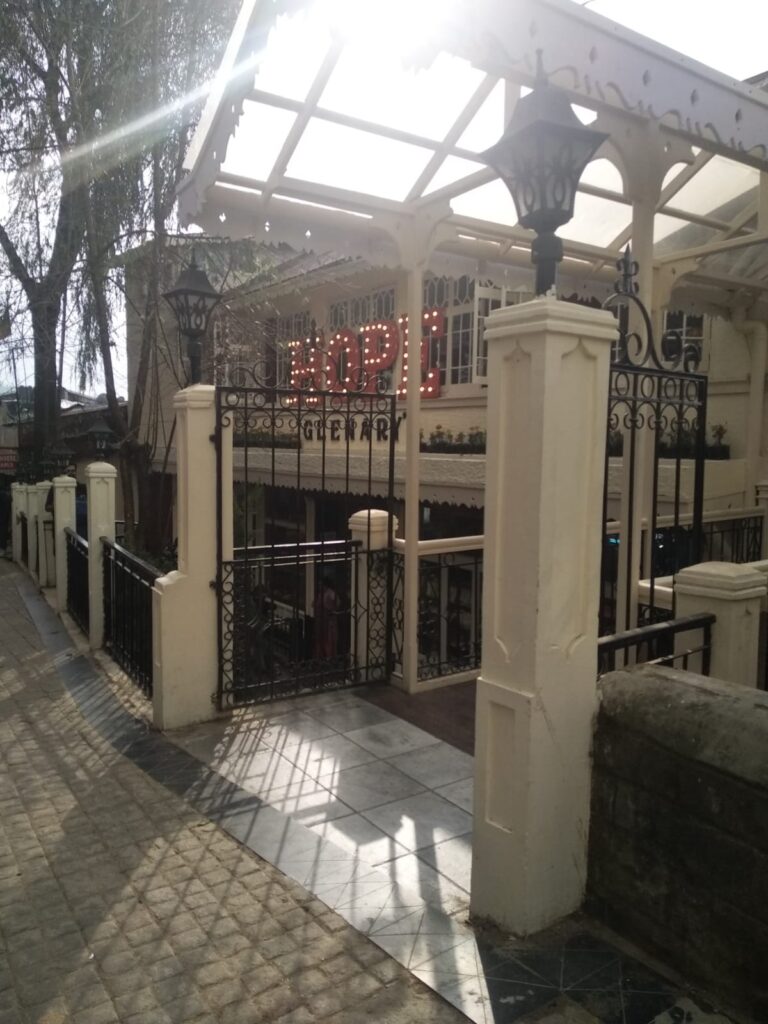 We had our lunch here after a tiring train journey. The glasses of fresh lime soda and chilled beer refreshed our senses. We had ordered Fried Fish and French fries for the kids along with steamed rice with chicken, veggies and mushroom, roasted pork, bread and beef cutlets for us. Our children instantly liked the Fried Fish because they had no hints of chillies and the upper coat was as thin as possible with a fat chunk of the delicate fish piece underneath.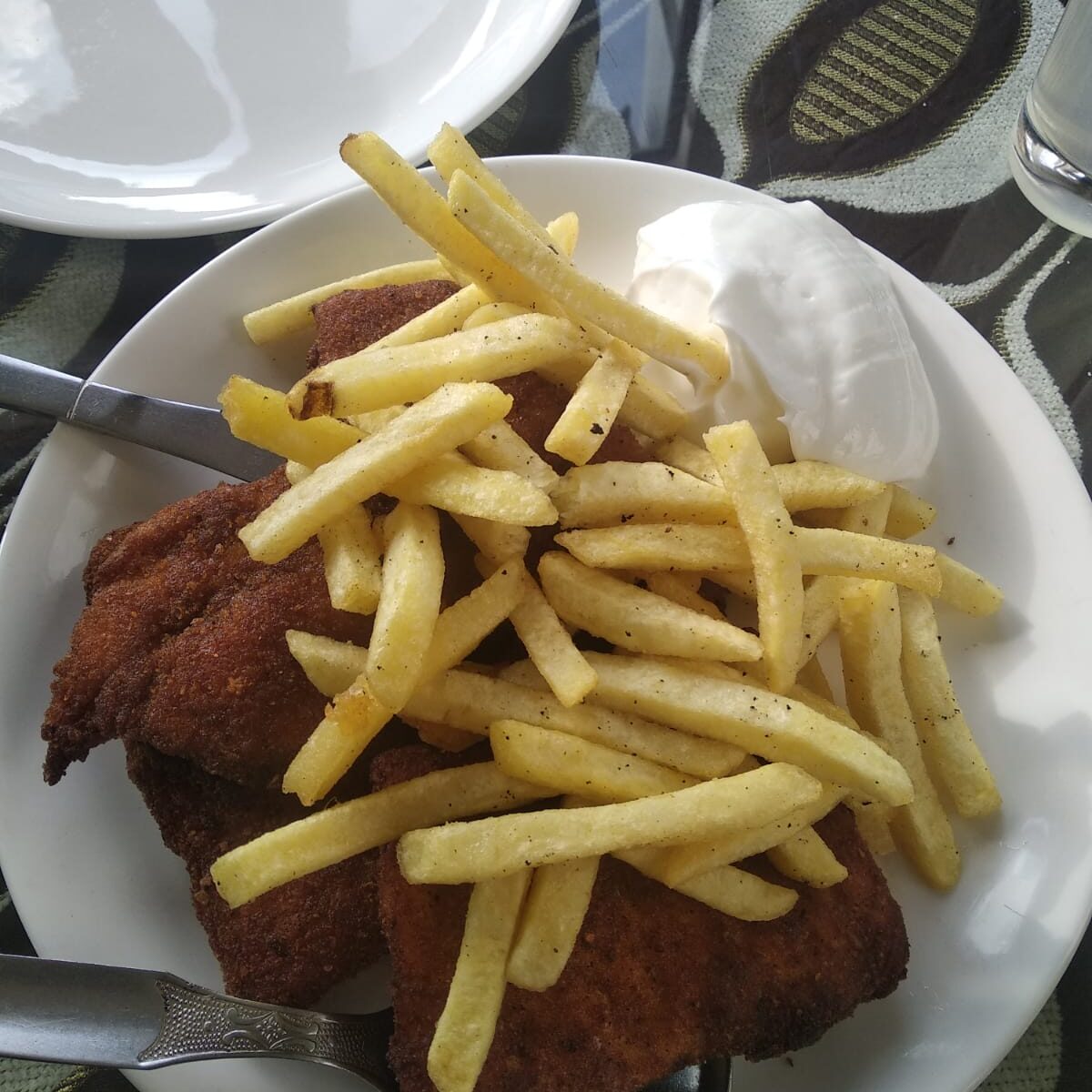 The steamed rice with chicken, veggies and mushrooms was quite an interesting revelation for us. It presented a healthy main dish with subtle flavours but incredibly delectable – a near cousin to the chicken pishpash may be.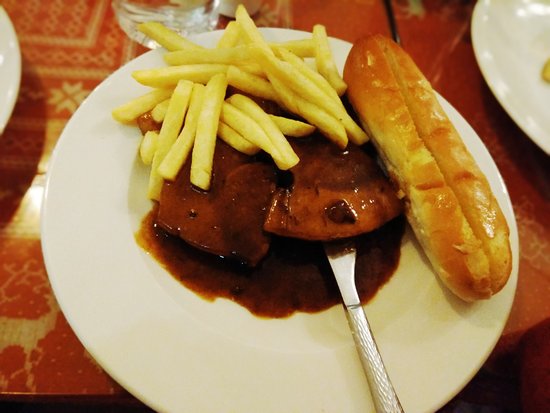 The Roasted Pork and Beef Cutlet were beautiful delights to our taste buds. The meats were tender, well done with measured spices in it.
On our way back to our hotel, we bought Apple Pie, Blueberry Cheesecakes, a brownie and chocolates from the famed Glenary's bakery to treat ourselves during the evening.
2. Hot Stimulating Café
(This discovery has made this cafe one of the personal favourites amongst the best restaurants in Darjeeling)
The following day, we went out for a walk around the Darjeeling Mall and Observatory Hill. We had a plan to try out the new eatery (lesser-known) near the Shrubbery Nightingale Park in Richmond Hill before moving to the Darjeeling Zoo.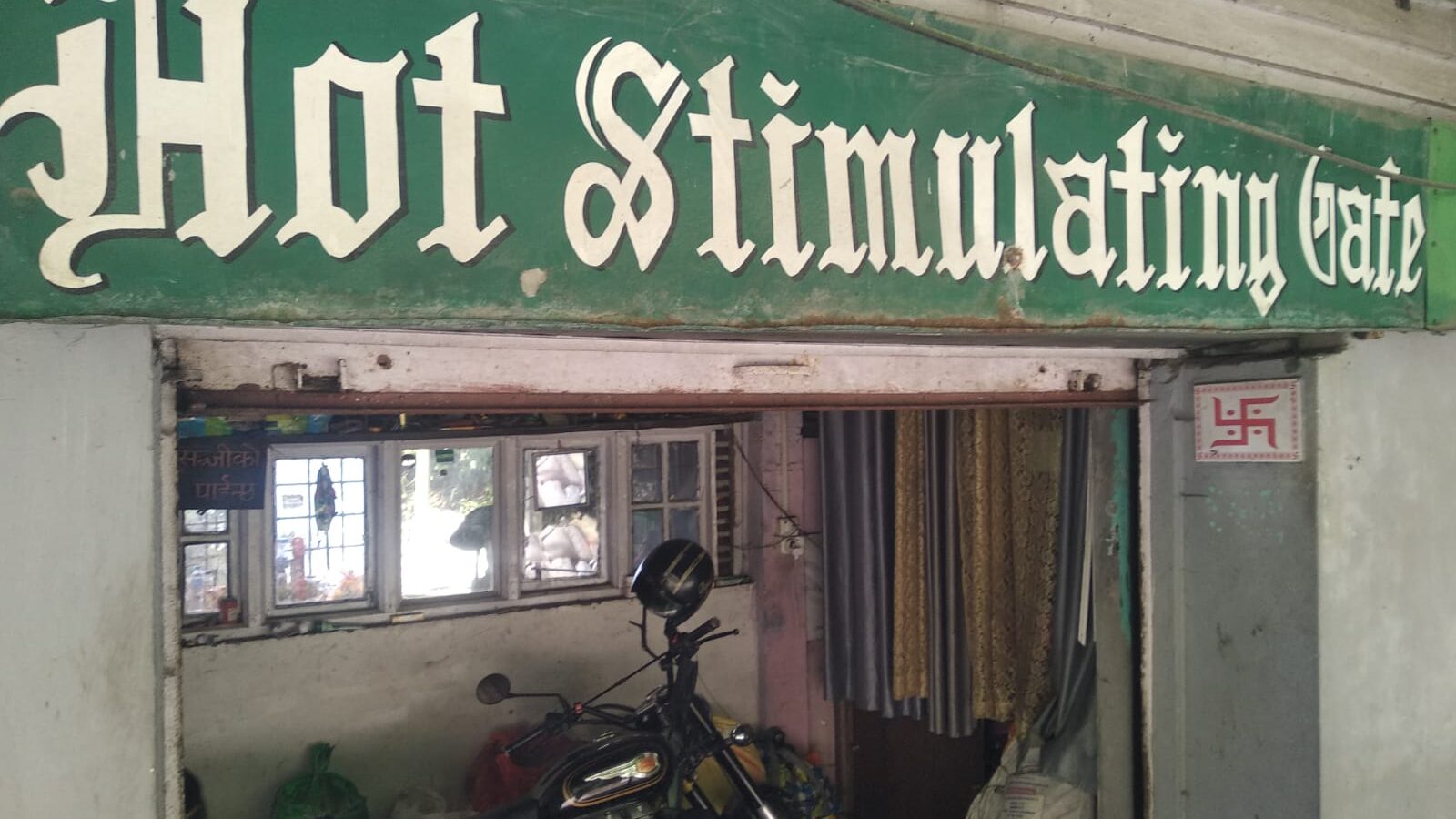 We all were quite hungry as we reached the Café. The uphill walk made us yearn more and more for a hearty breakfast. However, we felt at home on entering this quaint café. It is run by a Tibetan, Yapla Rumba and his family. He said that his ancestors settled in Darjeeling long back, even before the Chinese invasion of Tibet. He treated us to homemade sausages, home-baked burger sandwiches, soupy noodles (no, not Thukpa) and delicious piping hot coffees.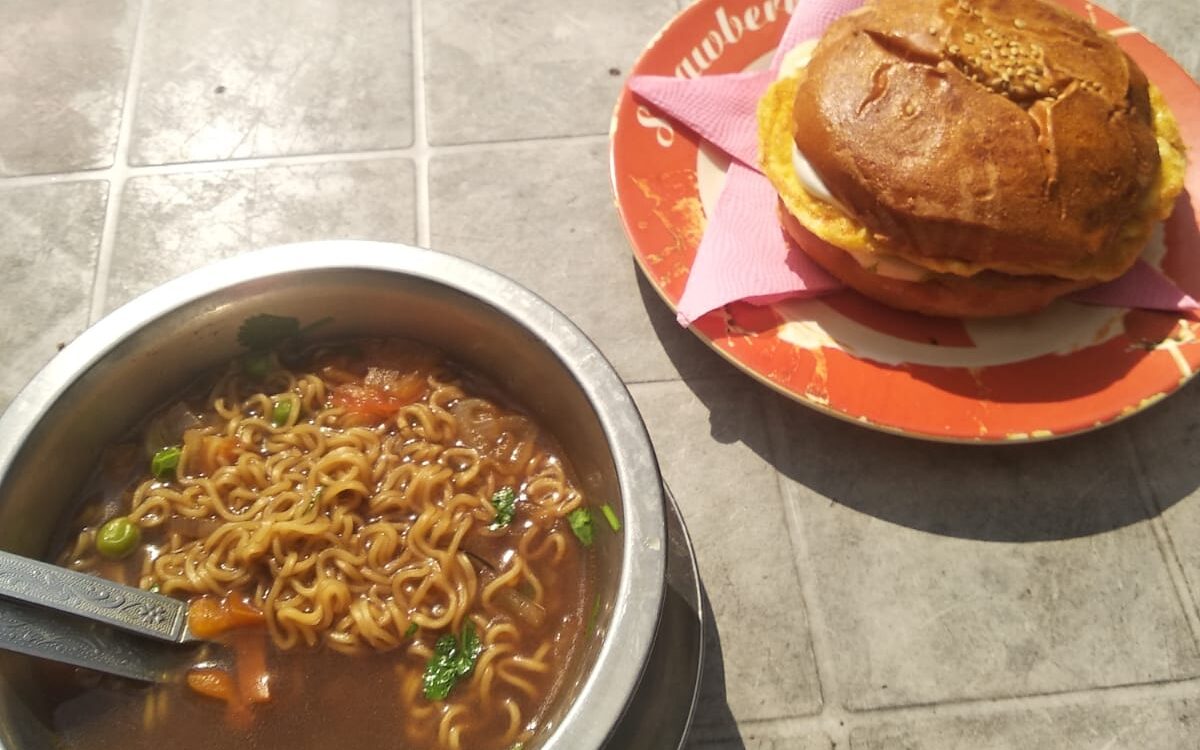 The open-air seating arrangements helped us soak the warm sun while silently appreciating the green hills lying afar. The family maintained a small garden with blooming colourful flowers swaying their heads with every cool breeze swiping through them.
The Hot Stimulating Café also organizes Tibetan Momo cooking classes for interested travellers. After the lessons, they encourage the travellers to help them make the Momos for practical experience. So we promised them to be their Momo disciples on our next trip before walking towards the Zoo.
Recommended Read: An Accidental Sojourn in Darjeeling
3. The Park Restaurant (A place of authentic Thai food in North Bengal Tourism):
The Zoo walk made me pretty weary, if not all, of my party. The kids were ever energetic. I needed a place to sit down for an hour and be lazy (being lazy feels like being me, can't help it). But it was not possible till we reached The Park Restaurant. We had to buy a few woolens from the Chauk Bazar before settling down in the restaurant.
The Park Restaurant was established back in 1993 by a local named Deep. The place specializes in Thai and Chinese cuisine. We had ordered Raw Papaya Salad, Dry Chilli Chicken, Crispy Chicken, Chicken Hakka Noodles after the beverages of Fresh Lime Soda, Chilled Beer, and Long Island Tea. Unfortunately, we were restricted to venture out on sampling other specialties because of the inability of our children to eat hot and spicy food.
To me, personally, the Raw Papaya Salad was the clear winner. The rich tanginess of the salad balanced by the crispiness of the peanuts were absolute delights to the food lover in me.
A word of caution here – The Park Restaurant seemed a bit pricy, so, if looking for budget eating options, this one can be left out unless you are eager to sample proper Thai food more than the other Oriental dishes in this restaurant.
4. Keventer's:
I understand that Keventer's or Kev's has a rich heritage in serving the British gentry in the past. And it's one of the best restaurants in Darjeeling that boasts of well-prepared continental cuisine, basically cold cuts, but it failed to satisfy me. Also, the crowd of patrons hankering for the open space with limited seating arrangements outside was a major put-off for me (Call us the extremely highbrow and obnoxious people, who can't mingle with 'tourist' crowds, but that's how we, the Kolkatafusion people are as travellers. We accept our vice. So, now Peace!).
I missed 'Boney's' all along. The food was okayish, if not good, although not promptly served. The kids had Cheese Omelette and Scrambled Eggs along with fruit juice for their breakfast. We had chicken salami sandwich burgers, toasts, and a mixed platter of fried portions of bacon, sausages, hams and salamis. The hot chocolate was well done, though!
5. Alice Villa:
To all our food adventures during mornings and afternoons, Alice Villa, our abode for this time's Darjeeling visit, offered solace to our tired digestive systems. We invariably ordered soul comforting food like Rice or Roti, Daal, Daal Fries, Mixed Vegetable Curries and Potato Fries (simple Alu Bhaja) for the dinners. We also sampled the famous Alice Villa pudding, but we didn't like it much, maybe because the sweetness is on the higher side.
Although we wanted to sample food in Penang Restaurant, Kunga Restaurant, and Boney's, we couldn't cover much. However, we didn't return empty-handed from our yearly food pilgrimage in Darjeeling and that memory would keep us upbeat for another year till we visit again.