Is there any safe and household activity for kids; how to keep kids busy are questions that often asked. So, today, we have shared some simple household activities to keep kids engaged and help in their overall development.
When COVID-19 stuck, along with the multiple uncertainties, another concern that cropped up in front of us was keeping kids busy at home. Regardless of their age, being locked up indoors for days wasn't an easy task for them – seeing them in such a situation wasn't easy for parents either!
That is when we started discussing and searching for an indoor activity for kids, but most websites suggested games. With mounting work-pressure, no househelps and the constant stress caused by the spread of the novel virus, none of us could manage sufficient time and energy for games. As days turned into months, our kids' demands kept increasing, and even the small activities for kids like reading books, colouring, making craft items started burning up our energies. That is when we decided to include them in household activities. Initially, we thought we would be jailed for child labour and people will mock our parenting skills. But, nearly a year now, and we can vouch for the small household activities that our kids know have helped them in multiple ways.
We don't know when schools will re-open and letting kids go out to play with friends isn't still safe, particularly for the younger ones, who see the criticality of COVID-19 but aren't matured enough to take the desired precautions by themselves.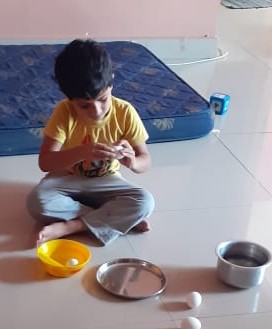 Let's start…. with Household Activities for Kids and how they benefit your child
Peeling peas
A simple yet safe activity for kids stuck at home is peeling peas. During those hectic office hours, make your kids sit near you and give them a small bowl of peas. You can also add some fun elements to it by keeping small rewards.
And, if you have some free time, play peas peeling competition – you will kill two birds with one stone.
Viraaj's an ADHD kid with a mild Autism spectrum, and this activity is something he enjoys and does patiently.
Read Our Lovely Story By Diptanu, another child with autism and extreme creativity – a sweet guest blogger of KolkataFusion.
How it helps?
Kids have many distractions, primarily caused by the screen – the mobiles that we constantly fidget with or the laptop that has become our necessity. So, encouraging your child to peel peas can be a perfect concentration building and cognitive development activity. The hand and eye coordination that they develop may seem petty, but eventually, it helps them a lot.
Grocery Shopping
The next time you plan to do grocery shopping from your local stores, or from Amazon Fresh or Big Basket, take your child's help. Ask the kid to choose what groceries ze wants to have and let zir browse through the range of fruits and vegetables. While you make a grocery list for buying, you can also ask your preschooler to help while you write it down.
How it helps?
During this process, you can introduce new vegetables, fruits and pulses to your child. Simultaneously you can explain to them the difference between healthy food and snacks.
Sorting the vegetables and fruits before they go inside the refrigerator
After you buy and bring home your weekly fill of fruits and vegetables, you can take your kids' help to wash and sort them. They will enjoy playing around with the water and might wash one fruit at a time so that they can play more.
How it helps?
The kids will develop cognitive skills like comparing and sorting. Moreover, it will boost up their confidence and their familiarity with different types of fruits and veggies.
Cooking Activity for Kids
Pre-schoolers can help you with simple cooking activities, such as preparing cake batter, putting butter on bread toast, beating eggs for an omelette, etc.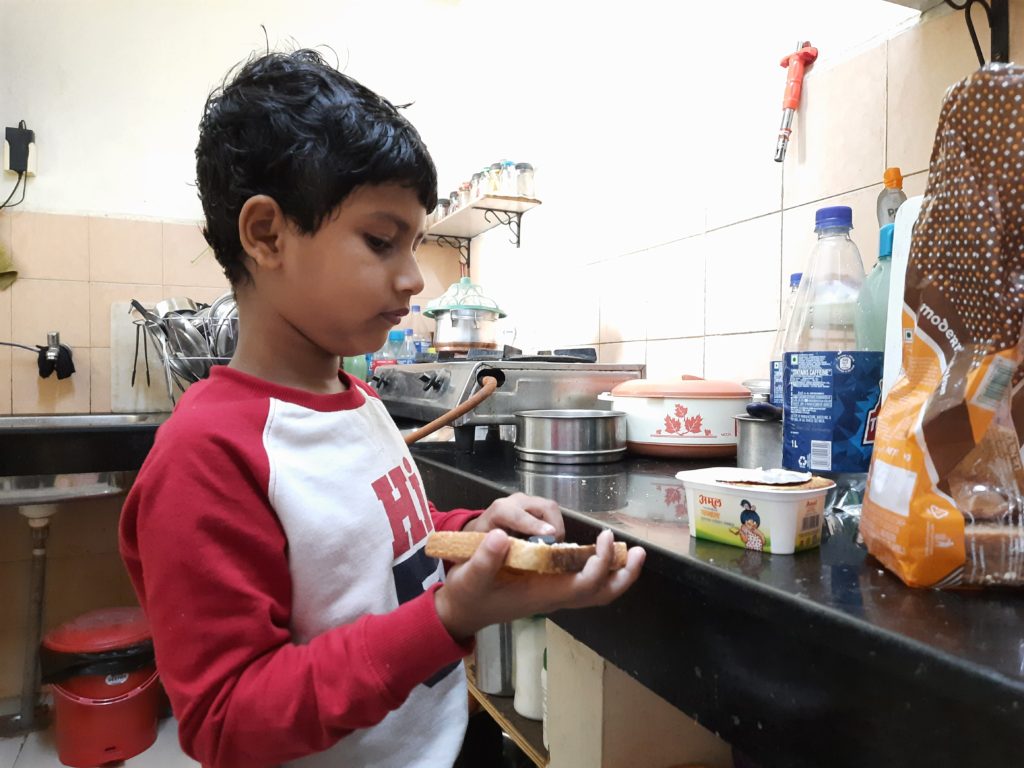 Neha's son enjoys doing is, watching recipes and then guiding her wherever she forgets. He conveniently forgets ingredients like baking powder and replaces them with his terms, such as "magic powder." Still, he's a constant companion and Neha doesn't have to bother wondering what nuisance he's into while she's in the kitchen!
RELATED: Petuk Puri – Kolkata Restaurant Reviews & Recipes
How it helps?
It generates confidence in the children and makes them feel happy knowing that their parents are taking their help. Furthermore, these are the life skills bound to help the little one as ze grows up and moves out into the big world.
Arrange the play area
This is something that children should learn even when regular schedule like schools and day cares are open and your nanny is visiting without any scare of contracting Covid-19. Please help them to organize their toys and keep their play area clean. It might be a herculean task initially, but once the child is in the groove, this activity will keep your little one busy for quite some time – after all, the first thing kids do in the morning is pulling out all their toys on the floor!
How it helps?
"Cleanliness is next to godliness."
Before you teach your kid larger aspects like "do not throw trash on the roads," "reduce wastage," etc., let them start with their room.
Dusting Activity For Kids
Parents, don't take us wrong – We aren't asking you to make the kid run around the house dusting all the pieces of furniture. It's just that the days you plan to do some dusting, take the kid's assistance. Hand over a neat cloth to the child and assign one table or some toys or some specific corner in the house. Trust us! You will be awed with the tot's enthusiasm.
As a fun element, sing songs and rhymes while doing this tedious job.
How it helps?
It keeps your child busy while helping to build self-confidence and trust in you.
Tending plants
As kids, we got a lot of scope to play in the mud, dig soil and make ourselves murky. Unfortunately, many of our kids do not have that scope. So, the bare minimum activity that we can encourage them to do is watering and tending plants.
How it helps?
It gets them closer to nature, and they also start understanding the law of nature – plants' life cycle, different types of plants, etc. The process of seeing plants grow and flowers bloom makes kids happy. You can also take this opportunity to introduce kids to the basic science of plants.