After spending one night in the lap of nature at Jhilimili forest and an adventurous day in Mukutmonipur, our next destination was Joypur jungle & the famous terracotta temples of Bishnupur, Bankura.
Joypur Forest
The following day, i.e. on 17th December, we started for Joypur jungle. A sweet aroma punched me as we entered the magical forest area. No! Not the typical smell of the forest; it came at sudden points, making me go crazy. After stopping our car once to find the source, we were reminded that it was winter, time for khejur gur (date palm jaggery). So, along with my nose, I kept my eyes open. The following person we saw on the road with bottles and mud pots, we stopped to purchase some fresh khejur gur. If you visit Bishnupur, Bankura, in winter, it's a must-try out! But, be careful of fraud.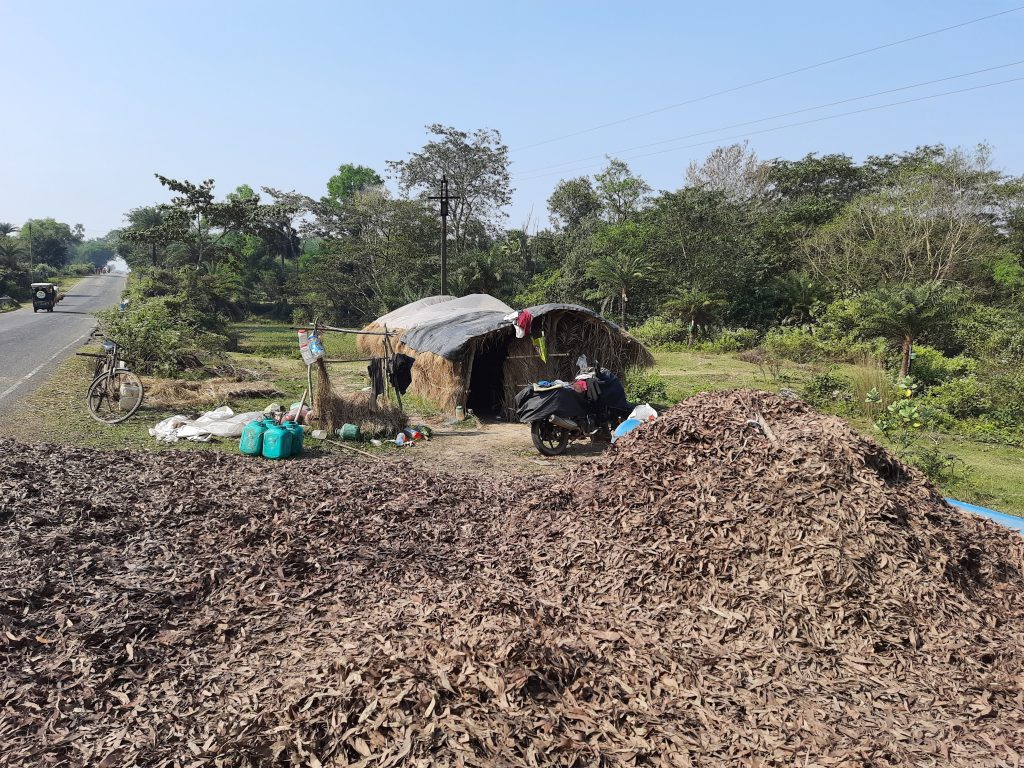 After a 2 hours ride, we reached Banalata resort near the outskirts of Joypur forest.
Bonphool Tree House
Banalata resort is the most commonly known resort in Joypur forest. But, since it's overtly priced and overcrowded, we booked our stay in Banphool Tree House. So, while Banalata was bang on SH2, we had to travel further inside the forest to reach Bonphool.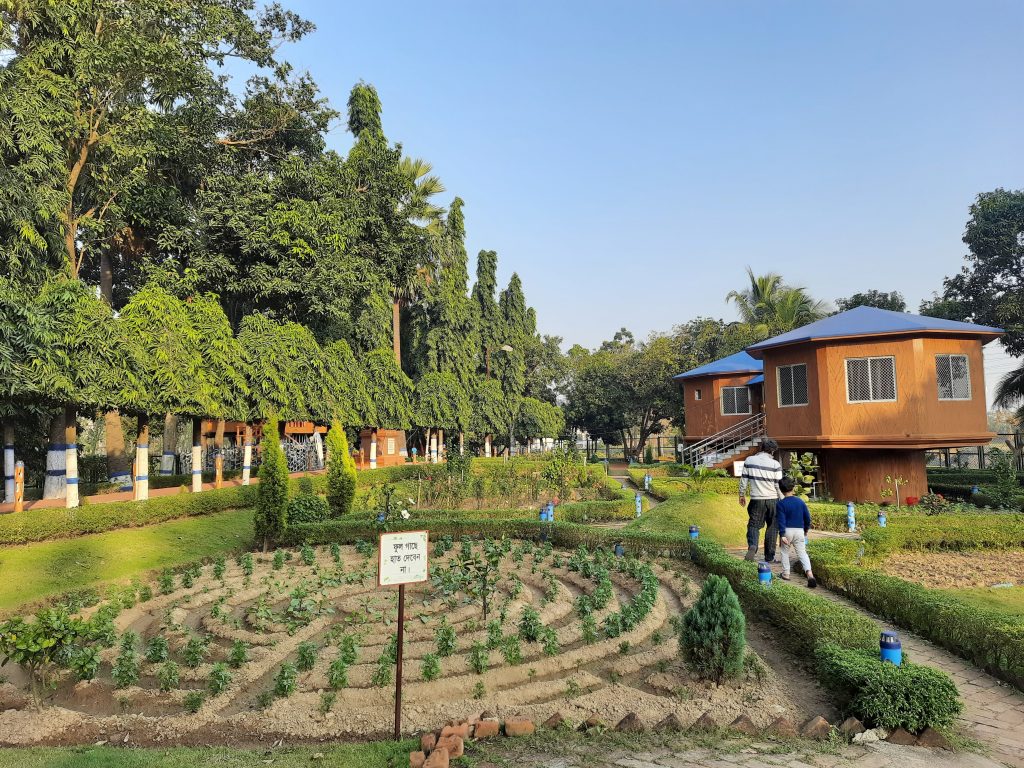 Bonphool was once again precisely something what we wanted. In the lap of nature, it has a swimming pool, children's play area, sufficient space to laze around, and is preferably deserted. They have boating options and also arrange jungle safaris for a minimal cost. You can also go for cycle rides in the forest. Their room rent includes three times' meals. Initially, we were not happy with it. But all our complaints vanished after having the first bite of food.
We had booked a treehouse, which was very cozy, and perfectly crafted for a family. They also have other options like cottages, tents, and bamboo houses.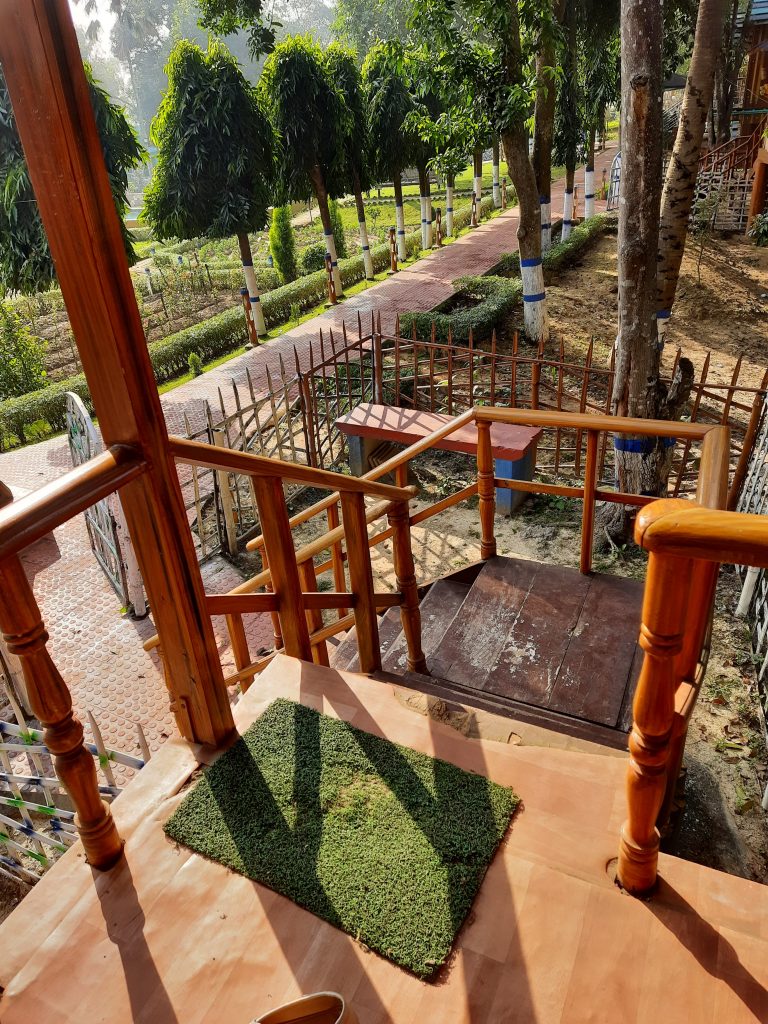 After having our sumptuous lunch, I decided to lie in the room while the other two went for a walk with my cousin, who had come to visit us.
Lying on the low-raised bed and looking at the wooden floor, before I could gather my thoughts, the party was back. So, we went downstairs, ordered our tea, and prepared our board under the eucalyptus trees for playing Connect 4. We played, chatted and drank some excellent tea until the sun went down, and we started feeling the chills in our bones.
Buy the exciting board game ( Connect 4) online from Amazon.
Since it was peak winter and the forest wind made our teeth chatter, they arranged for a bonfire on request. It was near the dining area. So, we went upstairs to keep the board game and covered ourselves with another layer.
The evening went by singing, dancing and playing with the puppies who stayed in the resort. The icing on the cake was the finger-licking snacks.
As the fire started to fade out, we decided to move back to our rooms for dinner and a night of peaceful sleep.
The next day was our last day in Bankura and we had decided to spend it in Bishnupur.
Bishnupur
It took us around half an hour to reach Hotel Annapurna, in the heart of Bishnupur town. Unlike the other three stays, it was a brick-and-mortar star category hotel.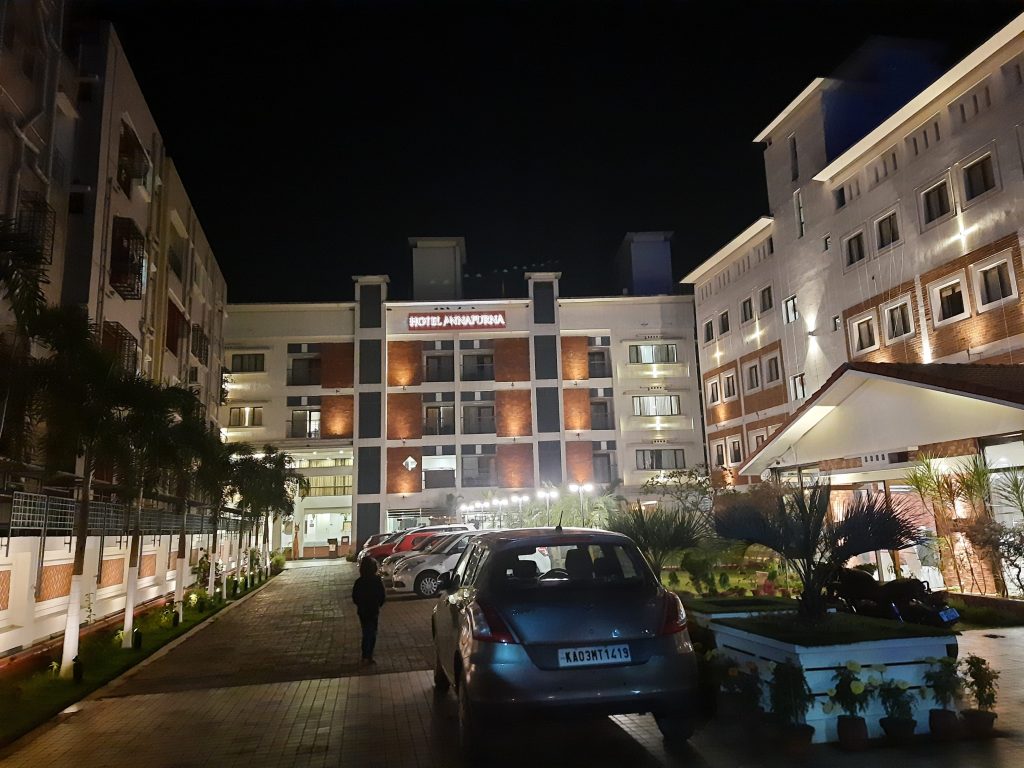 Bishnupur Bankura temples
Bishnupur is renowned for its terracotta temples, artefacts and Baluchori saree. It has a vibrant history and every temple has a story behind it. While I wasn't interested in sarees, I was keen to visit some temples and the haat. So, we quickly freshened up and left for the famous Rasmancha. Totos are very readily available near the hotels. On fixed rates, they'll take you through all the temples. You can book entry tickets to the temples either online or at the entrance gate of Rasmancha.
Rasmancha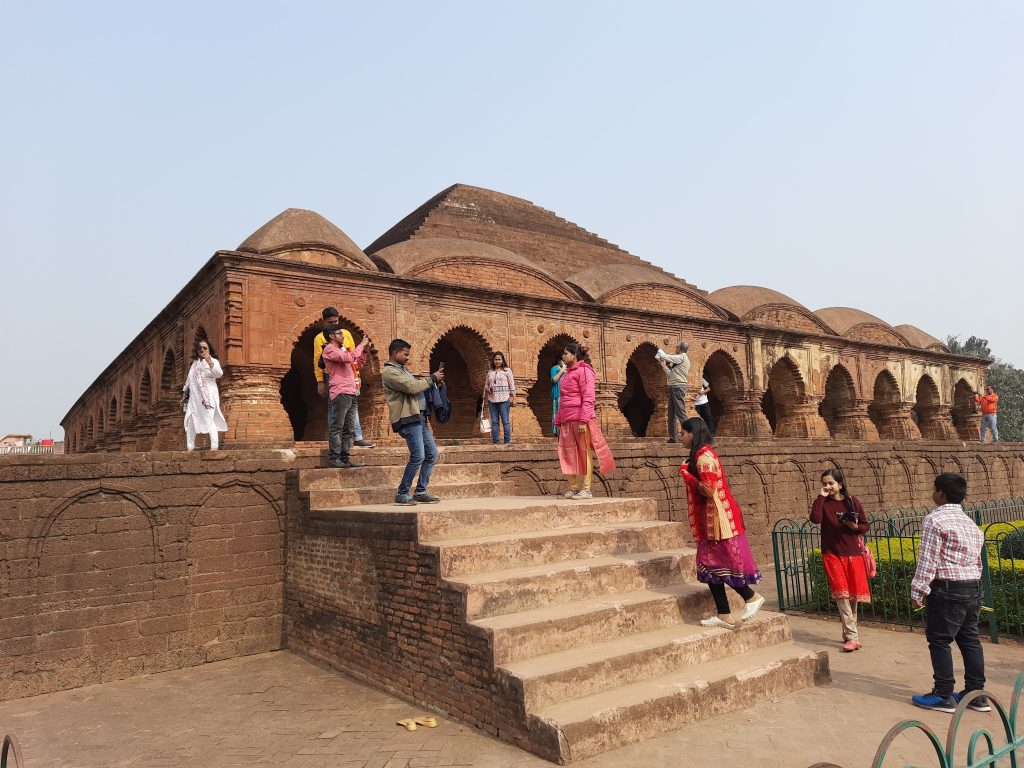 In 1600 AD, King Bir Hambir built this historical temple to celebrate the Vaishnav Ras Utsav in a protected area. To know more about the history of Rasmancha, click here.
Its structure and artefacts attract not just tourists but historians and artists from far and wide.
Dalmadal Kaman & Ma Chinnamastar temple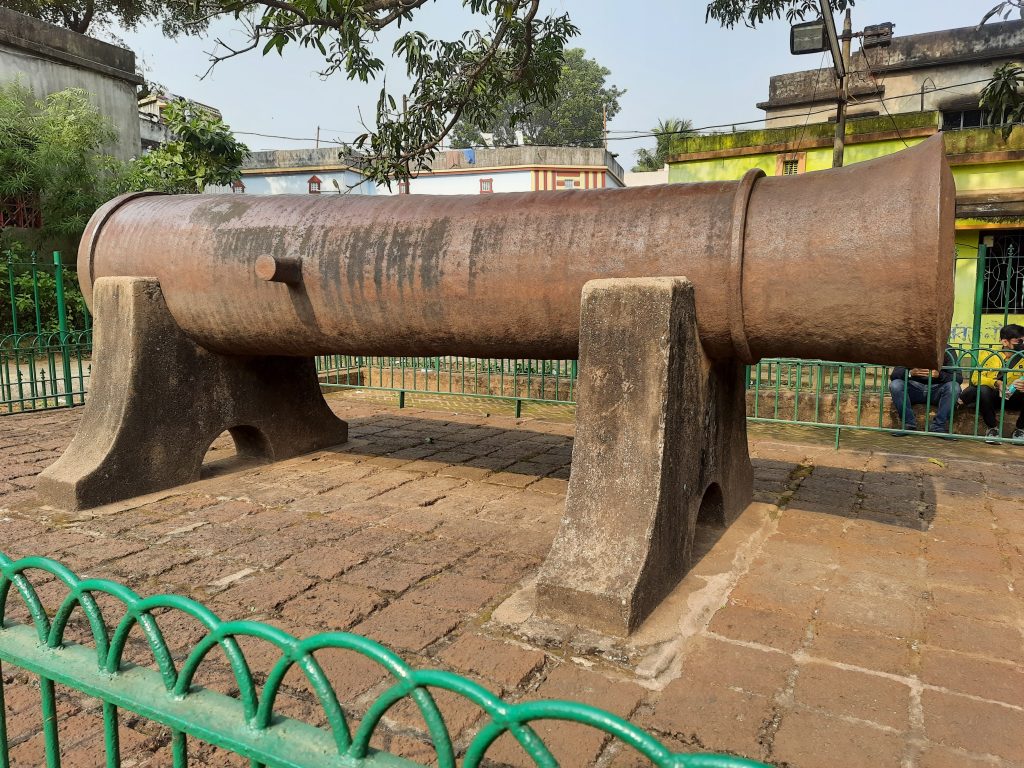 Our next stop was the Dalmadal Kaman. It's indeed a legendary canon but lacks maintenance. Then, very close to it, is Chhinnamasta temple. This 100-year-old simple temple's deity has been engraved out of Red Desert Sandstone. She is seen holding her severed head in her right hand. In her left hand, she holds a sword.
To know the story behind this temple, click here.
We didn't visit any other temple, but to learn about the temples in Bishnupur, click here. Unfortunately, we had to return to our hotel due to my health issue. But, here's the list of temples for you: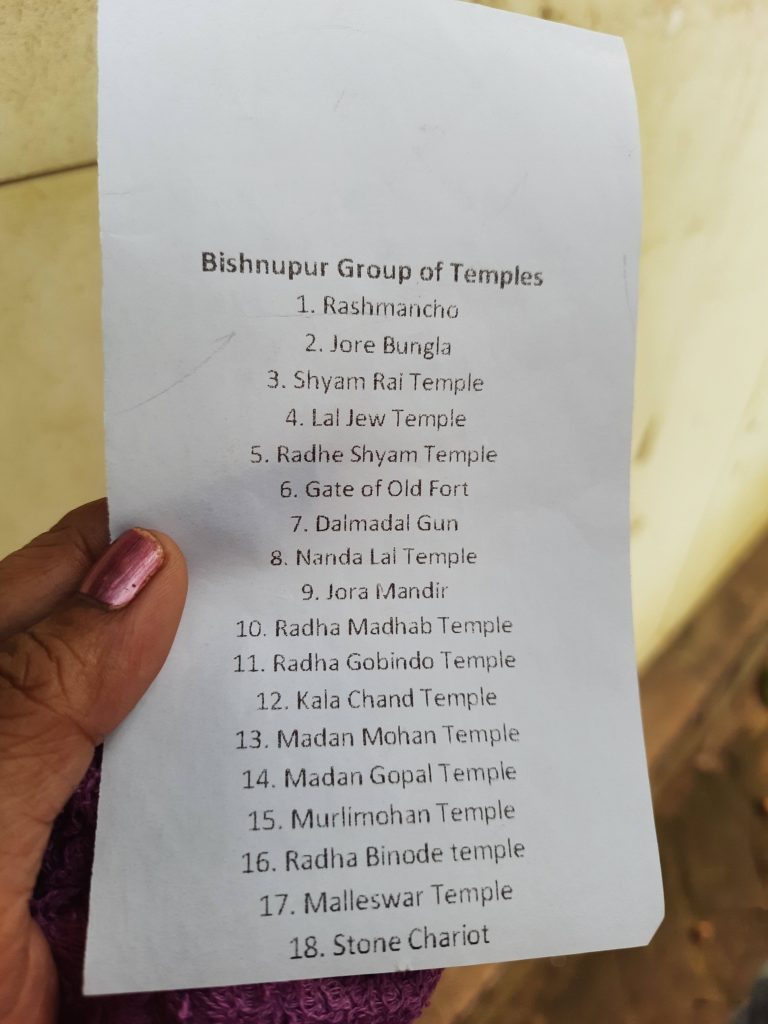 Poramatir haat
And after a delicious continental lunch and some rest, we went to poramatir haat. As a homage to the burnt clay and brick artefacts of the Bankura district, this evening market is named Poramatir haat. It starts at around 2 pm and runs till around 7 pm.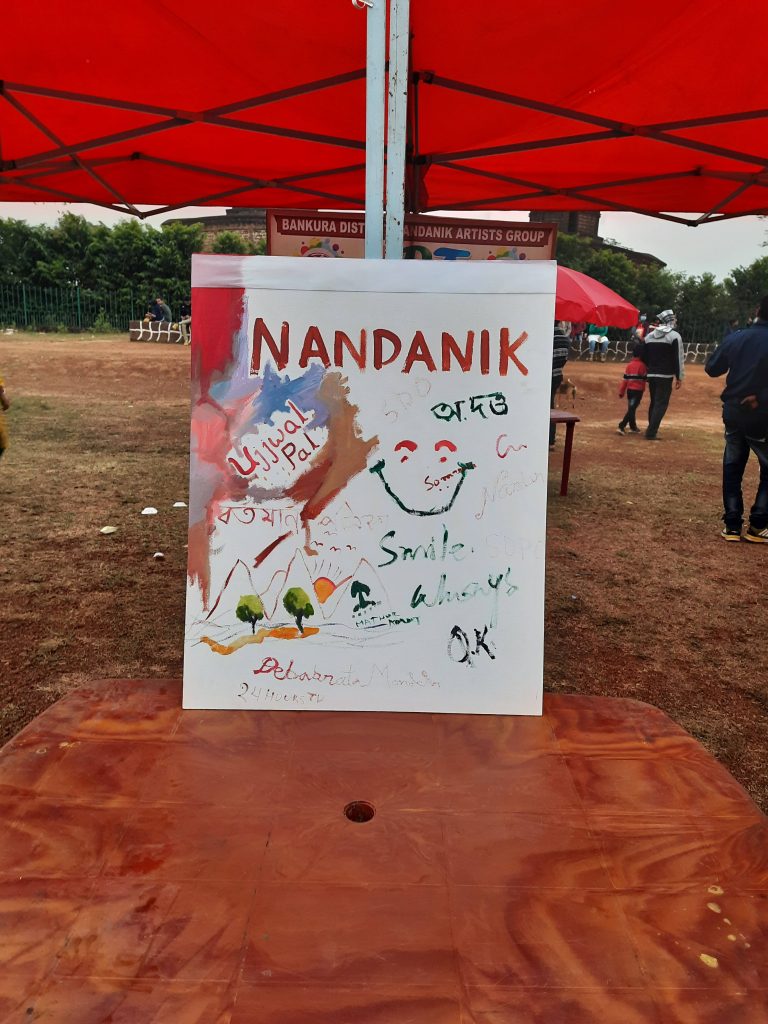 The vast ground has specific areas for painters, singers, dancers, and sellers. It's the perfect place that captures the vibe of Bankura. Along with the beats of the baul and tosu songs, from somewhere, you'll get the rhythms of dhamsha, and madol. The folk dancers move to their beats, creating an unforgettable ambience.
As you walk to the other sides, you will find some incredible painters engrossed in their canvas. And then there are the villagers, with their colourful handcrafts. Starting from dolls, mud tea sets, cotton stoles and handmade lanterns – each represents Bankura's native art and crafts.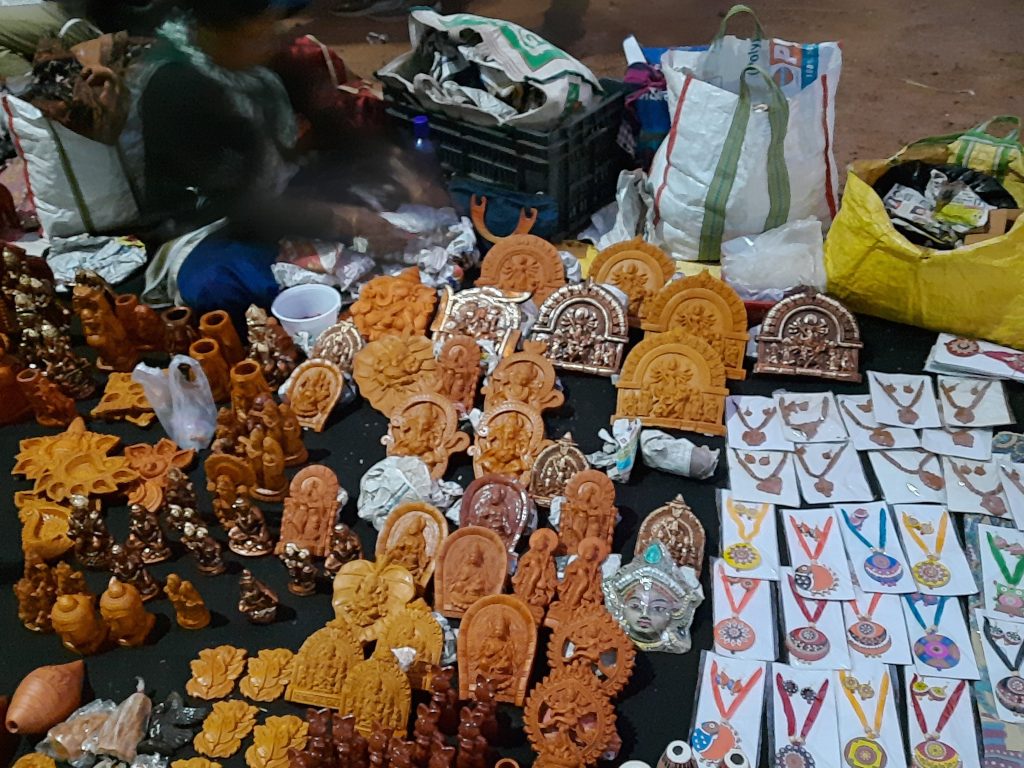 From the moment you enter this place, it's bound to remind you of Shantiniketan's Sonajhuri Haat.
After a few bags full of shopping, we retired to our hotel. They accept gpay, which is good but got quite heavy on my pocket. Nonetheless, I enjoyed my evening.
Tips
Carry an electric kettle with you and a flask. Rooms (except Annapurna hotel) did not have electric kettles. Since we are tea lovers managing without electric kettles was a bit challenging. And flask to help you enjoy a few tea sips while travelling through the forests.
There are quite a few routes to Bankura. But I suggest, if you're going by road, don't miss the trip through Jhargram. After all, the road towards the destination is as cherishable as the destination.
To Conclude
Be it a weekday or a weekend; everything's mostly planned in our lives. Our mind is either planning something or executing it—no doubt why most of us wake up every morning feeling tired. And even after a long weekend (stuffed with household work and socializing), we look forward to the following weekend. However, after visiting Jhilimili and Joypur, I realized the true meaning of relaxation.
"Live close to nature and your spirit will not be easily broken, for you learn something of patience and resilience. You will not grow restless, and you will never feel lonely."

Ruskin Bond