Kids are always fascinated by stories, short or long. They love to listen to or read them. Not only they, we, as parents, too, love to read out bedtime stories for our kids. However, writing stories for children isn't an easy task for sure! One cannot write kids' stories unless the author is passionate about reading and loving the children's world. That is the reason behind the fewer number of books in children's literature.
Priyanka Mukherjee is one of those rare Indian authors who have the qualities that we had mentioned above. She being a teacher as well as a mother, understands child psychology pretty well. And that understanding has inspired her to write short stories for children. The book 'Jungle Stories With Tim The Tortoise' is her debut book of stories for kids in English penned with passion and warmth.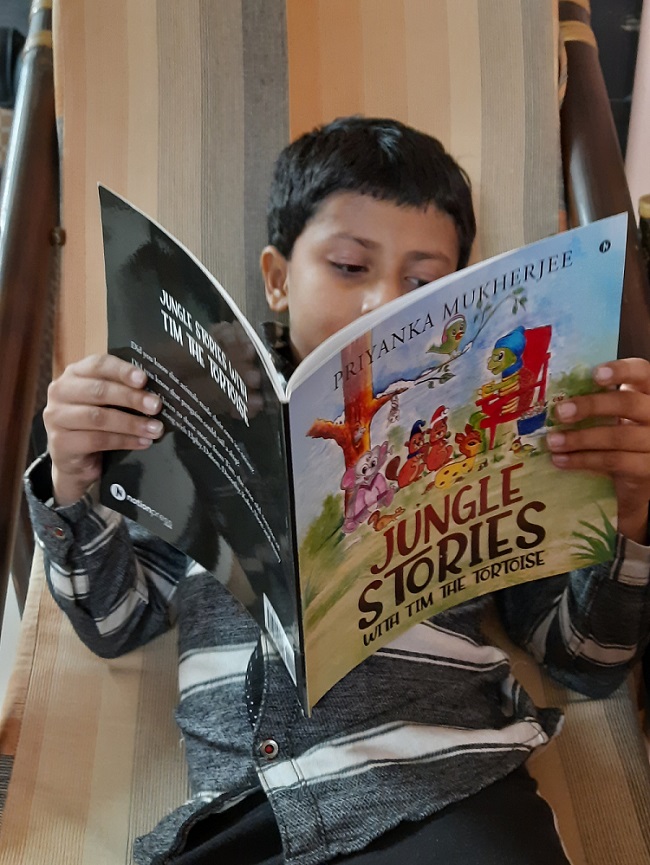 In this review, we'll discuss the book's features we really liked and a few aspects we are concerned about. But, before we discuss those, do you know fantasy books boost children's imagination? In this digital world, when everything is right in front of their eyes, reading fantasy books and getting introduced to a world that doesn't exist encourages kids to see things differently.
A brief idea about the book
Tim, a grand old tortoise, is the favourite storyteller of the jungle kids like a baby elephant, a fawn, birdies, young squirrels, etc. He narrates stories on ice cream, penguins, ships packed with fantasy and emotions that would move every child.
The interesting features of Jungle Stories With Tim The Tortoise:
Colourful illustrations that please our eyes and generate interest in our children.
The choice of the theme, i.e., jungle, serves as the perfect theme of short bedtime stories for kids.
The grand old tortoise, Tim's narrations, has the warmth that our grandparents' fantasy tales used to have.
The plots around which the stories are woven are unique and would keep them hooked to the book until they finish reading it.
The children who love animals and enjoy fantasy stories would cherish this book.
The features which could have been worked upon:
The book's illustration is ideal for 5-6 years kids too, but sadly, they'll have difficulty with the sentences' average lengths. So, parental guidance will be required.
More simple sentences could have been used.
Too many characters in the stories might distract young kids and confuse them.
Overall, the book is beautiful. We highly recommend the book for the kids of age group 7 – 10 years who love reading and listening to fantasy stories. The catchy illustrations make it a good buy for parents of 5-6 year kids, too.
So, order the book today for your little one and spend some time in the fantasy world of Tim the Tortoise by visiting this link – https://www.authorpriyankamukherjee.com/blank-page-1