From Sunday to Thursday, every night, most of the moms go to bed with the same thought – Which food to pack in the tiffin box tomorrow? The sole conditions are the food should be healthy, tasty, easy to consume, compact and can be prepared at the speed of lightning! Unfortunately, the two years of lockdown have put us out of the habit of preparing tiffin. And after talking to a few moms, we realized it's something that not just we two face, but it's a common challenge. So, today we have compiled some easy, healthy, quick tiffin box recipes that you can prepare within minutes.
Special Thanks To
Paramita Mukherjee, Sayani Sarkar & Tannistha Mukherjee for their contributions. This post could not have been possible without the recipes they have shared.
Healthy, quick tiffin box recipes
Flattened rice (Poha) Tikki
Packed with iron, fibre, carbohydrates, antioxidants and vitamins, Poha (chire) provides a wholesome meal. And it's also gluten-free.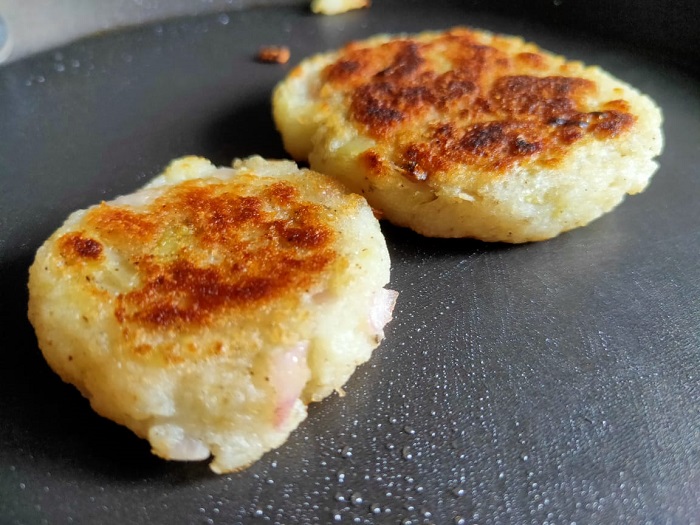 A quick look at the ingredients to prepare poha Tikki for tiffin
Poha – a handful for two medium size tikkis, a small potato, seasonal vegetables (most preferably carrot, beans and capsicum), 2-3 tablespoons refined oil, ½ cube cheese or one teaspoon butter, half onion, pepper & salt according to taste
The ratio of poha to potato should be 1:1/2
Poha Tikki recipe
Wash the poha to soften it but ensure it does not become soggy. Mash the hardboiled (not very tender, yet mashable) potato in a bowl and add finely chopped onion, grated vegetables and cheese or butter. Mix well. Add the softened poha. Sprinkle in some salt and pepper. Mix well with your hand. Take small portions from the mixture. Give the portions flat shapes like Tikki or patty. Keep aside. Heat the oil and shallow fry the Tikki or patties till golden.
Preparation time: 10 to 15 mins. You can prepare the veggies the previous night and refrigerate them in a bowl of water or in an air-tight pouch.
Pick it and place it in your child's tiffin box. As a dip, you can give tomato sauce or mayonnaise. (Try out Hellmann's Eggless Mayonnaise.)
Pancake/Gola Ruti
This is one of those quick tiffin box recipes which has the widest variance. Different moms make this all-time favourite tiffin food in different ways. The process is the same, it's only one of the ingredients that differ from mom to mom.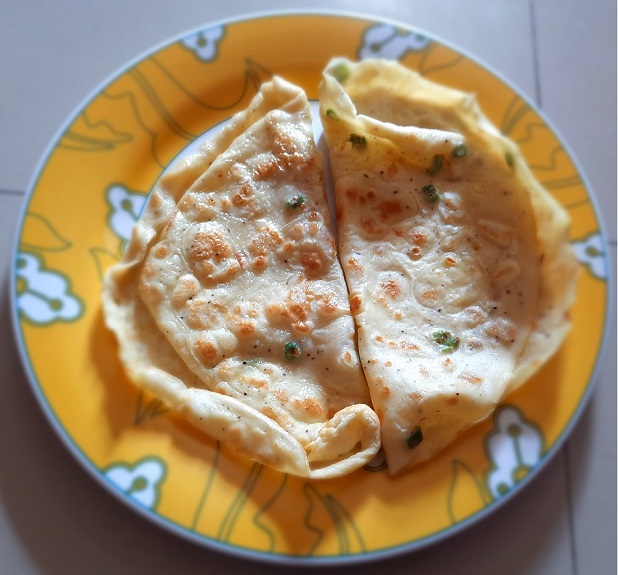 Ingredients which has a wide options to choose from
An egg, all-purpose flour/semolina/Rava/wheat flour, chopped onion, grated veggies (if available), turmeric (optional), salt, pepper/chillies, oil for greasing the pan so that the batter doesn't get stuck, a pinch of julienned ginger (optional). You can also add a bit of milk to the batter. It helps to maintain the consistency of the mixture and is healthy but adding is not a must.
Preparation
Preparation time: 10 to 15 mins. You can prepare the veggies the previous night and refrigerate them in a bowl of water or in an air-tight pouch.
Whisk the egg and mix in every ingredient to make a batter. The batter should be neither thick nor watery.
Grease the pan and start putting a ladle full of batter for browning. When one side browns, flip it and let the other side cook in the same way.
If in a dire hurry, you can also make this preparation without veggies and onion. In that case, add half a teaspoon of honey.
You can also add mayonnaise to it. But, in that case, whisk the mayo and then add the egg.
Quick fix Rava/semolina upma
Along with various other benefits, upma helps in digestion and boosts energy (something that all our kids need).
Ingredients
Half cup Rava/fine blended suji (Semolina)
Mustard seeds and curry leaves for tempering
1/4th potato
1/4th onion
A small portion of carrot
A handful of groundnuts
2-3 tablespoons oil or ghee
Salt according to taste
A teaspoon of coriander for garnishing (optional)
Preparation
Finely chop all the vegetables
Add oil/ghee to a deep-bottomed pan
Once the oil is hot, add the mustard seeds and curry leaves to splutter. Then, add the veggies to it.
Stir fir them until mildly cooked.
Add the Rava and keep frying. Sprinkle some water on and off.
Add the salt.
Once the rava turns golden brown, take it off the pan, and garnish it with coriander.
Preparation time: 10 mins. You can prepare the veggies the previous night and refrigerate them in a bowl of water or in an air-tight pouch.
Lemon Rice
Like pancakes, lemon rice is also a prevalent tiffin food which our friends from Southern India swear by. Lemon rice is straightforward to make and lengthens the shelf life of rice. During humid days, when our kids cannot digest fried food easily, you can prepare lemon rice to cool the gut.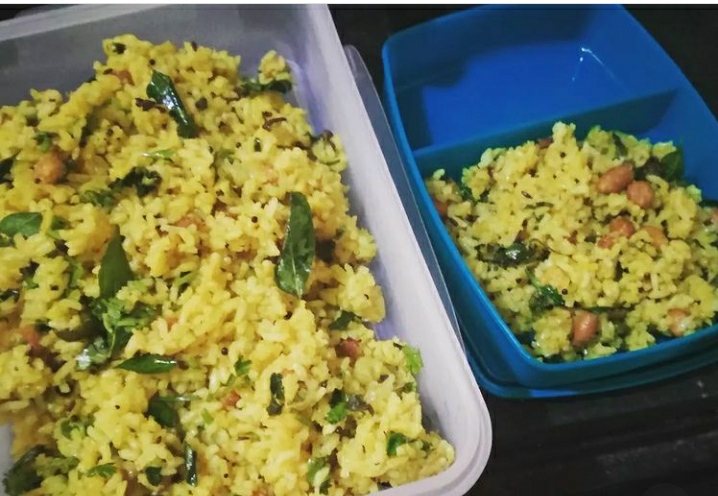 Ingredients:
1 cup of pre-cooked rice (tastes better with short-grained gobindobhog atop chaal/rice)
A handful of groundnuts
A sprig of curry leaves
A pinch of mustard seeds, chana daal (Bengal gram), urad daal for tempering
½ tsp of turmeric powder
Salt and Sugar according to taste
½ slice of lemon
2 tbsp refined oil
Preparation:
Heat the oil in the pan
Fry the groundnuts and keep them aside.
Now, put the mustard seeds, urad and chana dal in the same oil.
As they start spluttering, add the curry leaves and immediately add the pre-cooked rice
Stir in. Add the fried groundnuts, turmeric powder, salt and sugar. Mix well.
Meanwhile, take the juice from the lemon slice and mix it with 1 ½ tbsp of water.
Turn off the flame after mixing the rice well with the other ingredients.
Add the lemon juice and water mix. Mix well. Once you see the colour of the mixed rice changing to faded yellow, you know it's done.
Preparation time: If you use a cooker, the rice hardly takes 15mins to cook. And once that's ready, the rest is a matter of just 10 mins more. To quicken the process, you can use last night's pre-cooked rice.
Serve in the tiffin box after a standing time of 5 minutes.
Kabuli Chana Chaat (Chick Pea Salad)
The Chick Pea or Kabuli Chana has high protein content, which is required for nourishment in children.
Preparation that'll make your Mondays happier
1. Boil overnight soaked Kabuli chana (Chick Pea), or use pre-boiled chana. The quantity depends on the kid's appetite.
2. Mix chopped onion, cucumber, tomato, chilli and Kabuli chana in a bowl. Add a dash of lemon juice and black salt before packing the tiffin.
Preparation time: This is one of the best quick tiffin box recipes. It hardly takes 8 mins to prepare this delicious recipe. And can be used as a great evening snack too.
So, here are a few handpicked quick tiffin recipes, and we have a storehouse full of more tiffin ideas. So, please write to us in the comment section if you want more quick tiffin ideas from us. And if you have some other ideas, which will make the tiffing times more joyful for the kids without burning us, the moms, please share with us.
Related Articles: Hugely Popular Bengali Breakfast Dishes