The beauty of the Bengali storybooks is that there's no set age groups you need to stick to when it comes to reading. The same books can be read aloud to the kids when they are toddlers and later on introduced when they can start reading themselves. In fact, the familiar stories to which they have listened as toddlers will inspire them to read themselves. Such is the bond of a mother language, isn't it?
Still, we have attempted an age-wise division of the Bengali storybooks too! Bengali Children's Literature is extremely rich. Most of the stalwarts of Bengali Literature, namely, Rabindranath Tagore, Sarat Chandra Chatterjee, Nazrul Islam, Upendrakishore Roy Chowdhury, Sukumar Ray, Bonophool (Balaichand Mukhopadhyay), Leela Mazumdar, Bibhutibhushan Bandyopadhyay, Sunil Gangopadhyay, Nabanita Dev Sen and many others, had written for children in different points of their life. We honestly feel that these books are just the initial steps through which the reading journey of Bengali books should be started.
Bengali Storybooks for kids of 0 to 6 years
Tuntunir Boi
Tuntunir Boi comprises of the folk tales of ancient Bengal. Upendrakishore Roy Chowdhury had collated the Bengali folk tales popular in rural areas and had written them down in simple language. The language would engage the kids and leave them yearning for more. The stories are so interesting that your children might ask them to read every day! It's the quintessential book with which you can start reading aloud for your child, even if they are just a few months old.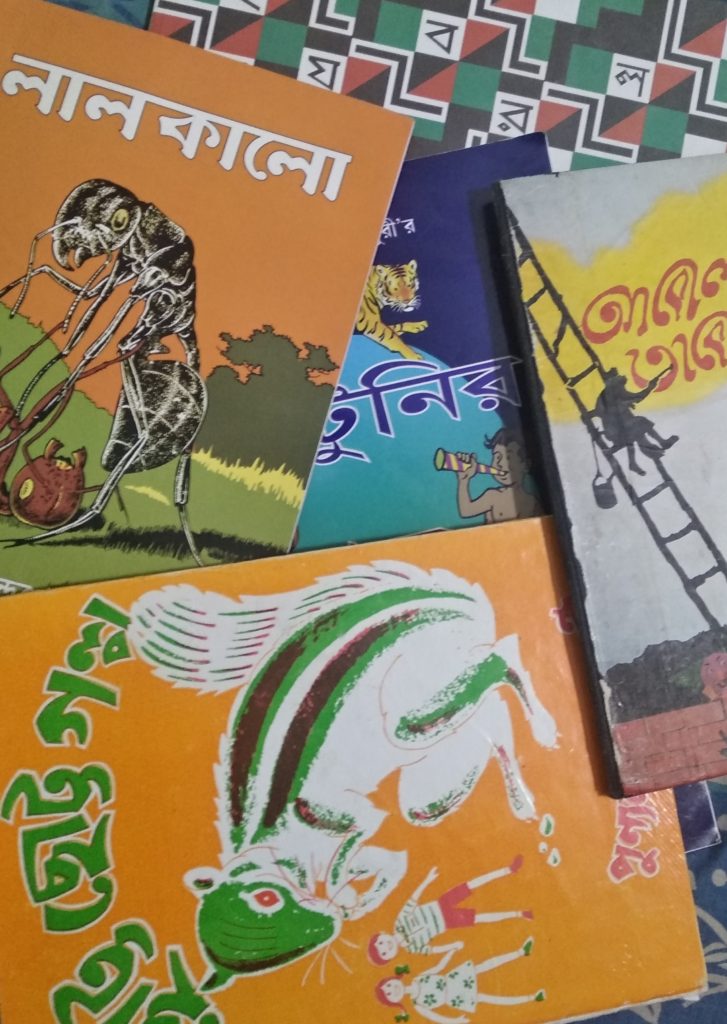 Chhotto Chhotto Golpo
Chhotto Chhotto Golpo by Punyalata Chakraborty (one of the daughters of Upendrakishore Roy Chowdhury) is a timeless classic. Most of the stories are a page long and talk about the simple events in every Bengali house. The co-existence of animals and human beings had been brought up beautifully in the stories. Without explicit mentions, the stories teach human values to the readers.
Abol Tabol
Not a Bengali Storybooks per se, Abol Tabol consists of rhymes and poems for children. Ask any Bengali about Abol Tabol, and he/she would recite a few lines (or an entire poem) of any rhymes from this book. Written by Sukumar Ray (another genius from the Ray family and one of the sons of Upendrakishore Ray Chowdhury), Abol Tabol's appeal is timeless. The rhymes talk about strange animals like Bokocchhop (a combination of Egret and Tortoise), strange people like Katukutu Buro and their strange habits. Abol Tabol helps in Bengali pronunciation in a fun way, too (we realize it now after we read them out to our kids, although).
Tutu Bhutu
Tutu Bhutu is a masterpiece by Dhirendranath Bal, referred to as Bengal's Walt Disney after his death. The book is about strong friendships between a cat, dog, duck, chickens and squirrels. The story teaches us humanity through the animal characters.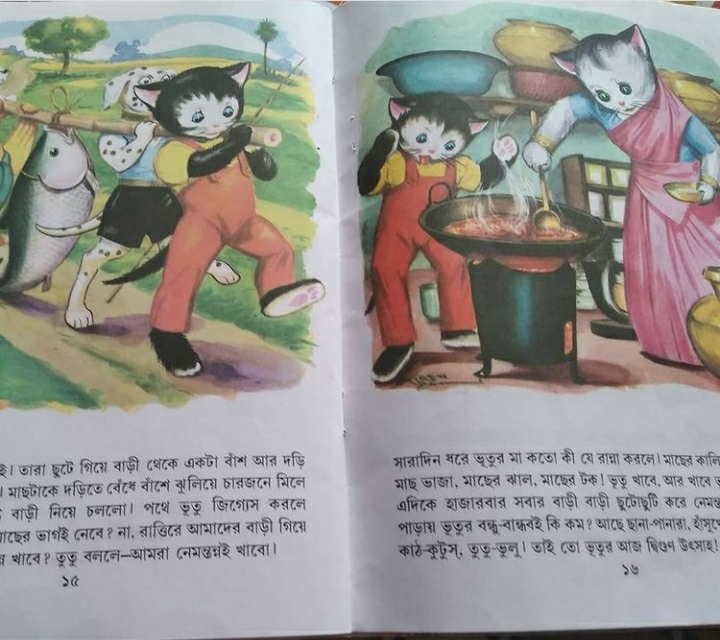 Bagha Bhutu
Bagha Bhutu is a sequel to Tutu Bhutu. It was written by Pritha Bal (talented daughter of Dhirendranath Bal). The story just takes up from where Tutu Bhutu ended. It talks about social inclusion and friendship.
In the above list, we have intentionally left out Thakumar Jhuli by Dakshinaranjan Mitra Majumdar because, after a second look at it, as parents, we felt that the book would promote misogyny and patriarchy more than teaching about good values. In the present times, when we are ought to teach children about gender equality and social equality, the stories of Thakumar Jhuli won't serve the purpose, sadly. However, as we have done, you can retell those stories with more feminist (don't mistake with pseudo-feminism) tweaks as we do.
Bengali Storybooks for kids of 6 to 10 y
Ha Ja Ba Ra La
Ha Ja Ba Ra La, written by Sukumar Ray, is a fantasy that induces a kid to think, too. In the land of fiction created by the author, the reader wanders around and meets weird and funny characters. If your kid loves Abol Tabol, he/she will readily jump on reading this gem, too.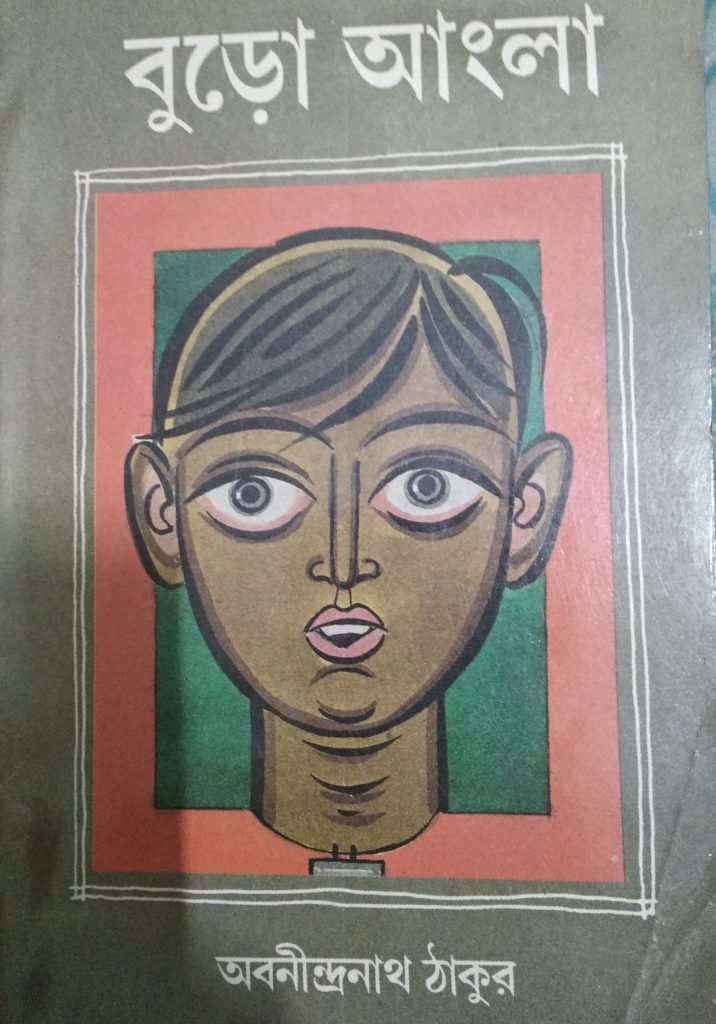 Buro Angla, Khirer Putul, Nalok
These three books written by Abanindranath Tagore describe the world of children's imagination. Khirer Putul is a fairy tale with a non-conformist ending, while Buro Angla describes the transformational journey of a kid with a heart filled with vices to a kid with benevolence. Nalok is a take on the journey of Gautam Buddha told from children's point of view.
Holde Pakhir Palok
It's an endearing story describing the siblings' love for a pet dog and how troubled they became when the dog disappeared. The writer, Leela Majumdar, had woven the story keeping the usual texture of society in mind, i.e., the general characteristics of the people in their immediate environment. The truth! Later on, when you would gradually introduce your kids to the other works of Leela Majumdar, you would explore how beautifully she had created memorable characters with the people who apparently seemed harmful.
Adbhuture
Adbhuture is the first book of the Adbhuture series written by Shirshendu Mukhopadhyay. The book is a light-hearted description of 'helpful ghosts.' The entire series has many memorable comedy moments, ghostly influences, utter confusion, which gets eventually solved at the end of the stories. All the books are unputdownable. Parna's personal book recommendations from the 'Adbhuture' series are 'Nabiganjer Doityo,' 'Manojder Adbhut Bari,' 'Patalghar' and 'Chhayamoy.'
Gogol Samagra
We had a debate on deciding on this title. Neha sided with 'Pandob Goyenda' by Shashthipada Chattopadhyay, while Parna wanted to mention 'Gogol' written by Samaresh Basu. We zeroed on Gogol Samagra after analyzing the literary appeal of both. Gogol's adventure stories are more articulately described keeping the thrill factor intact than the Pandob Goyenda series.
Chaander Pahar
Did you think we missed out on this masterpiece? No way! We have saved the best for the last. 'Chaander Pahar' written by Bibhutibhushan Bandyopadhyay, is a tale of adventure, survival, human values and human's lust for wandering around the world. The book contains vivid descriptions of Africa and the indomitable spirit of Shankar, the lion-hearted protagonist.
Special Mentions:
We would suggest Feluda's stories, Tenida's adventures, and Ghanada's tales after ten years as the kids would be able to fully grasp the story plots only after that age. But if your kid is a bookworm, Feluda, Tenida and Ghana Da can be introduced earlier.  Professor Shanku can also be introduced during the pre-teens at ages 11 or 12.
If your child yearns for fairy tales, we would suggest the 'Rupkatha Samagra' written by Nabanita Dev Sen. Through her fairy tales; you can teach the initial lessons of gender equality.
Apart from these, we would also suggest two gems – Gourer Kabach by Shirshendu Mukhopadhyay and Laal Kalo by Girindrashekhar Basu for children above eight years of age. Do you have any more titles in mind which you would like to suggest? Just keep mentioning them in the comment section below!
Disclaimer: We are a participant in the Amazon Services LLC Associates Program. We may earn a small commission if you purchase products via our website. Your purchases support us in bringing you informative and fun-filled articles.