Ruskin Bond books are timeless and the best picks during this time of disharmony when our minds yearn to be free from stress. Our Guest blogger, Ekta Kubba, an ardent Ruskin Bond fan, has shared some of the best books of Ruskin Bond.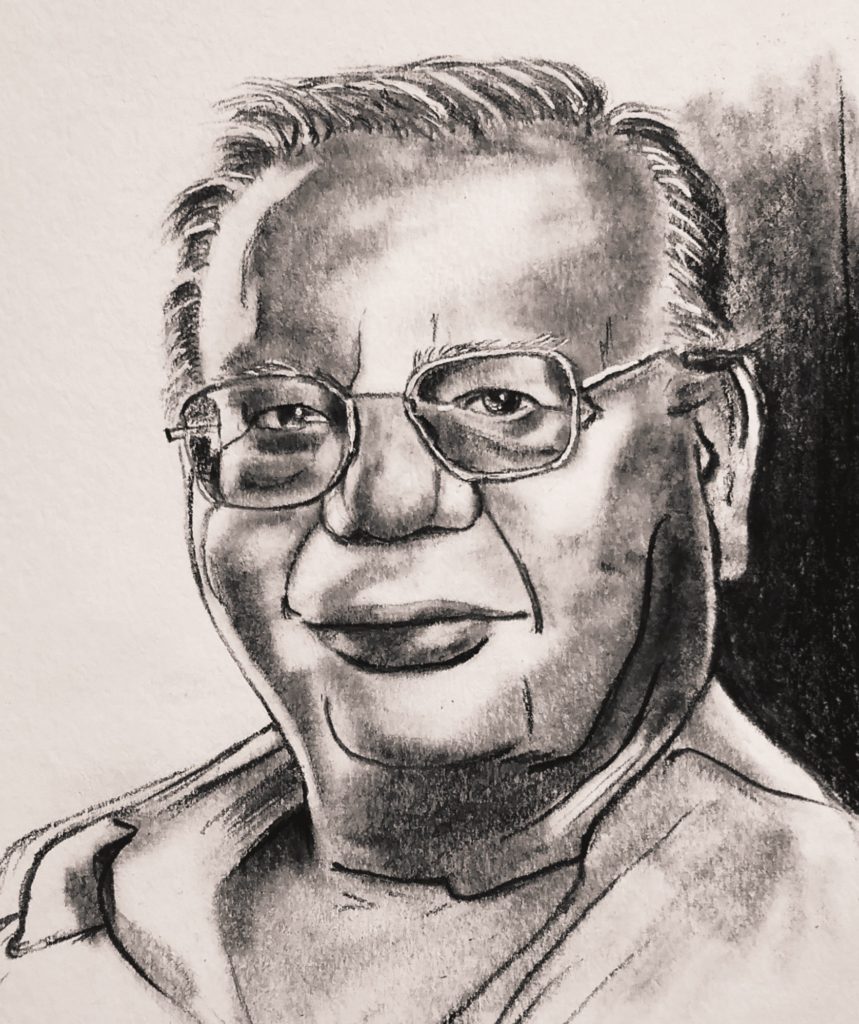 The digital world and progressions in technology have altered the way of life. Undoubtedly, it has made students' life more competitive and full of anxiety and restlessness. To calm the mind, children's imagination needs to be aroused. It should be channelised towards more comforting and simple things like the chatter of a stream, chirping of birds, various scents coming out of house kitchens and bazaars. Children need to know how to respect nature as well as relationships with fellow humans. Lockdown due to the pandemic has enhanced the stress of school children who are going through a virtual school life, where they keep on studying without physically meeting their friends during recess and after school. That warmth is undoubtedly missing in the current scenario. On the other hand, this is the right time to get back to reading and re-living that warmth that is genuinely missing in today's world.
Reading is a habit – how to encourage your child to read?
Eight Ruskin Bond Books for children
One author who is widely read and widely loved all across the nation is Ruskin Bond. So, here are eight books by India's favourite oldest child Ruskin Bond, that can help school children to tranquilise their mind for a while and befriend some crazy, roguish and imaginative children.
Getting Granny's Glasses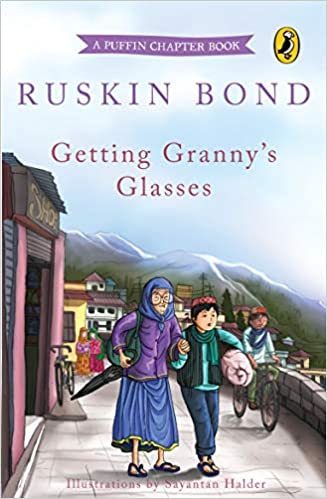 There are some feel-good stuff, places and moments in everyone's life. This book lets you live this feeling. The children can experience different colours of nature and learn to observe simple things around them that usually go unnoticed. Aren't kids and old-aged persons alike? The joy of savouring the magnificence of nature has been best portrayed by Mr. Bond through Granny's eyes. The book offers visual descriptions of life in hills and shows the simplicity and caring nature of humble hill folks amidst the harsh conditions in the hills.
The Eyes of the Eagle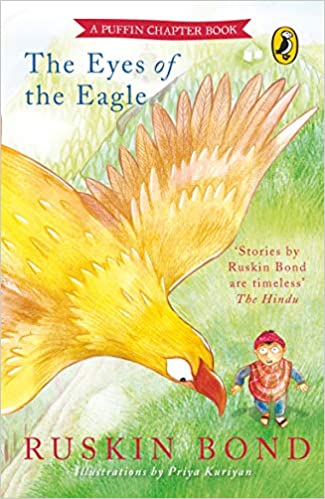 How responsible and strong hill people are! They have to adapt themselves according to harsh climatic and high-altitude conditions. Their never-give-up attitude is the backdrop of this story. This book is set in the Tung valley, where Shiva resides in his highest abode, Tunganath temple. It narrates the story of a boy Jai, his dog Motu, a few of his people, and their intrepid endeavors to save their herd of sheep from the evil claws of a golden eagle and its mate.
Angry River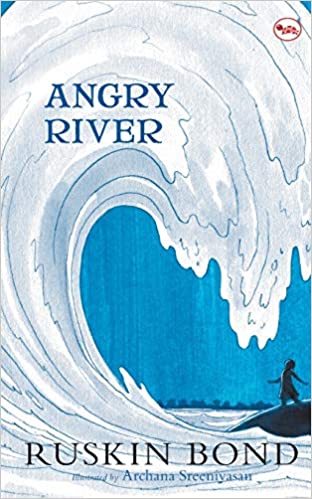 In this story, there's one river, an island, a girl, her grandparents, a boy and a tree. That's all. Fighting for the necessities and against all the odds of nature is the essence of this book. So, the thing that keeps the readers hooked to the book is the aloofness of the setting, away from the crowd, noise and modernisation. The story reveals how impertinent nature can be. But what may come, the spirit of these people never let them give up.
Though the story is about the flooding of the island and its nearby villages, it profoundly tells the struggle of people residing in these kinds of areas where bare necessities of life are hard to earn and present challenges in keeping life on a move. The book is about the courage that these people exhibit in hard times and always start afresh after any kind of natural distress.
The Road to the Bazaar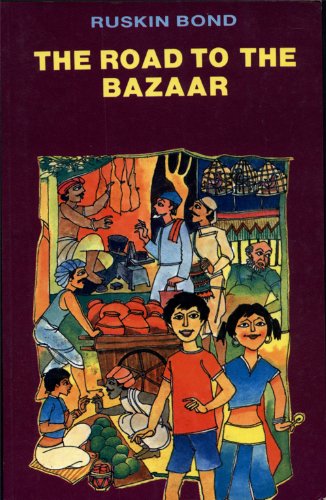 This book is packed with lively scenes of a small hill town in Northern India. It lets the children experience the simple but exuberant life of a hill town. Some joyous children indulge in such mischievous and inventive activities that make life pleasant. You're going to experience an unusual zoo made in the backyard of a house; watch the race of some atypical animals (ahem! insects); some gossip full of laughter; music of the flute; a day spent on an old tree; and many more.
This book is everything that a child can imagine. So, are you, fed up with the humdrum of city life? Have no time to perceive the primitiveness of life? Go grab this book.
The Blue Umbrella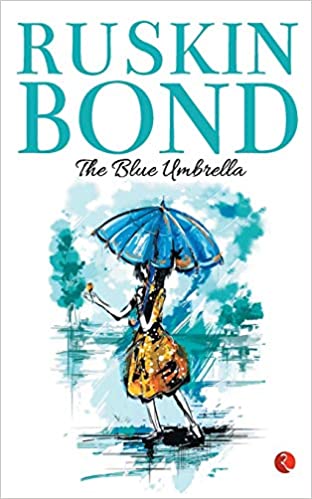 It is a delightful and fascinating story that teaches the virtues of benevolence, sacrifice, and letting go. It is tough to let go of what you love with passion, but keeping human relations above material fancies is what matters most. This is what Binya, the pretty and brave girl discovers at the end of the story. Her life was full of adventures after she gets her most dear possession, the blue umbrella. The way the beauty of the blue umbrella and everyone's longing for it is described shows the exceptional art of storytelling of Mr. Bond.
A Long Walk for Bina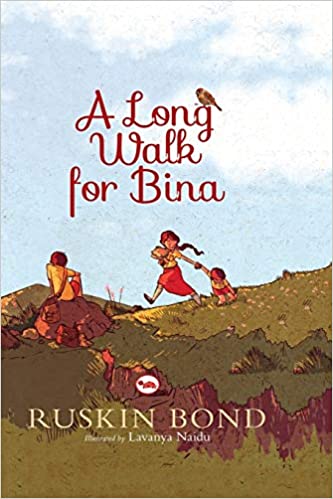 Through the story, Ruskin Bond has introduced the children to the flora and fauna of Garhwal hills and the changing landscape through human intervention. The controversial issue of the Tehri Dam is dealt with thoughtfully. So, children will be compelled to think about the effects of such kinds of interventions in the natural landscape.
Is development more important or the conservation of nature in its original form? This book highlights the effects of such kinds of invasions on not only wild animals but also on the residents of that particular area. This story with beautiful visual vocabulary is certain to make you happy and considerate of your surroundings.
Friends in Wild Places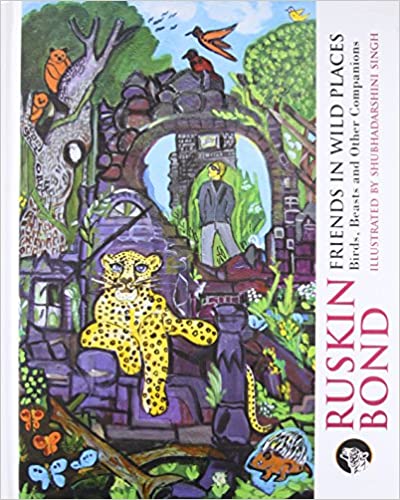 The book celebrates Mr. Bond's unusual friendships. Befriending everyone he meets is an exceptional quality of Ruskin Bond. But the unusual point is that he befriends not only human beings but also plants, animals, birds and insects. This is the reason that his stories always have something related to wildlife.
This book commemorates Mr. Bond's unique friendships and encounters with some unusual wild creatures. This book is the best way to let children know about wildlife through some captivating stories.
When I Was A Boy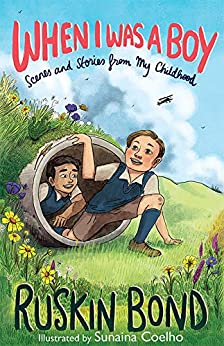 Living in the magic of the world, conceived by Ruskin Bond, while reading the timeless tales penned down by him, sometimes there's an urge to know about the life incidents that turned him into a marvelous storyteller. Here is the book with a comprehensive account of his childhood days and a concise description of his living in a room on the roof before moving to England. This astonishing book is attractively embellished.
You get to see the chubby little Ruskin tucking in cookies in his mouth. The little boy Ruskin looking through the windows of many colours while strolling through the ruins of a Jamnagar palace. And a growing young Ruskin doing his first dance at a ball in Dehra.
To Conclude
I can write so much more about the beauty of the literature under the name of Mr. Bond, but I think these books are good enough to start with. These books will give comfort, warmth, and pleasure to our young readers. It will help them to nurture that imagination which is very important in every stage of life. So, pick up any of the above books, go to a comfortable place, and dive into the world of Mr. Ruskin Bond.
About Ekta Kubba
Ekta is a Science teacher in a Punjab-based government school, but her heart ponders for literature. She is an avid reader and an ardent fan of Ruskin Bond, she is administering a fan group on Facebook, entitled 'Ruskin, the Radiant Bond'. Staying at home during the 2020 lockdown enabled her to realize her long-cherished dream to pen down her thoughts. Her writings can be read on her Facebook page 'The Writing Nerd'.
The group, Ruskin, the Radiant Bond can be reached here: https://www.facebook.com/groups/925991211175469/
Her page, The Writing Nerd, can be reached here: https://www.facebook.com/The-Writing-Nerd-111755207220177/
Disclaimer:
*The opinions expressed in this post are the personal views of the author. They do not necessarily reflect the views of www.kolkatafusion.com. Any omissions or errors are the author's and KolkataFusion does not assume any liability or responsibility for them.
** We are a participant in the Amazon Services LLC Associates Program. We may earn a small commission if you purchase products via our website. Your purchases support us in bringing you informative and fun-filled articles.