Off to Chatakpur:
We planned to start early so that we could reach Chatakpur and have our lunch. We wanted to take the short route via Dilaram and Bagora but unfortunately, the road was under construction so we had to take the longer, winding route through Sonada.
As I am writing about our journey, I can still feel the soft breeze blowing through the sprawling green jungle through which the road to Chatakpur ran. The tall pine trees kept the jungle dark and well-guarded.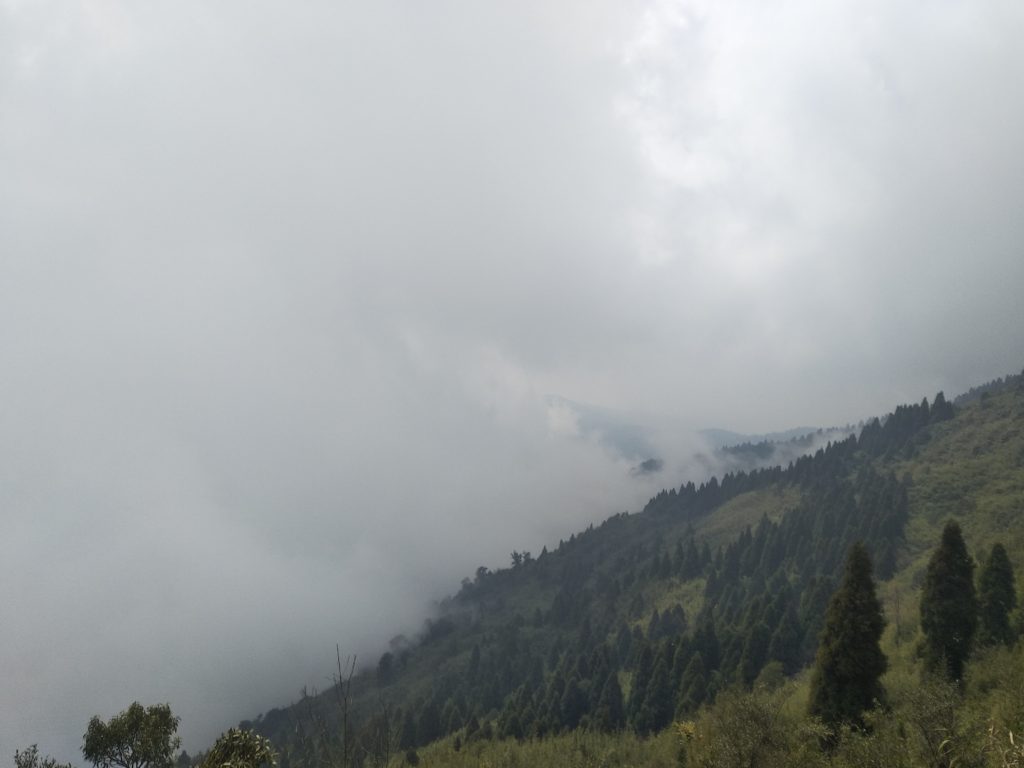 The road leading to Chatakpur had lots of ups and downs, which reminded us of our trekking days. We badly wanted to get off the cab and walk but our otherwise resilient kids were tired and asleep, also, our luggage and the gradually growing darkness forbade us from doing so.
I checked my watch on alighting our vehicle. The hands showed a 3 PM to relieve me. At least, we were not that late for lunch. The staple food was immediately served, piping hot. We satiated our hunger and retired to our respective rooms soon after because of the exhausting journey from Palmajua (Suggested Read to know about the Palmajua experience: https://kolkatafusion.wordpress.com/2019/04/10/serenity-exemplified-palmajua-chatakpur-part-1/ )
Chatakpur Village
The village is the highest point i.e 7887 feet of Senchal Wildlife Sanctuary, Darjeeling. One can get a marvellous, panoramic view of Mt. Kanchenjunga from the watch tower which is only a 5 to 10-minute walk from the homestays in Chatakpur. Not only the pristine Kanchenjunga family, but one can also wander around and soak in the lush green beauty of the dense forest while spotting a few birds and rarely a red panda.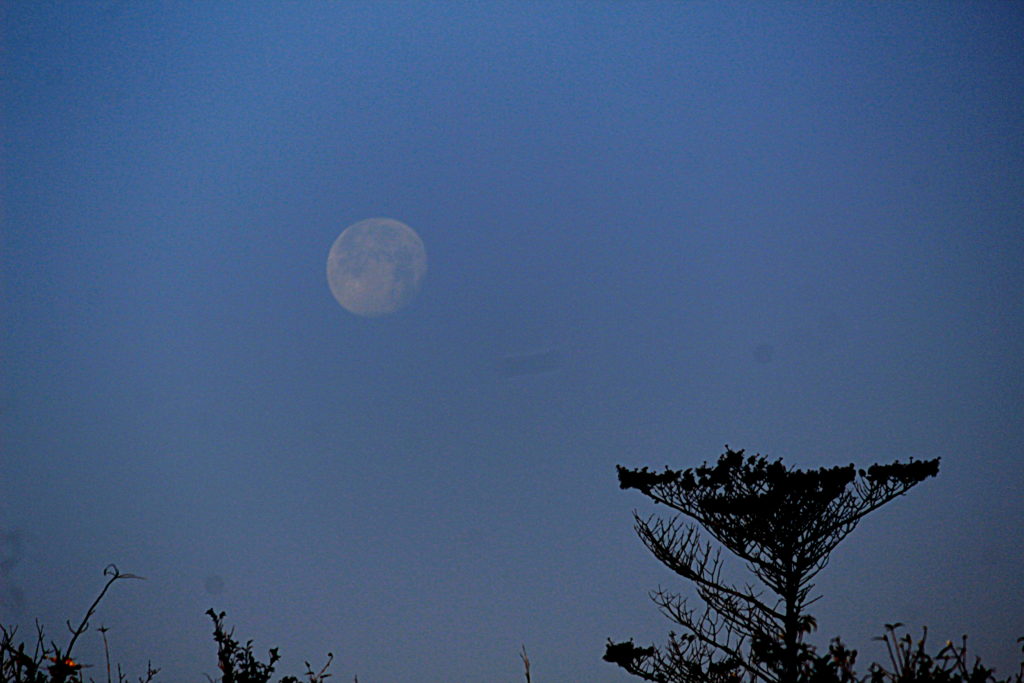 However, it is advisable to take a local guide with you while going ahead for forest treks because of the availability of animals like leopards and bears.
Next morning, we were sadly denied the view of Kanchenjunga family by Mother Nature because of overcast conditions. We also preferred to laze around rather than trekking in the forest because we did not want to stress our toddlers before heading out to Darjeeling in the afternoon itself to celebrate our daughter's birthday.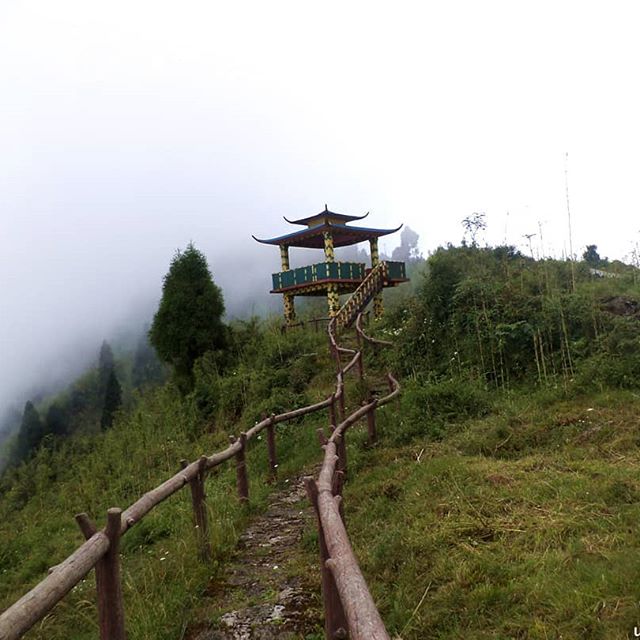 Norbu Sherpa Homestay
We had put up there in Chatakpur. The rooms, there were 4 rooms altogether, were quite cozy with attached bath and geysers. The balcony just in front of our room overlooking an open surface offered amazing views. We would have also met the Kanchenjunga family from our balcony if the sky was clear that day.
The Homestay appeared to be a planned one with properly furnished rooms and a separate dining room. It was quite a structured one given the definition of a Homestay, the rustic, indigenous feel which we felt in Palmajua went missing but for the homely hospitability of Norbu Sherpa and his family, the home cooked staple food and must to be mentioned homemade ghee which was primarily served for our kids. But, we elders too couldn't resist from adding dollops of that heavenly creation on our plates of rice and daal.
Food served in the Norbu Sherpa Homestay:
The food was pretty staple similar to the items in Palmajua (Suggested read:https://kolkatafusion.wordpress.com/2019/04/10/serenity-exemplified-palmajua-chatakpur-part-1/). Each and every food item (special nod to the chicken curry and ghee respectively) were simply cooked yet delightful.
Goodbye Chatakpur until we meet again!
We packed and got ready to bid adieu to Chatakpur. A lot remained unexplored because of our sudden plan of a detour to Darjeeling. Actually, our orginal plan was to go down to Darjeeling, spend the day, have lunch and come back to Chatakpur, but, the road construction work going on there prompted us for a stay in Darjeeling instead. It would have been tedious for us and our kids to travel up and down on the same day via the longish service road. 'We would sure be here again, another time, soon'…we said to ourselves while enquiring about the arrival of the cab we hired.
While descending down the gradient to our waiting cab, I caught hold of the wall advertisements publicizing the contact details of a Humro Homestay chain. It appeared that the Norbu Sherpa Homestay was also a part of that chain. The very concept of 'homestay' appeared as an oxymoron to me while having a look at the advertisements. 'A chain of homestays'… how weird is that! The attempt to commercialize the service offered in a homestay appalled me, whatsoever. I reasoned with my mind to keep this particular opinion to myself and trudged down with my daughter on my lap towards the waiting cab.
Contact details of Norbu Sherpa Homestay:
Address: Chatakpur Eco Village, Darjeeling – 734209
Phone Number: 09609722353
Social Media: https://www.facebook.com/pages/category/Eco-Tour-Agency/Narbu-Homestay-Chatakpur-ECO-Village-1797348747181324/
Website: https://www.humrohome.com/humro-home-chatakpur.php
Booking process: You can call in the given phone number to directly reach Norbu Sherpa or book through Humro Home's website link given above.
P.S: Please reach out in the given phone number to know about the ongoing tariffs (w.r.t your date of travel) The tariff rates are subject to change.
To our readers: Coming up next in the 'Holiday Destinations' section: An Accidental Sojourn in Darjeeling. Keep following us.