When we decided for a vacation in Shantiniketan last winter, our motto was pretty clear – taste the flavour of Birbhum and bask in serenity!
Though there are plenty of resorts and hotels in the heart of the town, we chose the eco-stay homestay, Madol, which is some 15 minutes' drive from the Visva Bharati, amidst lush green fields.
Where to stay in Shantiniketan?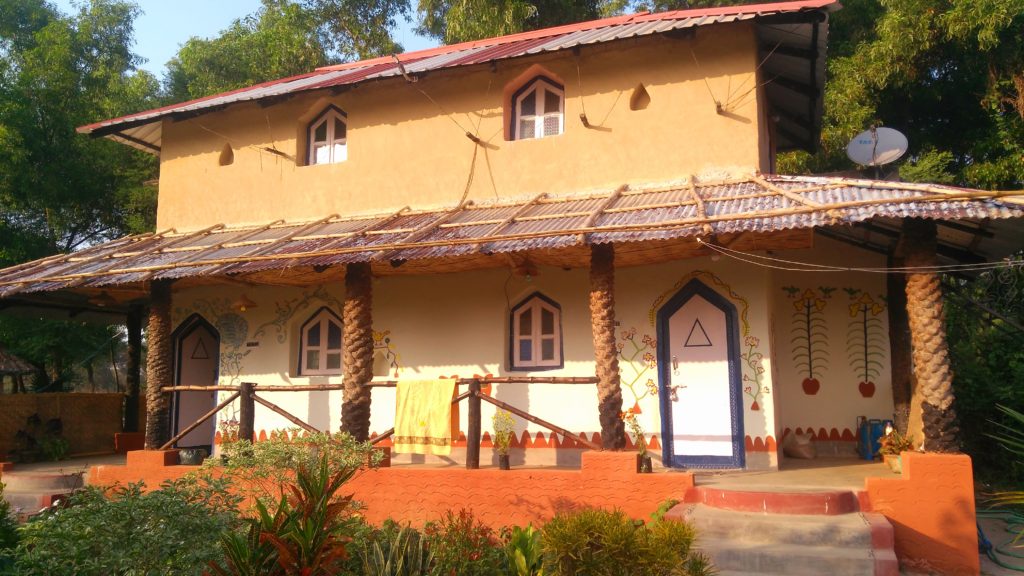 Rooms
It has 2 family rooms on the ground floor and 1 dormitory on the first floor. Rooms are clean with basic amenities, attached toilets and balcony. The view from each balcony is not only soothing but also refreshing! The dinning area was our favourite, with wooden chairs and tables! The owner, Riddhiman Bajari also has a fascination for nurturing plants and thus his kitchen garden is a treat for the city-dwellers.
The lawn is perfect for evening gatherings and it is big enough to comfortably host 10 to 15 guests. In the severity of cold December-end, we were fortunate enough to enjoy a bonfire in the evening. This same place can be a great play area for the kids!
Parking is free – there's a place where you can park your car, but discuss with the owner before travelling because parking more than two vehicles in the given area may be a challenge.
Food
Breakfast is complimentary and you can customize the food according to your taste. We travelled with our kid and stayed there for two days. And we never had any issue with our dinners (we mostly preferred having our lunch outside while touring the town). Our kid was served on time and precisely in the requested manner.
Quantity of food is more than sufficient and it also reflects the generosity of our villagers – to whom we are also guests and not a mere mode of earnings.
The taste of the served food is typically that of ghoroa bangali (Bengali homemade) food, which you can personalize depending whether your palates enjoy spicy or non-spicy food. One of the interesting food items that we had was Banspora Chicken (if it would have been mutton, the taste would surely have multiplied, but as we got late in placing the order, we missed it). This well marinated tender chicken stuffed inside hollowed bamboo poles and slowly cooked in charcoal oven is an the perfect item to savour while you sit beside the bonfire and listening to mollifying baul songs (Folk songs of Bengal).
Staff
Riddhiman, the owner, believes in attending his guests himself and with his knowledge and experience he's not only helpful, but also a great guide. He's accompanied by a young guy, who guards the property and also acts as the hands-on helper whenever anything needed. Both of them are amicable and attends guest wholeheartedly.
Their warmth is sure to make your stay more cherishable.
Who should go?
It's not a brick-and-mortar hotel, so don't expect any modern amenities – it's absolutely for nature lovers, who want to spend some time with themselves and their loved ones.
Since it's surrounded by villages and ponds, if you are travelling with kids, carry mosquito repellents.
Some other places to stay
La Sonajhuri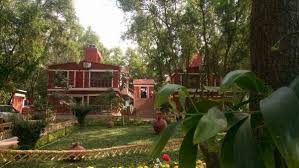 While visiting the Sonajhuri haat, we saw this resort and it looked pretty enticing from outside. Its near the location of the famous Sonajhuri haat, where you can enjoy the commotion during the day time as well as relax in the silence of the evenings. Among some of the other resorts, La Sonajhure was a well recommended place, but as we wanted secluded resort, we had opted for Madol. We plan to stay here the next time we visit.
Tripadvisor rating: 4.5/5
Ram-Shyam Village Resort
Another quite well-know resort, in Sonajhuri, located very close to the "sanibarer haat," this place is full of life. Evenings are a seamless blend of series of Baul programmes, finger licking snacks and hot mugs of tea/coffee. Though the cost of food is a bit on the higher side, they serve delicious meals, with loads of ghee and in the perfect village ambiance.
Tripadvisor rating: 3.5/5
Where to eat?
Kasahara – The Café located inside the campus of Visva Bharati, it reflects the vibrant culture of the university. Though the food wasn't anything great, but it's a must visit for the ambience and the nostalgia of college days.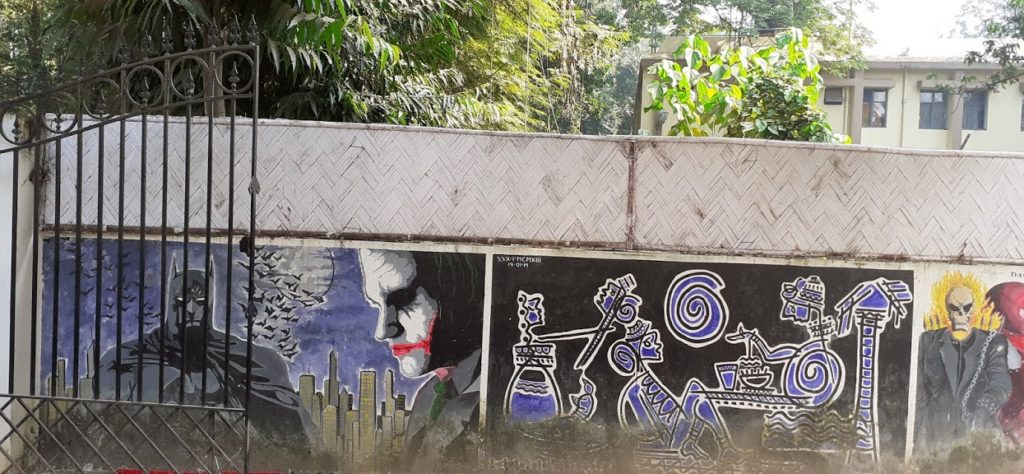 Purba Pally Guest House – In a typical set-up of Government guest houses, this restaurant serves delicious food at the most reasonable price you can imagine. They have both veg and non-veg thalis, which come with Daal, Bhaat, Bhaja, Shaak er Ghonto, Papad, Chatni, Doi, Mishti, and Torkari (for Veg Thali) or Fish/Chicken/Mutton for Non-Veg thalis.
Out trip was only two days, so we couldn't go around and check all the other eateries. With the help of a dear friend (and relative), who have been a regular visitor of Shantiniketan during his college days, we bring for you some other eateries of Shantiniketan. He is also an ardent foodie, and aims to pen down his affairs with street food someday.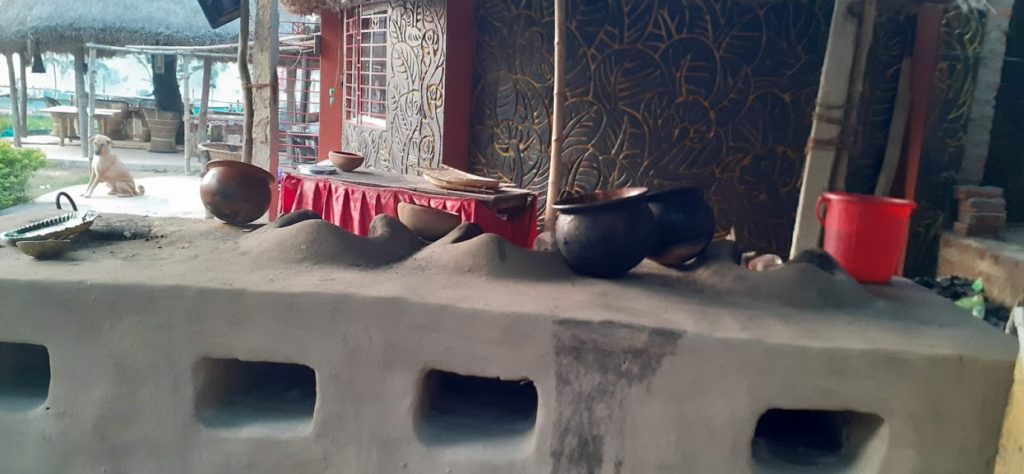 The following places are his suggestions, and I can vouch on his words!
A lunch in SHILPA with Mutton curry and Rice, a serving of crispy potato fry and white jholjhole (soupy) alu posto. Located in front of Bolpur Super market, finding it out won't be a challenge for you.
Kharimati – A garden converted into an open restaurant. Ultimate fusion of aristocracy with Bengali Gram er flavour – enjoy delicious meals served on kansar thala (utensils made of Bell Metal).
German and SURMAN dhaba – Once upon a time it was the go-to place of college goers. This place also used to serve liquor in the perfect dhaba set-up and was absolutely safe. Though liquor isn't served here as it used to be, but it's machchur, and chicken tarka with handmade voluptuous chapatis still tastes as lip-smacking as ever.
We also recommend Chicken Dosa as one of the must try street food of Ratan Pally.
Are you an Egg lover?
Half boiled, full boiled poultry and duck eggs topped with pinch-full black pepper and black salt served half egg shell intact but can be loosened with a spin of spoon underneath. You can taste it near Chitra Cinema Hall.
Ghare Baire – One of the well-known restaurants in Shantiniketan that serves authentic Bengali food, is located next to a Government run cinema hall. It has a clean and soothing ambience with amicable staff ready to help you out. But the prices are on the higher side.
Disclaimer: COVID-19 has changed the way we travel. While most of these resorts are fully functional and takes care of the hygiene, it's our responsibility to abide by the new travel norms and keep ourselves safe.
To know about Shantiniketan, the best time to visit and the festivals, read our post Weekend Destination Near Kolkata – Shantiniketan