Traditionally, the Bengalis start their lunches with a first course known as 'Prothom Paatey'. Most often, it remains bitter preferably, as we believe that having a bitter first course will stimulate our taste buds. Our traditional Bengali dishes are not just tasty and healthy but are also scientifically backed – bitter food helps in proper blood circulation and also keeps our body cool.  
So, to cut the bitter story short, let me introduce a quintessential bitter 'Prothom Paatey' recipe. Do try it in your kitchens as well.
Ingredients for Bangali Sukto Recipe
Potato (1 medium)
Sweet Potato (1)
Bitter Gourds (Ucchhe) (5-6 medium)
Raw Papaya (1 small)
Pumpkin (proportionately)
Drumsticks (Moringa sticks) (1 – 2)
Milk (2 tbsp)
Ginger Paste (1 tsp)
Mustard Oil (1 ½  tbsp)
Turmeric Powder ( ½ pinch)
Salt (according to taste)
Sugar (1 tsp)
For tempering
Wild celery seeds (Ajmoda or Radhuni) (1 Pinch)
Five spices (Paanchphoran) (1 Pinch)
Process of Cooking Sukto
Cut all the vegetables lengthwise keeping the length one and a half inch. Heat the oil in a pan or wok (kadhai) and throw in 1 pinch of wild celery seeds. When the seeds begin to splutter, put the vegetables and shallow fry them. Add water, salt, half a pinch of turmeric powder and cook till the vegetables are tender. Now, give the ginger paste and a pinch of powdered paanch phoran or five spices and simmer. When the vegetables are done, add 2 tablespoons of milk and a teaspoon of sugar (because no Bengali food is complete without some sugar in it) and turn off the gas. Top it up with a generous teaspoon of ghee and serve hot with a slice of lemon.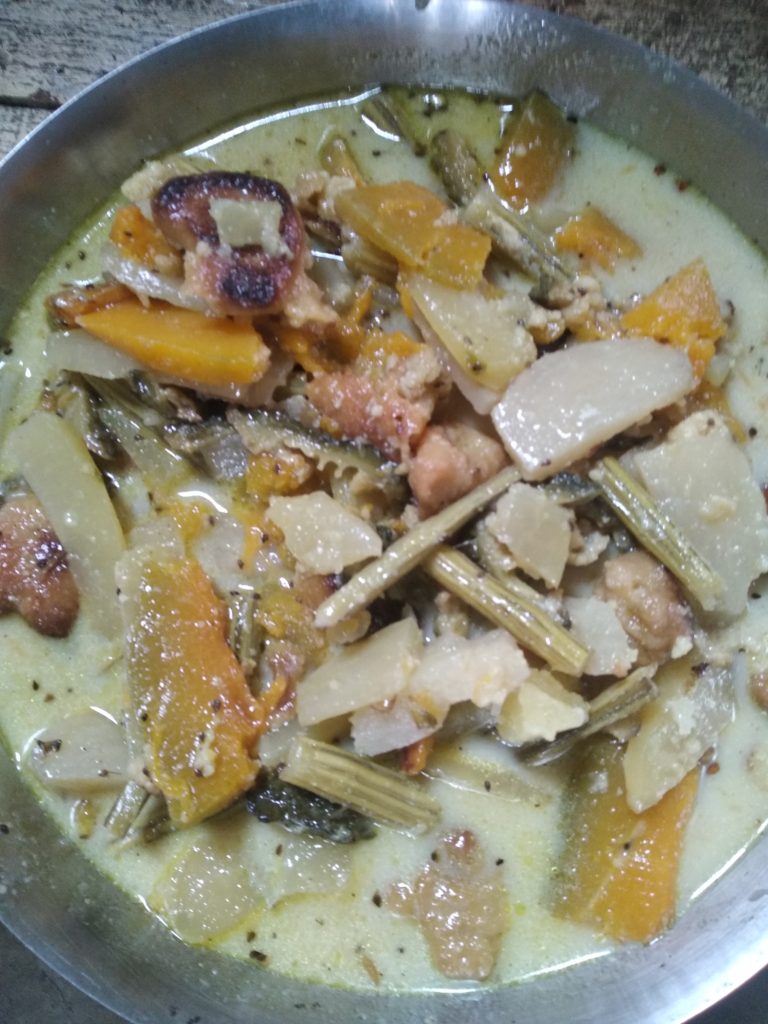 For the perfect non-veg after shukto, check out the Crab recipe.