Amidst the sweet platter relished during Bijoya feasts at different Bengali households, almost all of us search for a few savoury items too. The two most common savouries served during Bijoya feasts are Nimki and Ghughni. In fact, it won't be an exaggeration if we say that Narkel Naru, Nimki and Ghugni are a sort three musketeers of a typical Bengali Bijoya plate served to the guests exchanging pleasantries during Bijoya meets.
Ghugni is a Bengali cousin of Chana/Chhole Masala and can be of two varieties – Vegetarian and Non-Vegetarian. The vegetarian version does not use onion and garlic in its preparation process, while the Non-veg version uses onion, garlic even chicken keema or mutton keema. We prepared the vegetarian version this time, the most common preparation of Bijoya special Ghugni.
Ghugni Recipe
Ingredients (Serves 4)
Yellow Peas (Motor/Chana) – 150 gms
Grated coconut – 1 cup
Tomato (chopped) – 1 medium
Ginger paste – 1 tsp
Salt – According to taste
Sugar – 1 tsp
Turmeric powder – ½ tsp
Cumin powder – ½ tsp
Coriander powder – ½ tsp
Kashmiri Red Chilli Powder – 1 tsp
Green Chillies – 2
Mustard Oil – 3 tbsp
Garam masala (freshly dry roasted) – 1 tsp
Bhaja Moshla (Dry roasted Masala) – 2 tsp for garnishing.
How to Prepare Ghugni
Bhaja Moshla
Cumin seeds – ½ tsp
Coriander seeds – ½ tsp
Bay leaf – 1
Cinnamon stick – 1 ½ inch
Cloves – 4
Green Cardamom – 2
Dry roast all these ingredients in a pan and then grind them into a fine powder. Keep aside.
Ghugni Preparation:
Step 1: Soak the yellow peas (motor) for 4-5 hours. Boil them with a bit of turmeric powder and a bay leaf in a pressure cooker till two whistles. Keep aside.
Step 2: Heat the mustard oil in a pan. Add a bay leaf.
Step 3: When the oil gets heated, put in the chopped tomato and a bit of salt.
Step 4: As the chopped tomato starts getting tender, add half a cup of grated coconut.
Step 5: Stir till chopped tomato turns mushy and blends well with grated coconut. Add the ginger paste as well.
Step 6: Keep stirring till the oil from the masala separates. Add in the boiled motor (yellow peas) and mix well.
Step 7: Add in the cumin and coriander powder. Saute well.
Step 8: When the raw smell will go away, add a cup of water. Bring the preparation to a boil. Add salt.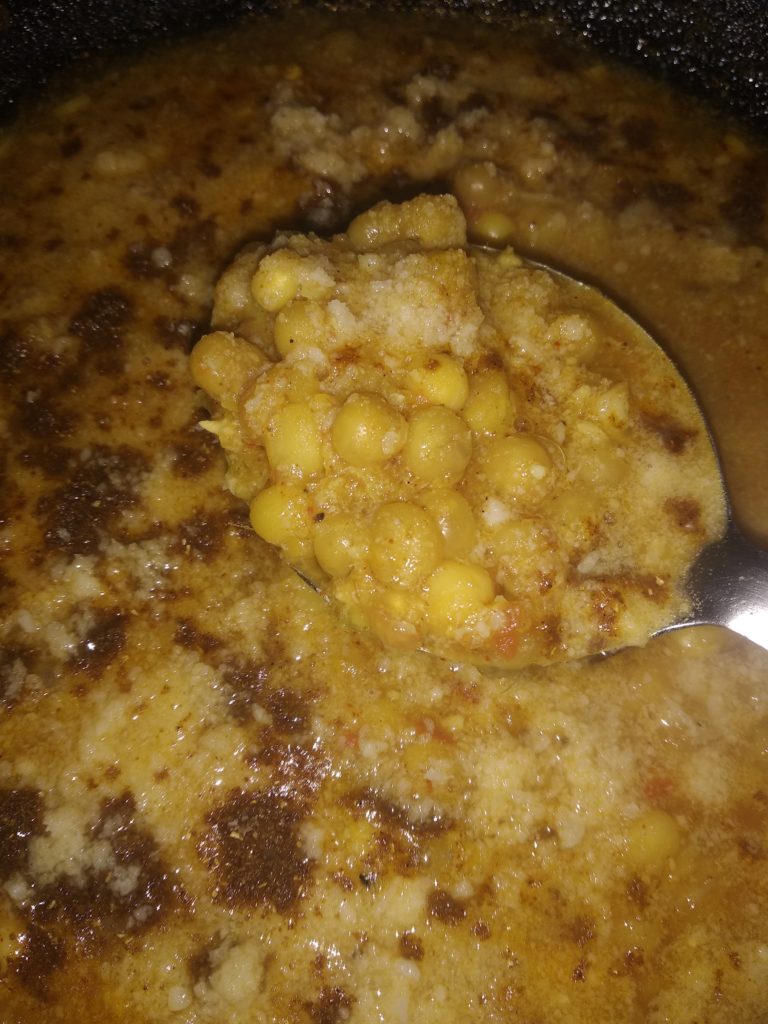 Step 9: Put in the roasted garam masala powder. Let it mix well. Add Sugar.
Step 10: Add the remaining cup of grated coconut. Sprinkle the Bhaja Moshla. Cover it well and keep it in a standing time of 10 minutes before serving.
Nimki Recipe
Ingredients
All purpose flour (Maida) – 2 cups
Ghee – 3 tbsp
Nigella Seeds (Kalo Jire) – A handful
Water – As needed
Refined oil – As needed
How to Prepare Nimki:
Step 1: Mix the flour with the ghee and onion seeds well and keep covered for 30 minutes. Start kneading and add bits of water as required. The dough should neither be too soft nor too hard.
Step 2: Cut small dough balls from the kneaded dough.
Step 3: Take one ball each and roll out on a chakki like a flatbread.
Step 4: Take care that the rolled bread should be thin.
Step 5: In the meantime, heat the refined oil for frying. The oil should be very hot.
Step 5: Cut the dough into diamond-shaped pieces and deep fry in batches. Nimki is ready.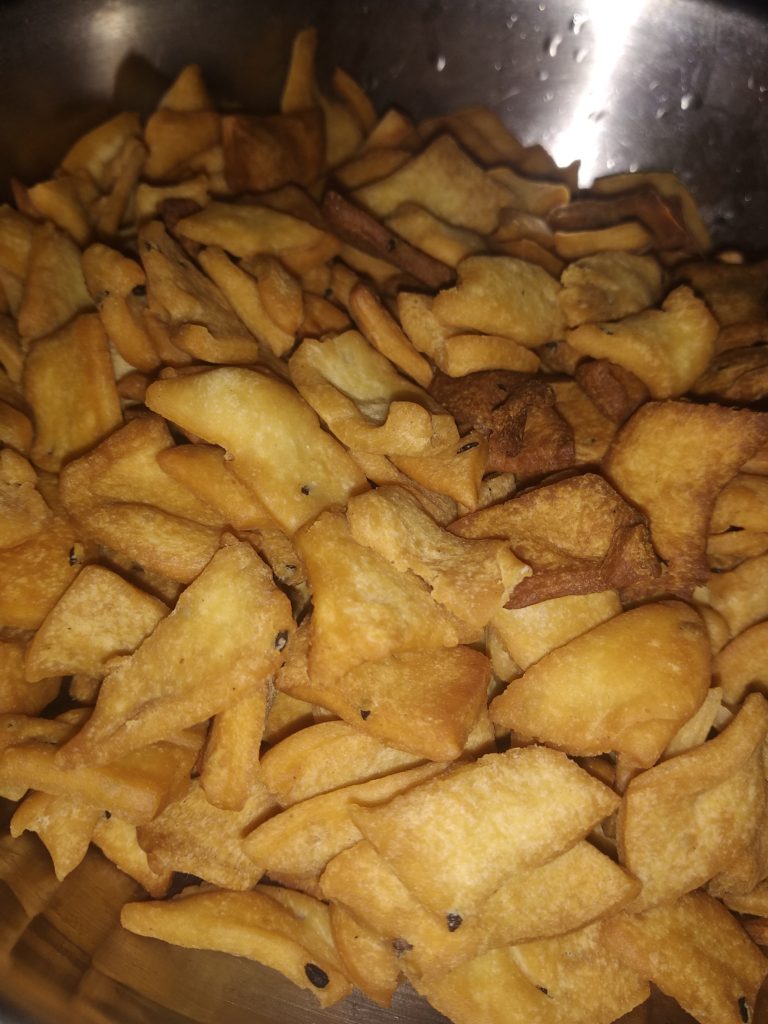 Enjoy and relish your Bijoya platter.
Shubho Bijoya from us!!