Palak Paneer is not a peculiar Bengali food but extremely popular among the Bengalis. There is an abundance of Palang Shaak or Palak in the Bengal markets during winters, thus an easy entrance for Palak Paneer in the Bengali food lovers' homes and Palang shaker ghonto, or Palang Shaak bhaja. The Palak Paneer Recipe had been passed down to the Bengali Kayasthas by their Mughal employers. In recent times, the roadside Punjabi Dhabas had immensely popularized this winter dish all over India, including Bengal.
Although Palak Paneer traces its origin to the Middle Asian countries, the modern technique of making Paneer traces its roots to Bengal's Portuguese rule during the 17th Century. Before the Mughal Rule, Indians never consumed 'spoilt' milk. It was a sin. Later on, as awareness increased, Paneer became the primary source of nutrition among the vegetarians.
Initially, Paneer making was not a vegetarian affair. Milk was curdled using sheep rennet or goat rennet. When the Portuguese brought along the technique of curdling the milk with lemon juice or vinegar and introduced it first in Bengal, Paneer got a wider acceptance among the vegetarian fraternity of North India. In fact, the Portuguese had also influenced the present use of Paneer cubes instead of the crumbled version used earlier. This is the bit of Bong Connection that Palak Paneer Recipe has still date.
The flavour of Palak or Spinach is unique. It easily complements the taste and texture of Paneer. If you want to make restaurant-style Palak Paneer in your homes, please follow the recipe given below:
How to make Palak Paneer?
Ingredients
Palak (Spinach): 250 g
Paneer: 200 g
Ginger (chopped): 1 ½ inch
Garlic (chopped): 5 pods
Onion (chopped): 1 large
Tomatoes (chopped): 1 large
Green Chillies (chopped): According to taste
Turmeric Powder: ¼ tsp
Coriander Powder: 1 tsp
Cumin Powder: ½ tsp
Garam Masala: ½ tsp
Kashmiri Mirch: 1 tsp
Salt: According to taste
Refined Oil: 2 tsp
Butter: ½ tsp
Hing (Asafoetida): 1 tsp
Water: As required
Keora Water: For a dash of fragrance (can be omitted)
Fresh Cream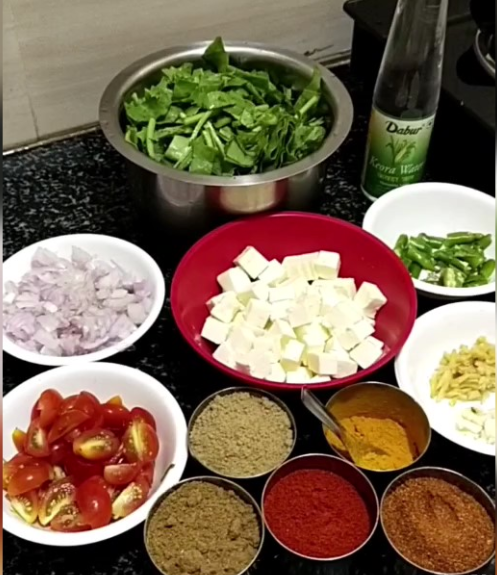 Procedure
Boil the spinach and keep it aside for cooling before blending it in a mixer. You can add a few cashew nuts and raisins along with a few chopped green chilies while blending. The cashew nuts will thicken the gravy, while the raisins will add in some sweetness.
Heat 2 tsp of refined oil, ½ tsp of butter in a kadhai. Add in the chopped garlic. After a minute, add the chopped onion, tomatoes, ginger, and green chillies. Cover and sauté.
When the chopped tomatoes get tender add in the turmeric powder, cumin powder, coriander powder, garam masala, Kashmiri Mirch powder and mix well.
Add hing (Asofoetida).
Mix the masala well.
Add in the blended Palak.
Cook for 5 minutes. Add in the Paneer cubes.
Check the salt.
Cook for another few minutes.
Add the keora water if you want.
Give a perfect ending to the delicious Palak Paneer with a dollop of butter and some cream before serving it hot with Roti, Parota or Luchi in dinner.
If you have liked the recipe, share it with your friends and encourage them to cook some healthy vegetarian dinner for their family. Please share your views in the Comments section below.
For more interesting recipes, visit our Bengali Cuisine page.