–Diptanu Chakraborty
There was a dark graveyard in the jungle. It was so silent. No one visited there. Three children went hiking. There were two girls and one boy. They saw the graveyard. They could hear wolves howling at a distance. ''Ooooo."
Mary: "That's such a scary grayeyard."
Browdie: "I am so scared that I am shivering".
Bob: "I don't believe in ghosts! Let's discover the graveyard. This is going to be a mission."
They all went to the graveyard silently. They walked slowly.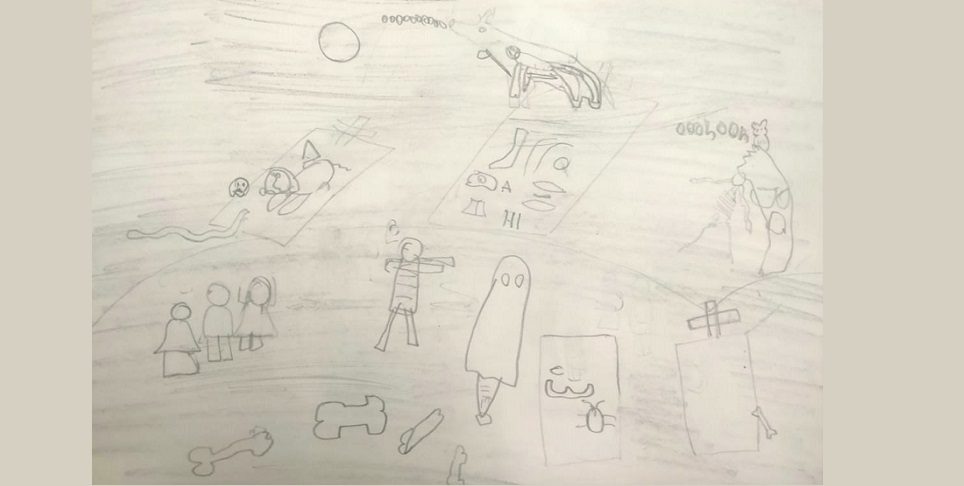 Mary: "Is this a ghost jungle?"
Browdie: "I am so scared that I am shivering".
Bob: "Come on! Lets go ahead."
Mary and Browdie both said, "Best of luck to you Bob! We are leaving, but you can go ahead."
Bob: "I am not going alone. We are all friends. Hold my hands! Together we will discover this graveyard."
Mary and Browdie – "Okay Bob. Three of us will go ahead."
They started exploring the graveyard.
Suddenly they saw a skeleton and got very scared. Mary screamed loudly. Her voice echoed through the entire graveyard. And suddenly behind them they saw a ghost moving.
Mary: "I was correct. This graveyard is a ghost Jungle. It's a haunted jungle."
Then they again heard the wolf howl and turned round and saw the wolf standing on a tombstone.
Also Read: The Dragon went to the toilet
Bob pulled his sleeve and went to fight with the wolf. Bob had got a firecracker that could scare the wolf. The wolf charged towards them.
Bob: "Don't fear when Bob is here!"
Bob threw the firecracker at the wolf. It bursted and the wolf went flying high up and fell down. The wolf was in pain and was crying in pain.
Mary: "Poor wolf! I will put bandages on you and you will heal."
Suddenly the wolf started talking. " Thank you soo much Mary !. But this is hurting so much. Let me open my costume and you can put medicines."
Mary looked inside the costume and shouted, " Bertie !! What are you doing here? You are the Wolf!!"
Bob: "Bertie! I thought it's a real wolf."
Browdie: "You gave us a shock. You made a fool of us. Serves you right, you tried to fool us"
Mary: "Enough of this. Bertie is in pain. We have to give him medicines."
Bertie: "Thank you, the medicines made me feel better. I made my own 'Graveyard Theme Park' and planned to have fun with you all. It was just for fun and not for attacking."
Browdie: "Sorry Bertie! We thought you are a wolf. Were the ghosts also false?"
Bertie: "Yesss!! They were all holograms and the wolf howling was from a speaker."
Bob: "So this haunted graveyard was a prank?"
Bertie: "Okay now let's start the party!"
About Diptanu Chakraborty
Diptanu Chakraborty, is only 10 now but if you go through his stories you cannot predict his age anyways! Currently studying at standard 5 at The Cambridge School this little storyteller started his journey when he was only 4.5 yrs and his mum was the sole listener to his 4 line stories. He is fascinated with dragons,dinosaurs, volcanoes, trains and interprets the world in his own creative way with vivid descriptions. Seeing the usual stuffs in an unusual way~ may be the most important virtue of any writer and Diptanu is blessed with it. He also tends to bring in elements he is scared of like lightning,cockroach,aeroplanes and deals with them in a fun manner in his stories. And, if you have ever known that High Functioning Autistic children have communication problem then his stories will make you rethink!
So, let's explore Diptanu's world of imagination!
Disclaimer: The opinions expressed in this post are the personal views of the author. They do not necessarily reflect the views of www.kolkatafusion.com. Any omissions or errors are the author's and KolkataFusion does not assume any liability or responsibility for them.