Christmas is always celebrated in Kolkata with splendour and joy. A drop in mercury with
a chilly breeze indicates that Christmas is in the air and it's time for some rock and roll with a platter of multi-cuisine delicacies followed by some rich fruit cake as dessert.
Park Street, Kolkata, with tons of famous restaurants, cafes, pubs, hawkers, becomes the central hub during Christmas. While one set of crowd gathers at Bow Barracks, the other rush to Park Street during Christmas time. And, undoubtedly, with Christmas bells lingering in the air and twinkling stars, both these places attract Christmas lovers from far and wide.
Read : Christmas Celebrations at Bow Barracks forever reminds of the traditional British celebrations in Kolkata
Christmas at Park Street
Christmas and Park Street are synonymous with each other. People from different communities, irrespective of their religion, come here to enjoy the Christmas carnival at Park Street. Our city of joy is all decked up with beautiful decorations during that time. And everyone in Park Street is dressed up in a party outfit wearing a Santa cap.
The street comes to life with glittering party lights, food stalls with lip-licking platters, fresh aroma of pastries and fruit cakes, Christmas songs, Christmas trees, rock music, gifts and presents.
Carols, Celebrations and Lighting
Every inch of Park Street, starting from Russell Street to the end of Allen Park, is illuminated with thematic lighting, hanging overhead baubles, mini Santas, mistletoes and stars for the Christmas carnival.
A beautiful Christmas tree magnificently decorated with baubles, snowflakes, lights and stars is set up in Allen Park. It's indeed a delightful sight to watch. In addition, Santa Claus distributes surprise presents to everyone to make their evening memorable. Besides, lots of fun activities are organized for the children. It's heaven for the selfie-lovers!   
Gastronomic Exuberance
The Christmas carnival at Park Street is meagrely ten years old. But the gastronomic exuberance is a significant part of the celebration. The exceptional food of the renowned restaurants attracts food lovers from far and wide.
A meal in Kolkata is incomplete without fish. So, whole roasted bhetki with lemon butter sauce is common for all the mecho- Bengalis. Besides, roasted peking duck, roasted lamb shank, and stuffed apple pork are specialties available during Christmas.
If you have experienced queues outside the heritage restaurants and pubs like Peter Cat, Mocambo, Bar-B-Q, Trincas, and have thought, Oh My God! Visit Park Street on Christmas eve to meet the most enthusiastic and lively crowd standing in queues. You'll get special Christmas buffets, including turkey and duck roasts, wine, fresh bread, fruit and plum cakes, at various places.
Christmas celebration at Park Street is incomplete without experiencing the flavour of mouth-watering dishes. The footpaths and lanes are full of food stalls serving multi-cuisine platters of all varieties to satisfy everybody's taste buds. So along with mouth-licking delicacies, you can also have a wide variety of homemade foods, baked items and yummy snacks.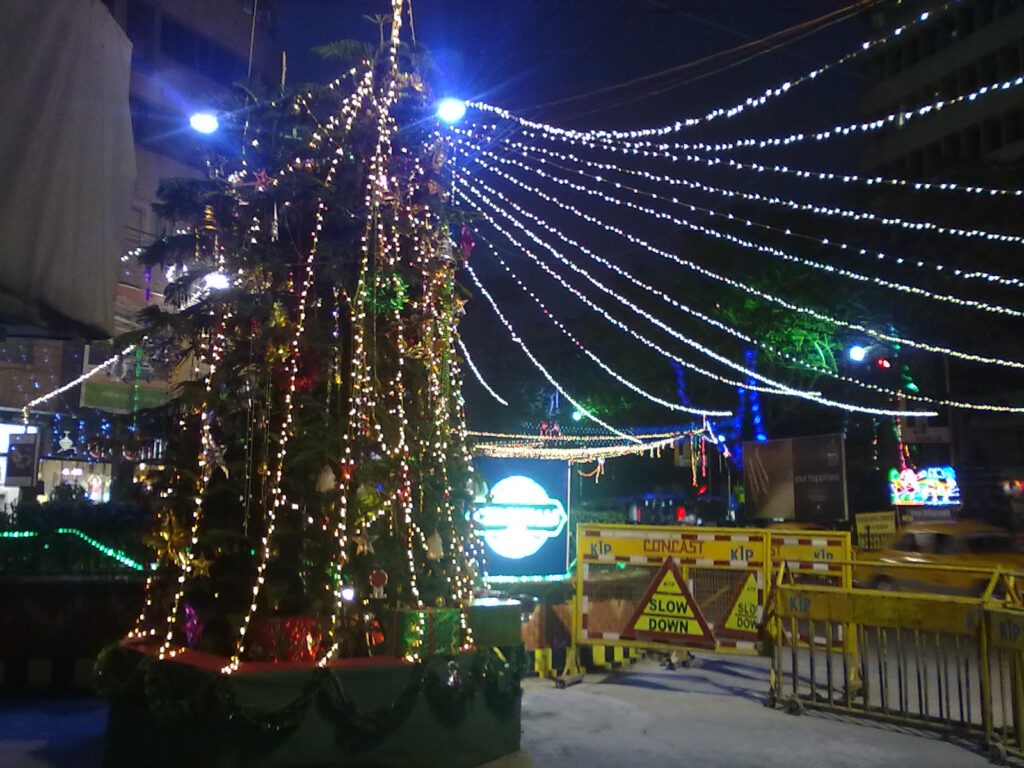 Streets Crowded By Hawkers
On the occasion of Christmas, the hawkers come up with totally different items selling Christmas goodies like glitter hats, Christmas caps, laser lights, party shades and other things at reasonable rates.
Kids eye for the ideal treetop, Santas, reindeers and stars to take home. And the bustling shopkeepers fight for the best deals.
Also Read: This Christmas let's take a tour around the heritage bakeries of my city Kolkata
Christmas Bakes and Cakes
Christmas celebration at Park Street seems incomplete without a taste of Flurys, the nostalgia in the city of Joy. The all-time favourite cake shop awaits with its bouquet of the authentic and unique collection of fruit cakes, plum and Dundee cakes; not to forget the Yule logs and pastries to satisfy everyone's sweet tooth. They also serve new dishes like Norwegian Salmon, surf n turf dishes!
St.Paul's Cathedral
St.Paul's Cathedral on Cathedral Road, the largest church in Kolkata and Asia's first Anglican cathedral, is beautifully decorated to celebrate the auspicious occasion. Adorned with a Christmas tree, wreaths, silver bells and streamers, trinkets and lights, it holds the midnight mass with Christmas carols and music by children.
Jingle All The Way
Christmas parties are a must at Christmas time. Several clubs and pubs are host grand parties throughout the night. Some of the most renowned performers hit the stage with their rocking performances for the listeners. Different youth bands and church groups charm the ambiance with their rocking performance. Everybody is ready to rock the dance floor and sway to the music.
2021 Christmas at Park Street
Kolkata is planning to celebrate this year's Christmas safely by maintaining Covid protocols. The festivity at Allen Park, was set outside last year and drew a colossal crowd. However, this year it'll be brought inside to ensure no mob. Several cops will be present at the entrance and exit points to manage the excessive public.
Only 300 seats will be provided inside the park to witness the Christmas program. In addition, the administration will not allow any food stalls at Park Street except for only three stalls inside the park.  
Christmas in Kolkata is unimaginable without Park Street. Although the celebration is just for one day, the festivities and decorations last until the new year.