The Bengali Agomoni Songs are a sub-genre of the Bengali devotional songs composed to observe the annual homecoming ritual of Goddess Durga in Bengal. Generally, the poets who had composed poems of Sakta Padabali (the genre of poems dedicated to Shakti, Goddess Durga and Kali respectively, first composed by Ramprasad Sen) had written the Agomoni Songs as well.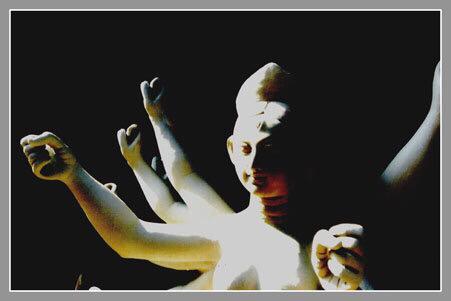 If we listen to the verses of the Agomoni Songs, we would see that all these songs have depicted a sad picture of Bengal's erstwhile society. They have represented the plight of Goddess Durga in Kailasa, the household of Lord Shiva. This representation has been found to be synonymous with the apprehension any mother feels for her daughter after she had left for her husband's home post marriage.
On listening to the Agomoni Songs, we would understand the position of Goddess Durga in the Bengalis' lives which is similar to that of a daughter in her own house. Thus, explaining the reason behind the euphoria and festal ambience in Bengal during the four days of Durga Puja.
Evolution of the Bengali Agomoni songs over the years:
In the past, mostly in the pre-renaissance Bengal, child marriage was prevalent. It was called 'Gouridaan.' These child brides were often married off to faraway places. Due to the lack of communication modes, the parents of those child brides did not get to see or hear from them for many days at a stretch. The sorrow of parting with their beloved daughters and lack of news of their well-being caused worry among the mothers. To ease the pain, they composed songs on Goddess Durga and her parents, Giriraj Himalaya and Menaka, imagining Menaka to be as worried as they were. The snippets of a few of the songs had been shared in this video below by Chandra Mukhopadhyay of Geedali, an initiative to keep alive the traditions of village songs of Bengal.
In the songs shared in the video, Menaka, mother of Uma, or Goddess Durga, is heard pleading Narad Muni to bring some news of her daughter and asking Durga's father to bring their daughter back home for a few days.
Though the Agomoni songs composed by village women have faded away from the common memory, the Agomoni songs composed by the Bengali Sakta poets are pretty popular still now. The songs had been composed keeping 'Vatsalya Rasa' (expression of parental love) as the main theme. The famous poets who have written memorable Agomoni songs were Ramprasad Sen, Kamalakanta Bhattacharya, and Dashrathi Roy. Later, poet Kazi Nazrul Islam, too, composed a few memorable Agomoni Songs.
The founder of Sakta Padabali, Ramprasad Sen had written down some heart wrenching Agomoni Songs, by listening to which we can feel the yearning in the heart of Menaka for her daughter –
"Giri, ebar amar Uma ele/ Ar Umay pathabo na
Bole bolbe loke mondo/ Ami karo katha shunbo na……."
Or, in this song:
"Jao jao Giri anite Gouri/Uma boro dukhe royeche
Ami dekhechi sopono Narod bochon/Uma Maa Maa bole knedeche
Bhangar bhikhari jamai tomar/Shonar bhromori Gouri amar
Amar Umar joto boson bhushon/Bhola tao beche bhang kheyeche"
where Menaka laments that Uma, her beloved daughter, is suffering because her husband, Lord Shiva, is only interested in being intoxicated by Bhaang. The above video is an extract from a 90s Bengali film 'Hirer Angti' directed by Rituparno Ghosh. Such is the relevance of the unforgettable words that the song has given a different meaning to this particular scene.
Much later, after the Bengal renaissance movement spearheaded by Rammohan Roy and Pandit Ishwar Chandra Vidyasagar, the Agomoni songs started donning a different avatar altogether. For example, when we hear 'Bajlo tomar alor benu, matlo re bhuban', the opening song of the iconic radio programme, 'Mahishasurmardini', or 'Jago Durga, Jago Dashapraharandharini', we feel the deep reverence towards the Mother Goddess evoking utmost devotion and love to the all-powerful Shakti, the power of a mother, a woman.
In Kazi Najrul Islam's famous Agomoni song, 'Jago Jogmaya, jago mrinmoyee, chinmoyee rupe jaago, tobo konishtha konya dhoroni, knaade ar daake Maa go', we can find the representation of the Mother Earth as the youngest daughter of Maa Durga and how she wishes to feel the healing love of her mother in her heart.
He had also wished Maa Durga to stay always in all the Bengali households irrespective of caste, colour and religion in this unforgettable Agomoni song,
'Ebar Nabin Mantre Hobe, Janani tor udbodhon
Nitya hoye roibi ghore, hobe na tor bisorjon
Sokol jatir purush narir praan
Sei hobe tor puja-bedi
Maa tor pithosthaan"
expressing that Durga does not only belong to Bengali Hindus but to the Bengalis belonging to all religions alike, to all the God-believers as well as the non-believers.
Classification of the Agomoni Songs:
Basically, the Puratani Agomoni songs are divided into 4 parts, – Agomoni, Saptami, Nabami and Dashami or Bijoya.
In the Agomoni category, the mother of Goddess Durga, Menaka is seen lamenting about her daughter and persuading Giriraj Himalaya to bring back her daughter to their home.
In the Saptami songs, Menaka is seen happy to meet her daughter after a year. She showers all the motherly affections on her Uma in every possible way.
We can see that in this song written by poet Kamalakanta Bhattacharya:
"Aay Ma Uma chumi tomar chaandbodon
Giyechile aandhar kore e girir bhubon…"
(Come, my beloved daughter, Uma, let me shower my affections on you. How could you go away from me, leaving me in darkness?)
or "Uma amar kamon chhile horer ghore" (How was your health in Kailasa? Were you fine?)
Again, in the Nabami and Bijoya songs, a deep sorrow in Menaka's heart awakens and she doesn't want to part with her daughter anymore.
An old household song from Belungraam says,
"Gouri gelo Kailashe sombotsor asbena/ Bijoya Dasami tithi tumi goto hoyo na
Kandche rani dhulai pore praane banche na/ Saptami Astami tithi tumi goto hoyo na
In this immortal song written by poet Chandidas Maal, one can feel the true melancholic essence of a Nabami Night:
"Nabami nishi tumi ar jeno pohayo na
Dukhini maayer praane aar byatha dio na…."
Hear this song in the given link to experience Menaka's pain of parting with her beloved daughter:
In this song, Menaka earnestly requests that the Nabami night should not come to an end because her daughter will leave for Lord Shiva's abode the next day.
'Nabami Nishi' resonates with the feelings of all the Bengalis alike. We don't want the Nabami to end because, after that, we would wait for another year to welcome back Maa Durga. Though the song was written hundreds of years ago, the pain, the pining, the profound evergreen love for the dearest daughter sustains and will continue to sustain its relevance till the end of the human civilization.
Bibliographical References:
Sangeet Kosh by Karunamoy Goswami
Loksangeet Bibhakar by Subodh Gangopadhyay
Acknowledgments:
Niladri Roy, Head, Department of Performing Arts, Presidency University
Late Mr. Ajoy Chatterjee, GM (Engineering)
Chandra Mukhopadhyay, Geedali initiative