We have an innate aversion towards restaurants in malls – that doesn't mean we completely turn our backs to them. But we only visit a restaurant in shopping complexes, when they are new, like Traffic Gastropub in CC2, that also was back in 2014.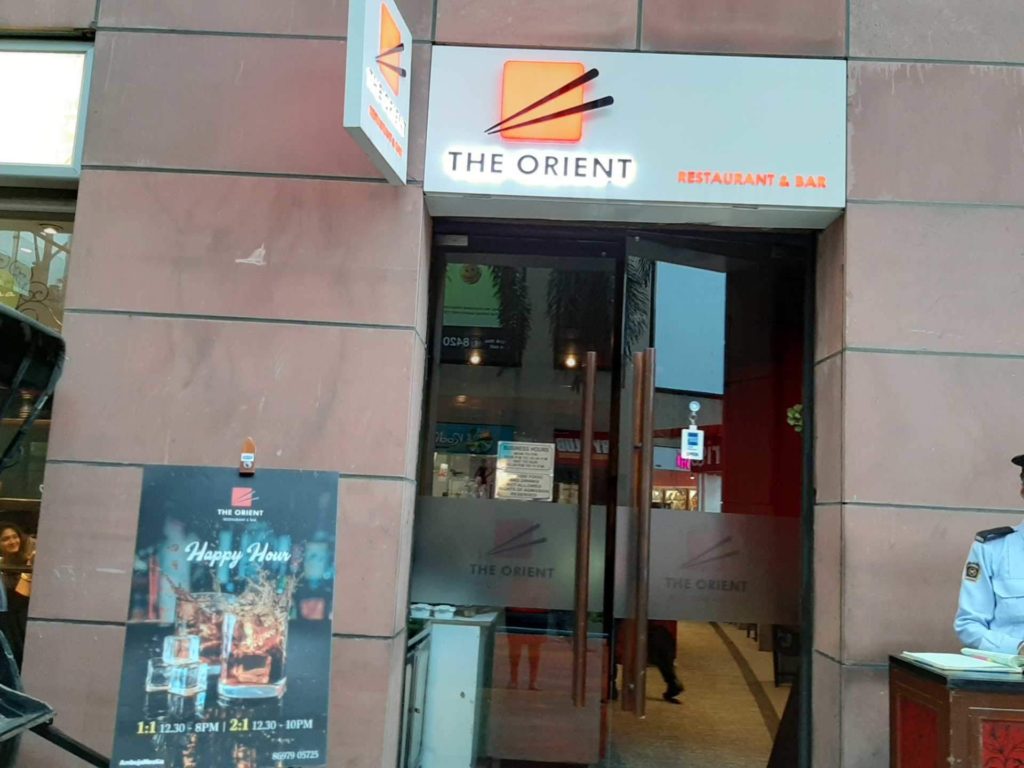 Thus, in spite of visiting City Centre 2 in multiple occasions, we never tried the food at The Orient Restaurant on the ground floor. I think, it might also be due to the poor experiences we had at Blue Nile and Aafra in CC2.
On A Date?
It was one of those mundane days in our lives, the kid had left for school, hubby was preparing for office and I was trying to sort things before hitting my workstation, when suddenly I had this realization – we haven't been on a date for ages!
Thoughts and wishes are not meant to be supressed, so boom! I barged in to my husband's room and demanded, "When was the last time we took each other on a date?" The poor man was taken aback. However, we continued with some typical overacted husband-wife drama and finally he suggested that we can go to The Orient. The restaurant was still untouched by us, and it was also close by so we could return before the kid was home – everything was just perfect barring the fact that we were SUPER APPREHENSIVE about the FOOD.
The Ambience
The entrance of the restaurant might not allure you much, but from the moment you enter it, you feel the vibes of an authentic Oriental restaurant. It's a small place which the owner has arranged very strategically. Thought not enclosed within cabins, each table has privacy. The ambiance looks vibrant in the red and black combination with Chinese characters on the walls.
The Food
The food served here has a unique taste, and though the ambience conforms more to Chinese tastes, it serves authentic Oriental food with a tinge of the Chef's personal style. And the best part is they are open to suggestions and you can customize the food to a great extent to suit your taste buds. Each dish is cooked with utmost care and has optimum use of spices.
Coming to the dishes that we would recommend:
Philippino pork ribs adobe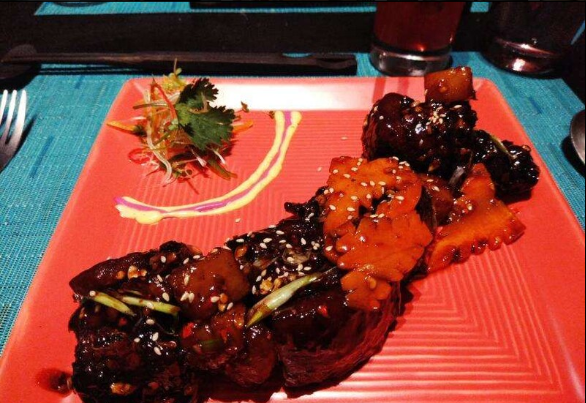 Consists of 90% pork fat and is a delicacy for pork's fat lovers. Each bite melts in your mouth leaving a lingering felling of richness. Not suitable for health geeks!
Ginger and Pepper Fried Rice
Since we were in a mood to try out spicy food, this food perfectly suited us. The burnt smell is perfect for people who are ready to try something beyond the typical fried rice.
Lobster in Garlic Pepper Sauce and Red Wine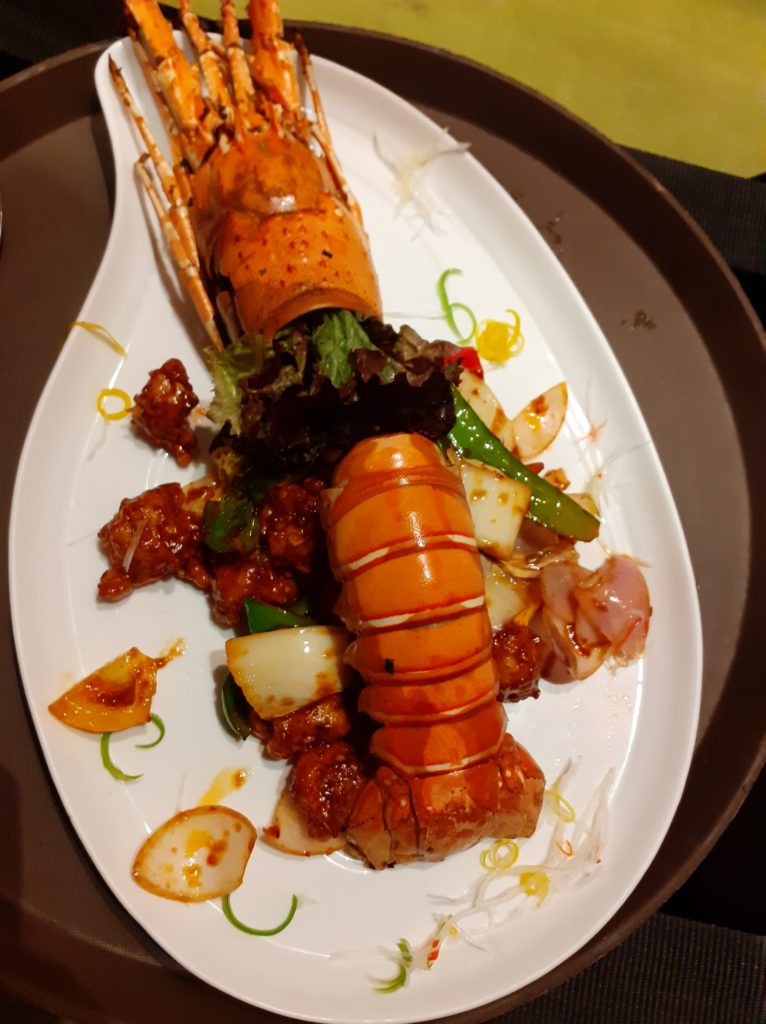 The juicy lobster is served in the most mouth-watering manner, and is cooked with apt amount of spices. If it was not for the cost, I would love to visit this place again and again for this particular dish.
The showstopper – Ice Cream
It's a flower with chocolate petals which blooms slowly as the hot chocolate is poured over it and slowly reveals the white ice cream bud at the center. We were so mesmerized by the presentation that for a while the taste took a back seat – just like when Aishwarya used to be on the screen, we used to be so zapped by her looks that we could hardly bother about her acting (Disclaimer: that was her in the starting days!). Having said that, it's a perfect dessert for people with a sweet tooth.
Buffet
Timing: 12:30 pm to 4 pm
With unlimited soft drinks – INR 799
4 pegs of hard liquor or 2 pints of beer- INR 999
The Service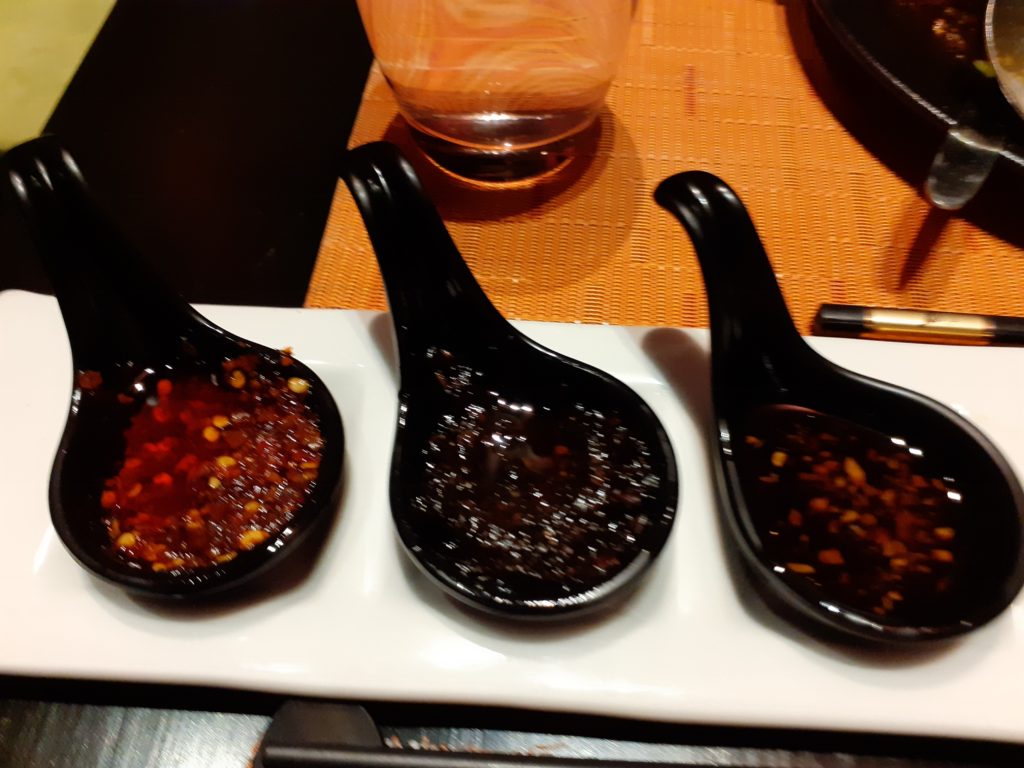 The staff is courteous and while they respect your privacy, they also make sure to attend you promptly. We visited on a weekday, so it was nearly empty when we entered and we received a very warm service. One of the best aspects of their service was that they gave a patient hearing to our requirements and once they understood it, they suggested us dishes which perfectly satisfied our taste buds.
Would you like to try a Bengali and Continental Fusion Platter to stimulate your taste buds? Read our review on Bohemian Restaurant to guide you better.