"Saanjher belay jomunar jol ante bole ke?
Naa jani kon kaalar sathey mon mojeche….
Saanjher belay jomunar jol…….." (An excerpt from the Radha Krishnar Poter Gaan)
The age-old myths and their manifestations do exist in this era of rationality and technical gluttony. Some months ago, I got a chance to walk on the soil where the painters of a forgotten genre are still fighting for their due recognition. They are the humble Patachitrakars (scroll painters) of Naya, Midnapur, who paints the very myths and folklores which are narrated in the Hindu scriptures alongside a few oral versions that were passed down by the clan of storytellers known as 'Kathaks' in ancient India.
The Patachitrakars, known in local language as 'Potuas' used to bring alive the various mythological stories and folklores with the help of locally sourced natural dyes in the past but nowadays they choose factory made colours. Their bold fingers incessantly go on creating finer details on the canvas of their choice – a simple clothbound "sheets of paper sewn together and sometimes stuck on canvas. Their widths can go from 4 to 14 inches and their length; often 3 feet can exceed 15 feet" just for the sake of the love of art. Their goal at the end of the day is to earn a handful so that they can buy food to fill their stomachs and a bottle of local liquor to forget the atrocities their lives have thrown them into apparently.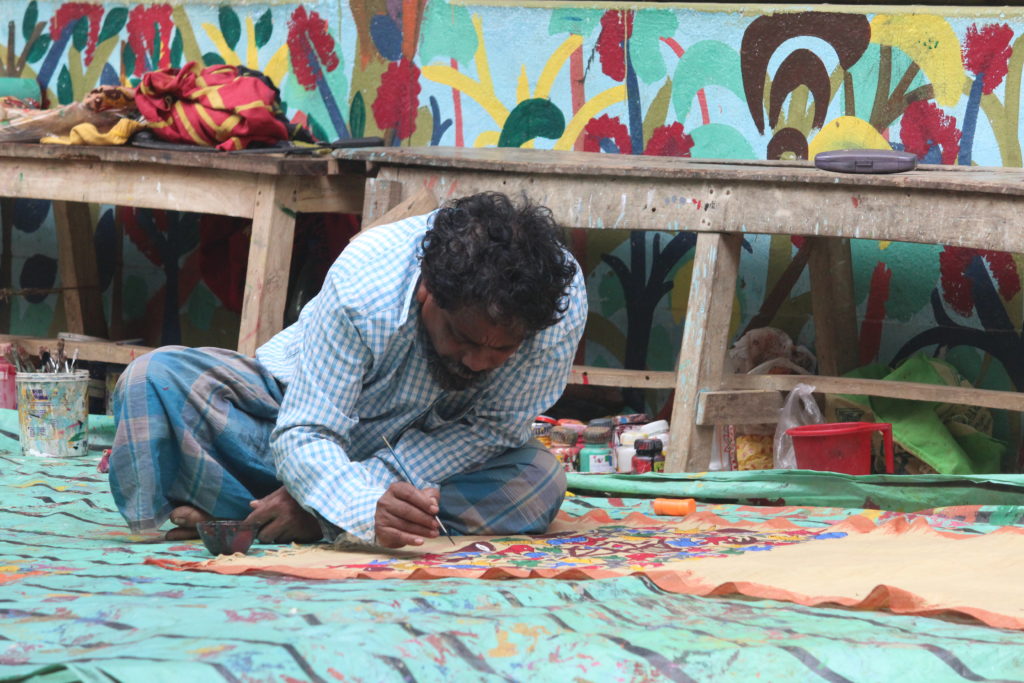 Their village, Naya, nested in the corner of West Medinipur district of West Bengal, India can fill you with awe on your first visit. People do sketch and paint in their childhood, draw two triangular mountain peaks and a semi-circular rising sun or maybe a rose with a long stem and leaves, but revering an art form and practicing the form like religion takes a lot of honest dedications. I wouldn't have known about this form of veneration if I didn't visit there. The majority being Muslim by faith, have decided to shun the social compartmentalization by taking up stories of the Hindu mythology and paint them accurately. The stories of Ramayana, Mahabharata, Mangalkavyas, the Hindu Gods and Goddesses as well as Hitopodeshas, Panchantantras are colourfully represented in the long scrolls by the diligent hands of the painters. They have also dropped their ancestral surnames and picked up the surname of 'Chitrakar' meaning painter in Bengali, their mother tongue.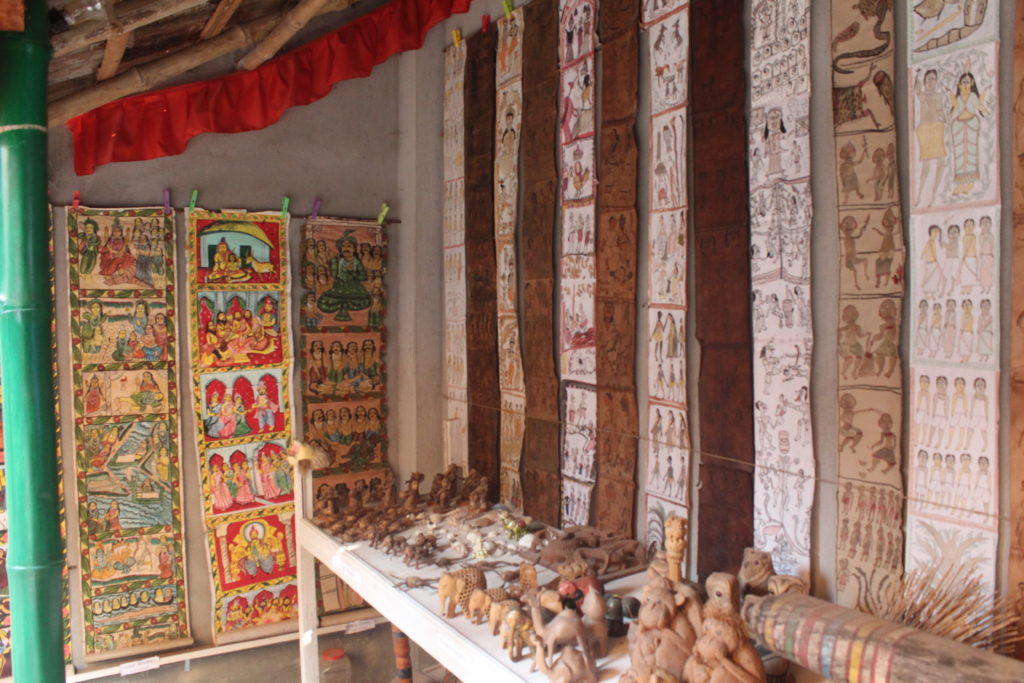 As Shyamal Chitrakar reminisces, in the past, his ancestors used to roam around villages singing and showing the scrolls simultaneously, being the only audio-visual medium of entertainment of the old era. The Radha-Krishna Leela was the most popularly displayed scroll then. But, nowadays, with the invasions of televisions, radios, web media, this oldest form of entertainment have suffered a setback although the government is trying to revive it by asking them to paint scrolls and compose songs on socially relevant issues like child marriage, women education, saving girl child, awareness for AIDS, environment, gender equality and the likes. They are also being called for displaying these scrolls along the respective songs but the reach still remains a big challenge.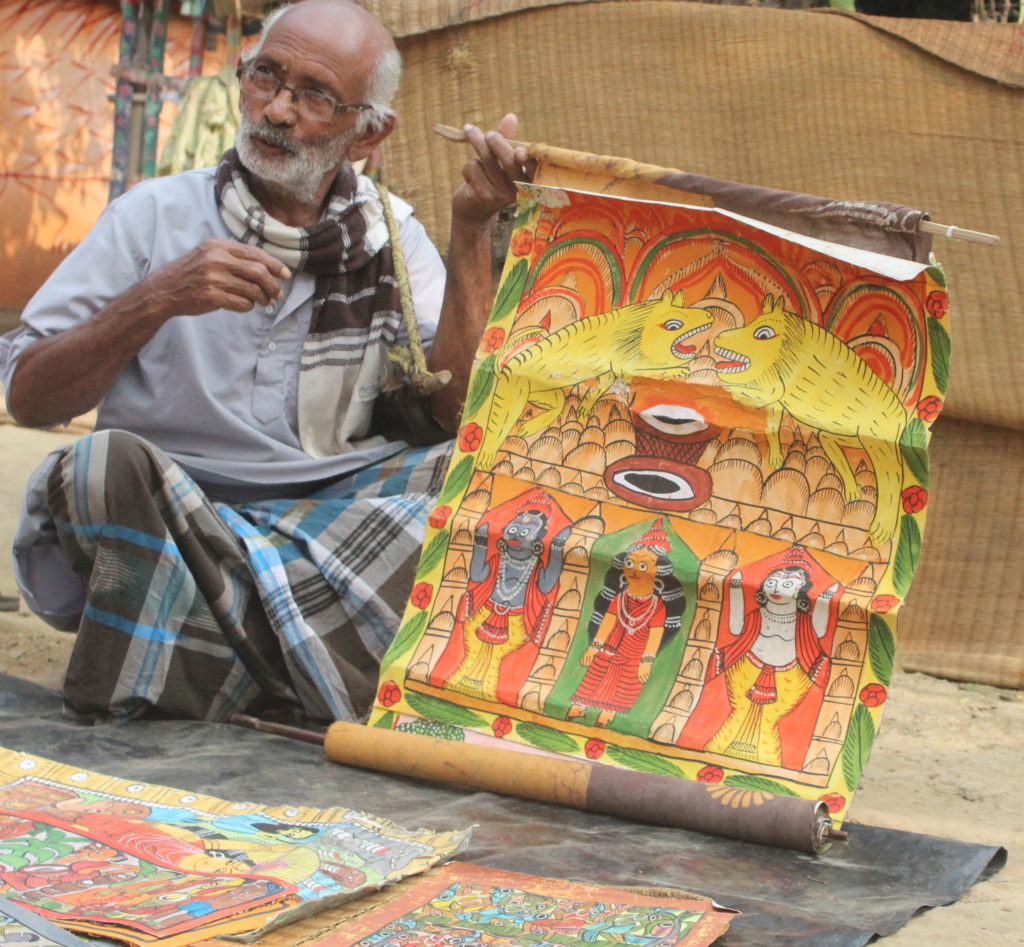 They start their day by decorating the walls of their humble mud houses. Upon enquiring, they would put the brightest of their smiles and say that when there are left-over colours, we use them to paint on the walls. While strolling through the kuccha lanes and observing their exhibits if you look above the azure sky, green trees, red gravelly soil and the colourful paintings strewn around, it would seem that they are smiling in unison to celebrate the victory of inciting a peaceful riot of colours.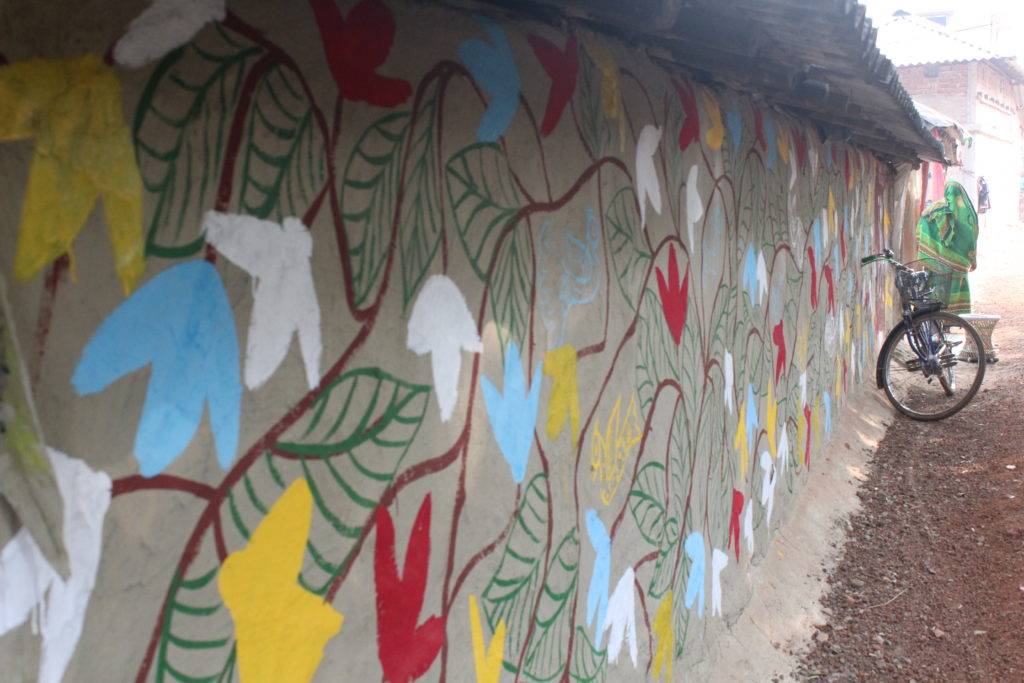 They have also started to diversify their painting skill by painting on sarees, stolls, kurtis as well as illustrations in books. These recent diversification aims on reaching diversified patrons. But how far this attempt is successful, only time will see.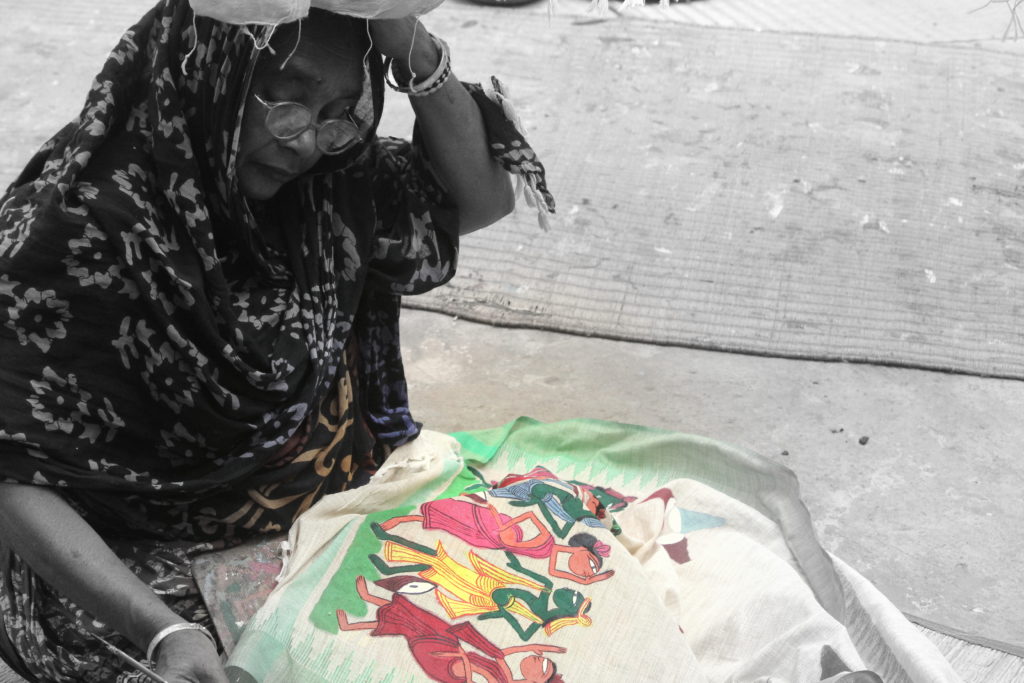 My last stop was Bahadur Chitrakar's house. It is no less than an established, famed art museum. Bahadur himself had painstakingly collected the souvenirs on display in his house by bartering away his own scroll paintings (known as Patachitra in Bengali) to those painters.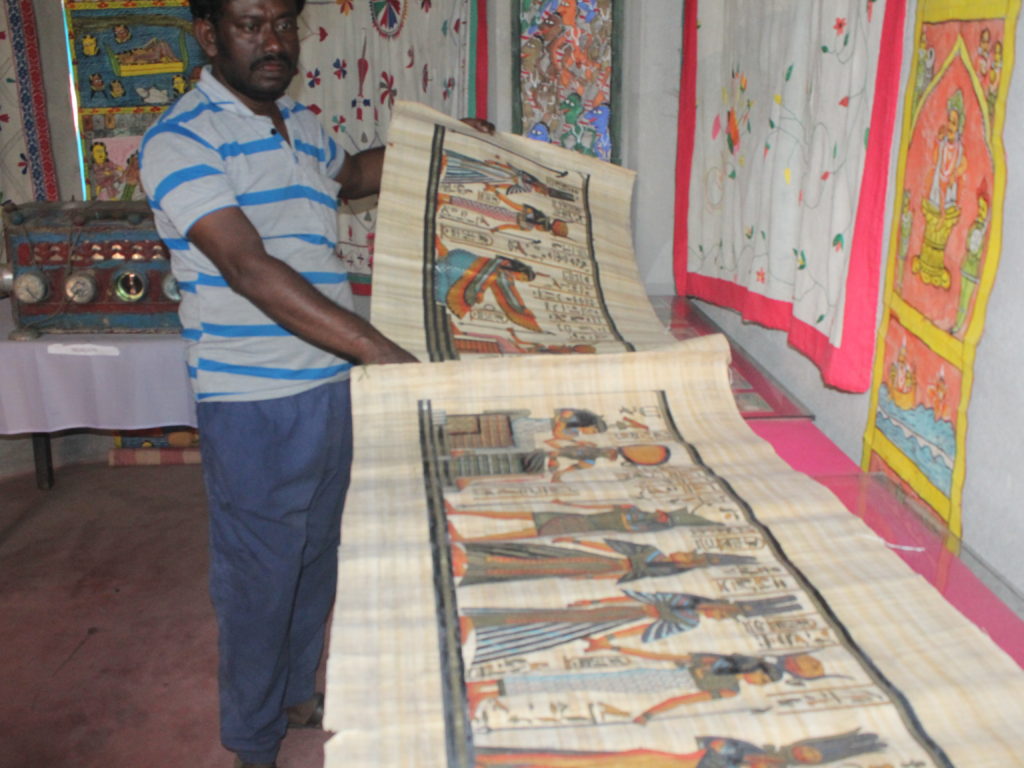 His semi-permanent house proudly displayed the papyrus paintings, Egyptian artefacts, palm leaf scrolls known as "tala pattachitra" from the neighbouring painters of Odisha, mirror works from Rajasthan and many more such jewels which are on the verge of getting lost in the sands of time.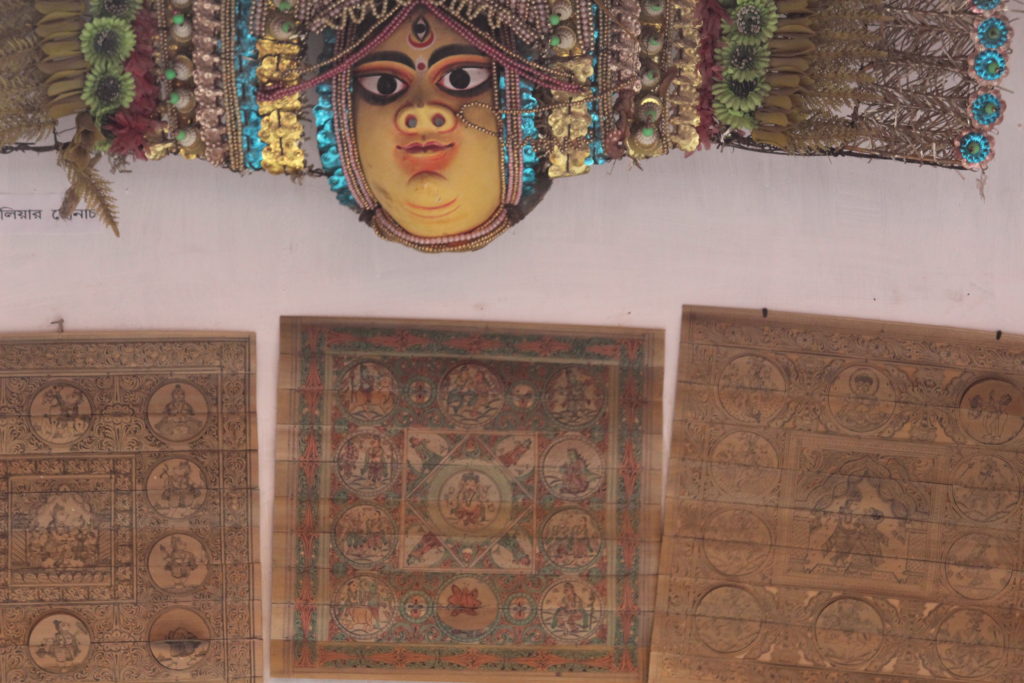 The Government wants to buy his collections, repair his house and make a museum near the village to display those collections. This offer has put Bahadur in a fix and indecisive. Now, when I think about that day, I can still feel his agony of parting with his treasured collection.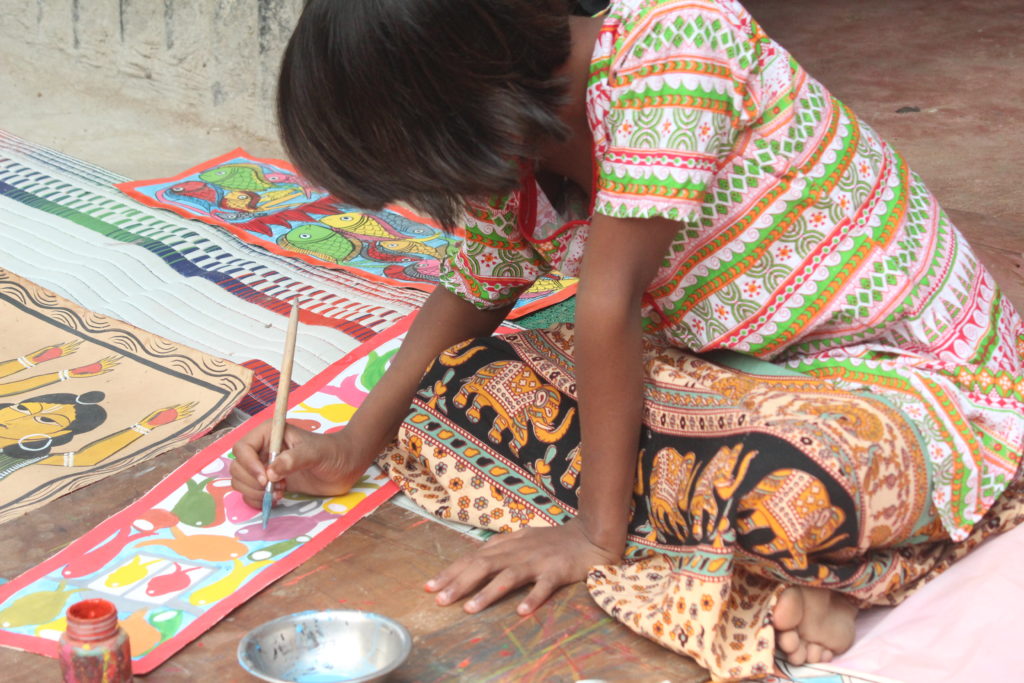 However, a silver lining is slowly emerging in Naya. The younger generation of the Potuas are embracing this form of art. People are visiting this village, admiring and patronizing the Patachitras. The organization banglanatok.com have been instrumental in unleashing a hope among the potua community of Naya – the hope of salvaging a cultural heritage of Bengal.