Nadia is famous for Lord Sri Chaitanya Mahaprabhu and his teachings that led to the Bhakti Movement in Bengal. A few unique sweets of Nadia are Sarpuria, Sarbhaja, Laal Doi and Pantua. In ancient times, Nadia was populated by milkmen in large numbers. Probably, that has been one of the reasons behind the origins of delicious sweets in Nadia.
In one of his biographies, 'Chaitanya Charitamrita' written by Krishnadas Kaviraj more than 500 years ago, there are mentions of sweets of Nadia like 'Sarpuria' and 'Sarbhaja'. A legend says that Lord Chaitanya Mahaprabhu loved to eat these sweets. Both the 'Sarpuria' and 'Sarbhaja' is made from the layered cream of boiled and reduced milk, called 'Sar' in Bengali.
'Laal Doi', the sweet yoghurt dish also from Nadia is equally popular with the 'Sarpuria' and 'Sarbhaja' among the sweet lovers of Bengal.
The Chaitanya Charitamrita also mentions another delicious sweet called 'Pantua' whose place of origin is still not known clearly. Ranaghat, in Nadia, is famous for the quality of Pantua found across its sweet shops.
Sarpuria
Sarpuria was invented by Late Surukumar Das of Krishnanagar, Nadia. He had no permanent shop and used to sell his sweets door to door. The sweet is made by mixing Kheer (Khoya), Chhana (Cottage Cheese) and Sar (thick top layer of reduced and boiled milk). The proportion of Sar is more than the other two ingredients. After mixing these three ingredients well, dry fruits are added. Later, after the sweet is set, square pieces are cut and served.
You can feel the bits of Sar melting seamlessly in your mouth while savouring them. There's no wonder why Surukumar Das used to make Sarpuria late at night behind closed doors. He feared that his recipe will be stolen.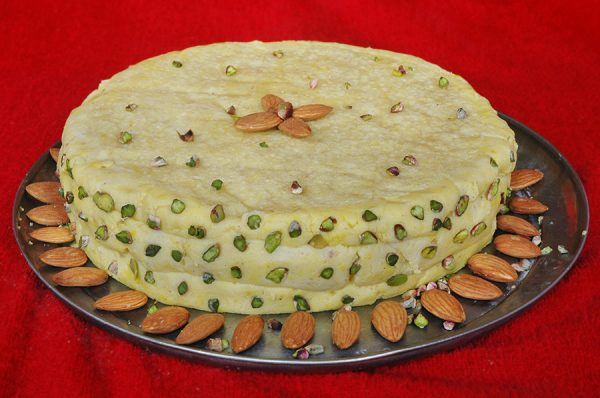 Sarbhaja
Sarbhaja was also invented by Late Surukumar Das. This was the other sweet which he made along with Sarpuria behind closed doors. Unlike Sarpuria, Sarbhaja contains layers of Sar, cut in uniform square pieces and shallow fried. The shallow fry renders a slight burnt appearance on the outer layers of the Sarbhaja.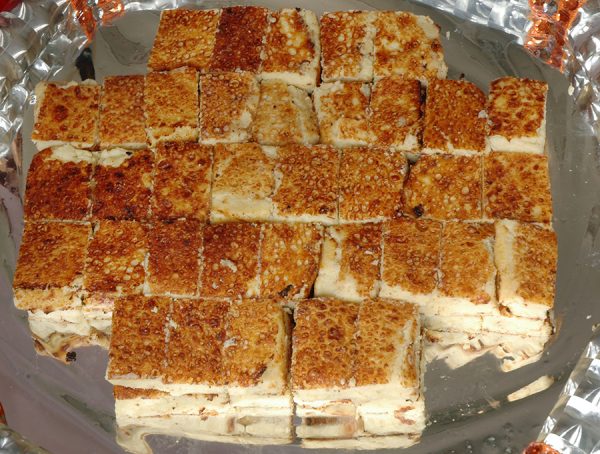 While both are equally popular, Sarbhaja is liked by most because of the marvellous fried taste of the layered cream.
Where to taste Sarpuria and Sarbhaja
Adhar Chandra Das & Sons.
Nediarpara, Krishnanagar,
District – Nadia
Kolkata outlet:
Gate No.5
Eco Park, Rajarhat
Kolkata
Or,
visit them at https://www.adharsweets.in/ for placing online orders. This is the very shop established by the Adhar Chandra Das, the son of Surukumar Das, the inventor of Sarpuria and Sarbhaja.
Nabadwiper Laal Doi
The art of making curd is as old as the Vedic era in India. It had been a principal food item that has proven healing properties for gastro intestinal problems. However, in Bengal, the typical white curd gets a makeover with a richer reddish hue and density. The hue comes from the reduced sweetened milk. In case of Nabadwip's Laal Doi, the milk is boiled and simultaneously reduced for hours to get the original red hue.
It is a cousin of the more popular 'Mishti Doi'. But Laal Doi is much denser than any typical Mishti Doi you will get across different sweet shops of Bengal.
Laal Doi is also known as Chakku Doi (the Laal Doi needs to pass the knife test where a knife is inserted to test its density, hence the name). It was invented by Kali Ghosh, a sweetmaker who lived in Phasitala.
Where to taste the Laal Doi
Laxmi Narayan Mishtanna Bhandar
Alochhaya More, Radhabazar
Nabadwip, District – Nadia
Pantua of Ranaghat
If you look closely at a Pantua, it will appear very similar to Gulab Jamun. However the basic difference between a Gulab Jamun and a Pantua is in the ingredients. A Gulab Jamun has Khoya while a Pantua has Chhena or Cottage Cheese in it.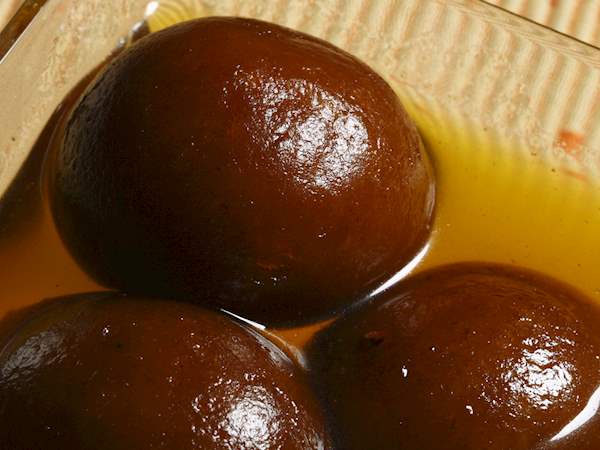 The Sanskrit Texts and the Chaitanya Charitamrita have mentioned a sweet called 'Panitoba' or a sweet immersed in light sugar syrup. With time, the name Panitoba got changed to Pantua. To make a perfect Pantua, rice flour and chhena are mixed well with ghee, milk and deep fried.
The deep fried reddish balls are then dipped in light sugar syrup hours before serving. Nowadays, semolina or suji is also used in place of rice flour while making the Pantua balls. As the ghee remains condensed on the surface of the balls when you take a bite, the taste is nothing short of the manna dew from the heaven.
Where to taste Pantua
Jagu Moyra Shop
Beside Ranaghat Railway Station
Landmark: DN Mitra Studio
The speciality of the Pantuas of the Jagu Moyra's shop is that they are a bit cylindrical in shape. The cylindrical shape might get mistaken with that of a Lyangcha but the Pantua is smaller than Lyangcha.
In our next part, we will move to Kolkata to explore about yet another famous dessert of Bengal. Till then, have a sweet appetite!
Recommended Read: Sweetmeats from Barddhaman District of West Bengal