The Bengali sweets are not all about Sandesh made from cottage cheese or Chhena. There are many varieties of sweets in the drier districts of Bengal which are not made from cottage cheese. In this article, we'll be discussing about the Bengali sweets that are not made from Chhena. As the regions of Bankura and Purulia are an extension of the Chotanagpur plateau, the weather here is very hot and dry. So the mishtis in these areas are prepared in such a manner, that it can be stored for few days without getting spoiled. These sweets are made from Bengal gram flour (Besan), Ghee, Kheer (reduced and condensed milk not the rice pudding as termed in Hindi), butter and generous amounts of Sugar.
The Bengali Sweets of Bankura District
MECHA SANDESH
Mecha Sandesh has always been a trademark and pride of Beliatore, Bankura, the birthplace of the great artist Sri Jamini Roy.
As the legend goes, the Rajas of Bishnupur known as Malla Kings, used to rule this area. There was scarcity of milk in this part of Bengal. But due to the high demand for sweets from the Malla kings and the local people, Mecha Sandesh was first prepared in Beliatore between 1625 – 1635 without using any milk and chhena.
At first, the grams or chola (Bengali for chana) are dried and powdered. This besan is fried into Gathiya and the Gathiya is again powdered. Kheer (Bengali for reduced and condensed milk) and sugar are mixed with this powder and cooked to form lumps. These lumps are further well mixed with ghee and cardamom into small round balls and again dipped in sugar syrup and ultimately dried in Sal leaves to give it it's signature scent and flavour.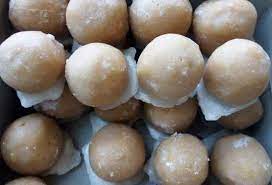 One of our contributor's home being at Beliatore, she still remembers when she used to visit there and how crazy she was about Mecha Sandesh and couldn't resist to have a bite of this mouth watering masterpiece. Although, there are many sweet shops at Beliatore, but the best among them is undoubtedly Mecha Mahal. If anyone avails the state highway from Durgapur to Bankura, then they can have a chance to taste this delicacy at Mecha Mahal, Beliatore.
Recently, the local people are demanding a patent and GI Tag of one of the iconic Bengali Sweets, Mecha Sandesh from the government.
Best Place to sample an iconic Bengali sweet – Mecha Sandesh:
https://www.google.com/maps/place/Mecha+Mahal/@23.3184891,87.215957,17z/data=!3m1!4b1!4m5!3m4!1s0x39f7a029c5e49297:0x34e0dcca00233ff9!8m2!3d23.318475!4d87.2181448
HATI KHAJA
The Hati Khaja or gigantic Khaja is also a popular sweet dish found at some parts of Bankura. It is a type of khaja similar to the one found in Puri, but the size is a bit bigger. It is made with wheat flour, sugar and fried in ghee or oil. The flour and sugar are used to make several layered dough and fried in either oil or ghee. Believed to have originated from the states of Uttar Pradesh and Bihar, khaja has become a popular sweet dish in Orissa and West Bengal. The sweet might have travelled with the Kanauj Brahmins who started settling in different parts of Bengal in the past. Good quality Hati Khaja can be found at Kalika Mishtanna Bhandar, Ranigunj More, Bankura.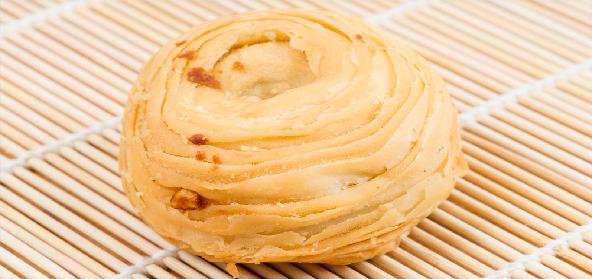 Mihidana and Pera of Bishnupur, Bankura is also famous. But 'Motichur' or 'Mitichur Laddu', a masterpiece of Bishnupur is now an extinct product due to the non availability of peal seeds which was the main ingredient of this mishti. Laha Sweets is one of the best sweet shop found at Bishnupur providing quality sweets.
Best Places to sample the Bengali sweets – Hati Khaja and Motichur Laddu:
https://www.google.com/maps/place/Kalika+Mistanna+Bhandar/@23.2332536,87.0695221,17z/data=!3m1!4b1!4m5!3m4!1s0x39f7a58d7795f2a1:0x324301a6e0acff1d!8m2!3d23.2332588!4d87.0717077
https://www.google.com/maps/place/Laha+Sweets/@23.0624096,87.301023,17z/data=!3m1!4b1!4m5!3m4!1s0x39f793f824b0690b:0x20e00c89eabdb4c1!8m2!3d23.0624047!4d87.3032117
The Bengali Sweets of Purulia Districts
KASTAR LADDU / KASTAR MITHAI
Kastar Laddu or Kastar Mithai is a highly localized sweet of Kashipur area of Purulia district. This laddu, introduced by Jyotiprasad Singh Deo, king of Panchakot kingdom, used to be one of the traditional sweets of the Manbhum and the Panchakot Royal family. The king used to distribute this laddu among people on the occassion of Bijaya.
The main ingredients of this unique laddu is chena, kheer, flour of bengal gram, cashew, raisin, cardamom, cinnamom, nutmeg and mace. Small balls are made out of this mixture and fried in ghee. Then, they are dipped into sugar syrup and laddus are made from it. Sadly, this unique Bengali sweet is losing its prominence quite rapidly. It is found only around Kashipur and adjoining areas. You can search for the local sweet shops at Kashipur More for this sweet because at present it is prepared by only two or three shops.
NIKUTI
In Purulia, one must not miss to taste the delicious Nikuti. Although Nikuti is an origin of Shantipur, Nadia district, but it is also a specialty of Purulia as well as popularly eaten all over the district. Nikuti is a similar dish like Gulab Jamun or Pantua, but the size is much smaller. It is made with cottage cheese, flour, ghee, cardamom and sugar syrup. Small oval-shaped dumplings are made out of the dough which is deep-fried before soaking in a simple syrup.
Best place to taste Nikuti in Purulia:
Adi Dilip Sweets is a renowned sweet shop at Kashipur More.
https://www.google.com/maps/place/Adi+Dilip+Sweets/@23.4361124,86.6690376,17.52z/data=!4m5!3m4!1s0x39f6f7ce8d21118f:0x5235ba8d2bc6493f!8m2!3d23.4364732!4d86.6701589
With increasing availability and storability of cottage cheese in these parts of Bengal and huge popularity of sweets like Rashogolla and Sandesh, only time can say whether these iconic non chhena Bengali Sweets can stand the test of time.