To us Bengalis, childhood is never complete without the healthy doses of Tuntunir Golpo, Abol Tabol's verses and the Gupi Gyne Bagha Byne trilogy. And all these evergreen creations are from the same family – the illustrious Ray (Chowdhury) family of 100 A Gorpar Road! Upendrakishore Ray Chowdhury created the unforgettable, cute, naughty bird Tuntuni. Through Abol Tabol, his son Sukumar Ray built improbable scenarios, which adults enjoy as much as kids. And the cult filmmaker Satyajit Ray, his grandson, took us on a different trip with Gupi Gyne Bagha Byne film trilogy. The Gupi Gyne Bagha Byne film was based on the eponymous story written by Upendrakishore Ray Chowdhury.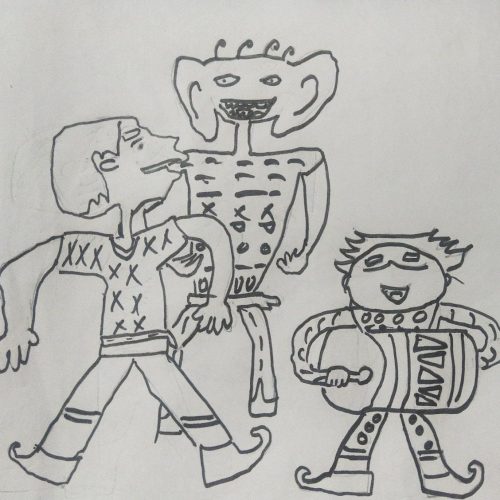 The Ray Family
Each member of the Ray Chowdhury (they deleted Chowdhury from their surname later on) family contributed in some way or the other to the world of the Bengali children. Most of them were born writers, namely Leela Majumdar, daughter of Upendrakishore's younger brother, Sukhalata Rao and Punyalata Chakraborty, both the daughters of Upendrakishore Ray Chowdhury. While reading the memoirs written by Leela Majumdar, Punyalata Chakraborty and Satyajit Ray, we can gather that Upendrakishore passively encouraged his offsprings to write for children. He led the way by practicing – by writing for the Bengali kids himself.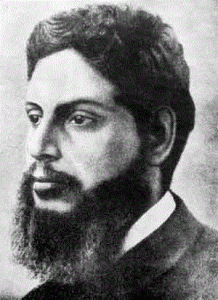 Bengali Literature
During the later half of the 19th Century when the Bengali Renaissance period was underway, Upendrakishore realized the void in the Bengali children's literature. Apart from the Bengali primer, Barnaparichay by Vidyasagar, the then Bengali children had no age-appropriate storybooks to read in their pastimes. As a result, the hobby of reading was neglected. 
He took up the cause and started writing epics like Ramayana and Mahabharata in simple Bengali, which the children could easily understand. However, after a print of his 'Chheleder Ramayana' was released, he was not happy with the printed copy. He felt that the illustrations could have been made far more detailed and attractive. Thus, he started learning about line blocks in printing by bringing books and equipment from Britain.
After a lot of research, Upendrakishore introduced modern blockmaking. He used colour blocks and halftone blocks to add more clarity to the printed copies, becoming a pioneer in this technology all over South Asia. Later, he set up a printing press in his own house on Gorpar Road, Kolkata. Thereafter, from the printing press, gems of juvenile literature started getting published along with other books.
Tuntunir Golpo
Read more about Children's books
Upendrakishore pioneered in collecting the famous folklores of Bengal and compiling them in his own language in a book called 'Tuntunir Boi.' Until then, these stories remained oral heritage, passed down from one generation to another and told by grandmothers and mothers to their children during bedtime.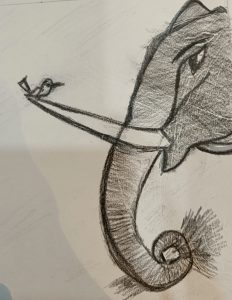 If we read the stories, we will come to know how prudently presented they were. The stories stressed the power of wisdom over the power of muscle. With a humble symbol like a small sunbird or Tuntuni as the protagonist of the Tuntuni's stories, he showed how anyone with wisdom can win over any odds life brings to him/her. 
Invariably, his numerous 'Bagher Golpo' anthology's tiger characters were naïve ones that other witty animals and humans could fool. Which, again, symbolized the power of brains over brawns.
During the early years when mythology and epics were limited to fat books meant for adults, Upendrakishore single-handedly popularized the stories of Ramayana, Mahabharata, and other mythological characters among the children. He used simple sentences to narrate the stories. All of his stories had moral lessons. He chose to strengthen the conscience of the children through his engaging stories.
Not only epics and folklores, but Upendrakishore Roy Chowdhury also wrote about geological and scientific topics for children. In those short essays, the scientific terms and concepts were lucidly explained so that the kids with a scientific bent of mind can relate and be inspired for their future scientific pursuits.
Birth of Sandesh magazine
His literary contribution was not limited to publishing books. He founded a one-of-its-kind children's magazine – 'Sandesh,' probably the first-ever children's magazine in Bengali. Many eminent writers of that time, including his children, wrote stories and articles for children in the successive issues of 'Sandesh.' Unfortunately, he could not live to see the success of 'Sandesh' magazine. After his death, his worthy son, Sukumar Ray, his niece, Leela Majumdar, and his grandson, Satyajit Ray, took Sandesh to new heights and popularity.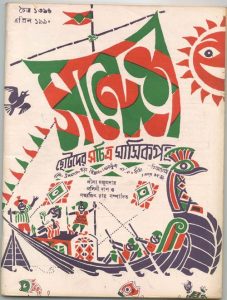 Upendrakishore Ray Chowdhury was one of the eminent contributors to the Bengali Renaissance. He had interest in different forms of art and music. Along with stories, he also wrote two books on music. With his halftone block printing technology and use of the same while printing the books for the children, he had set a supreme standard of the Bengali juvenile literature which inspired many creative pursuits in our times and still continues to drift away our imaginations to a magical make-believe world.