An Abode of Peace
Approximately 163 kms from Kolkata lies this small town, Shantiniketan – an ideal place to revive and rejuvenate your soul. The land of bauls, the land of art and culture, the dream place of Rabindra Nath Tagore, Shantiniketan, is now also a great weekend destination and attracts tourists from all over the world.
History
In 1863, when Maharshi Debendranath Tagore founded the Brahmo Samaj, he had a guest house on this land of red soil named as Shantiniketan. The story goes such that while on a boat ride from Raipur, this learned man chanced upon a small village called Bhubhandanga, named after Bhubhan Dakat, a local dacoit, and he fell in love with it. He decided to buy a piece of land there and built a meditation center, which later became the initiator of Brahmo Samaj.
Viswa- Bharati – communion of the world with India
Later on, in 1901, his son, Rabindra Nath Tagore, converted his father's ashram in to a school, in the lines of the Asian Gurukul system. And with this he laid the foundation stone of our renowned institute Visva- Bharati – as Tagore had said, a place "Where The World Makes A Home In A Nest." A school which started with a handful of students is now an internationally accredited university that offers wide range of courses starting from regular graduation courses to specializations in different genres.
But, Shantiniketan hosts lot more than the university! The wealth of information housed within the Rabindra Bhavan is a treasure trove to dive in and can entice any living soul. It remains closed on Wednesdays. And the complex also has an art gallery that treasures many of Tagore's work. To take a tour of Tagore's houses – Punascha, Shyamali, Konarka, Udichi and Udayana, visit the Uttrayan Complex – a Tagore lover is sure to die for it.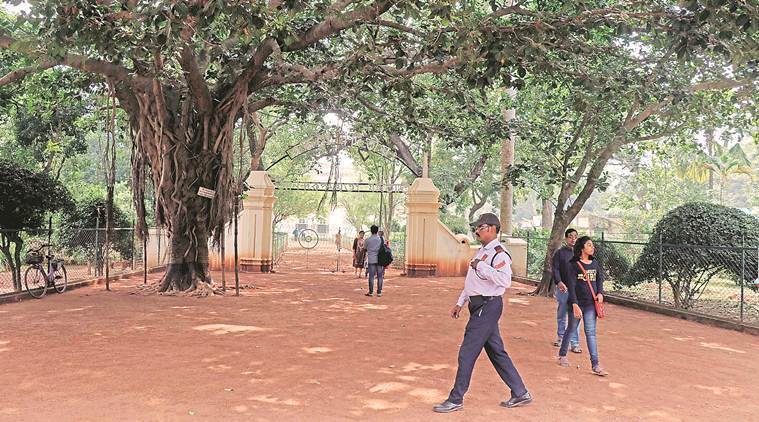 Let's now move out of the University and look at another game changer – Amar Kutir.
Amar Kutir – my cottage
Yes! That Amar Kutir which supports the locals now andshowcases various handicrafts and has a stock of over 1300 regional handicraft products; that Amar Kutir which is a must-go place for a shopaholic, and that Amar Kutir where you can see artisans giving shape to the raw products, had played a significant role in our Independence. Set up by Late Susen Mukherjee, Amar Kutir, meaning my cottage, was a place where Indian independence activists took refuge. It is a half an hour's drive from the university and you will easily get local transports to this place.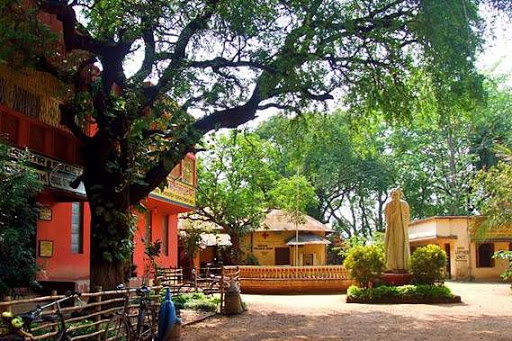 Susen Mukherjee, the follower of Ramakrishna Vedanta Culture, had found that his purpose in life was "to free yourself from the bondage of foreign rule". He had been allied with many spearhead leaders of the freedom movement, and has been greatly motivated by their visions. He wanted to build a remote, human inhabitant free haven for the fugitives, preferably in the midst of woods to dupe cudgels and piercing eyes of the alert British Police. It was to help the youths involved in freedom movements earn their livings for themselves and their families. They could work on sari printing, handloom and leather craft production. Mr. Mukherjee was a hitherto wanderer, and through his rigorous travelling, he met different people, learnt new techniques of waxing, cracking and printing.
It is said that this place has once been home to notable Moni Ganguly and Pannalal Dasgupta, whom Mr. Mukherjee had met in prison. His dream vision was on halt from 1932 to 1937 – during his imprisonment. However, on returning they started with a new zeal and with the help of notable freedom fighters, they also imparted knowledge on Marxism.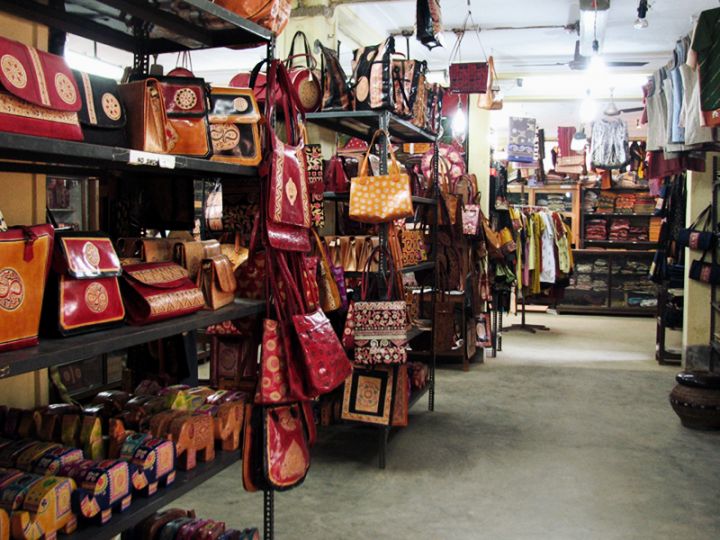 Two brothers, Kamalaksha Bose and Alok Bose, are the heirs of the nearly 100 acre land and are running the organisation with utmost love and dedication making it the only place in India to specialise in creating leather Batik objects, the motifs on them inspired by the Bengal school of Art and Ajanta cave paintings.
How to reach Shantiniketan
Shantiniketan, a neighborhood city of Bolpur is in the Birbhum district. Though you can go by road, the most convenient transport is train.
Train – Find the list of trains available – Indian Rail. It takes around 2-3 hours to reach by train.
Road – You can go by your own vehicle, the route is pretty simple with a comfortable drive via NH2 till Burdwan. From here, once you take the NH2B, the roads are a bit congested, but only until you leave the Burdwan town (50 m approximately). Some 15 kms from the main road, the smell of Bengal's villages is sure to hit your nose. With lush green paddy fields, palm trees, and small ponds every here and there, it's usually a relaxing drive till Shantiniketan. The road crosses a few villages, and thus at times making the drive cumbersome. It takes around 4 to 5 hours to reach by personal vehicle.
Another weekend within a few hours distance from Kolkata is on the banks of Rupnarayan River
Best time for a weekend trip to Shantiniketan
The best times to to visit is July to February.
However, you can also visit during the different festivals
Vasanta Utsav – Rabindra Nath Tagore named Dol as Vasanta Utsav to welcome the onset of Spring, is celebrated in the month of March. This national festival of India, is known as Holi in most of the parts of our country. But dol in Shantiniketan has a different charm. There was time when all the colors used to be handmade from the flowers – it used to be what we term as organic today! A number of dance performances and cultural programs are staged by the students during this time of the year.
Rabindra Jayanti – another time when you can witness the rich culture of the town is the birthday of Kobiguru Rabindranth Tagore (in May)– to commemorate him, students perform cultural programs like poetry, dance and drama, written and composed by him.
Poush Mela – One of the biggest attractions of Shantiniketan is the Poush mela which pays a homage to the day when Devendranath Tagore With Twenty Followers Accepted The Brahmo Creed From Ram Chandra Vidyabagish On 21 December 1843 (7 Poush 1250 According To The Bengali Calendar). Though the fair is officially for three days, it starts from December end and lasts till end of January. Besides finding rich work of art, you can also enjoy live baul performances.
Sources: SiliconIndia, Wikiwand, Amar Kutir brochure
For an escape to the hills, know about Darjeeling.
Coming up… Where To Stay and What To Do