And Narkel Naru Rcipe
Dusshera and Navratri happen at the same time as Durga Puja – it commences on the day of Mahalaya and ends with Vijaya Dasami. While many say that Vijaya Dasami denotes the victory of Goddess Durga over Mahishasur, our ancestors believe that Bijoya Dasami is the day when they send their beloved daughter, Bijoya (aka Ma Durga), and their grandchildren back to their son-in-law, Shiva's abode in Kailash. For Bengalis, Durga Puja is more about homecoming; even today, this is the only time in the year when many of us return home from our work-location and spend the five days among our relatives and friends in enjoyment. And, obviously, no occasion is complete without sumptuous Bengali sweets and delicacies!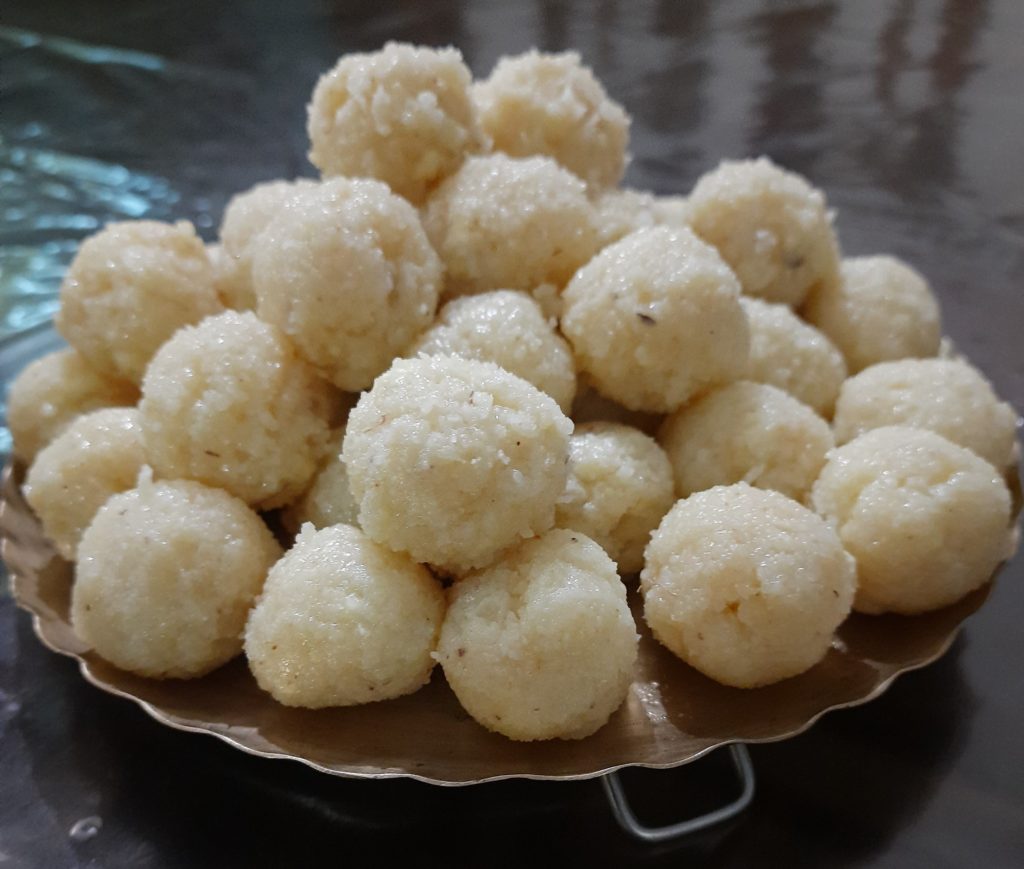 Goodbye, my daughter!
While we bid Ma Durga farewell with a heavy heart, Bengali households start gearing up for their next celebration – Bijoya, which continues till Kali Puja. For we, Bengalis, Durga Puja is not just a celebration, but it's an emotion that is closely connected with the daughter coming home with her kids. And we have an innate belief that we shouldn't say goodbye with a heavy heart. So, what can be better than treating our beloved daughter with sweets before she departs?
Good always wins
Another emotion behind celebrating Bijoya Dasami with traditional Bengali sweets is celebrating the peace and harmony that Ma Durga leaves behind while she takes off on her journey. By killing Mahisasur, Ma Durga symbolizes the win of good over evil. Here, Asur manifests the evil thoughts prevailing in human minds, whereas Durga symbolizes Good. After winning over Asur, the evil, she blesses us with purity and virtue. We celebrate this peace and harmony by visiting relatives, preparing sweets and savouries at our homes to treat everyone who visits us on this occasion.
End of holidays
During the earlier days, life wasn't the way it's now – enjoyment was restricted to specific occasions, having mutton was confined to sacrifices to Gods. So, Durga Puja was the occasion in the year when the daughter used to go home and relax, and the kids got the scope to spend their vacation, amidst fun and frolic. At the same time, Bijoya is the call for going back to the daily grind. It's a celebration and merriment time, and as it ends, our hearts are filled with sorrow. But, neither the parents nor the daughter can bid goodbye to each other with teary eyes, so to make this departure joyous, we savour sweets and other goodies.
Thanks to the abundance of coconut trees and sesame fields, Bengali households, during the earlier days, often prepared sweets comprised of these two. And today, it's a tradition to prepare these sweets, particularly during Bijoya Dasami. With coconut, we prepare Narkeler Naru and with sesame seeds, we prepare Tiler Naru. As a spicy accompaniment, many of the families also cook ghugni and nimki.
After the bhasan (immersion of Durga idol), we visit our relatives and neighbours houses to greet our peers and take blessings from our elders. The ritual continues until Kali Puja. "Subho Bijoya" is in the air along with all the homemade Bengali sweets!
Let's see how to prepare Narkel Naru.
Narkel Naru Recipe
It's easy to prepare our traditional Bengali sweet, Narkel Naru – all we need, is patience.
Ingredients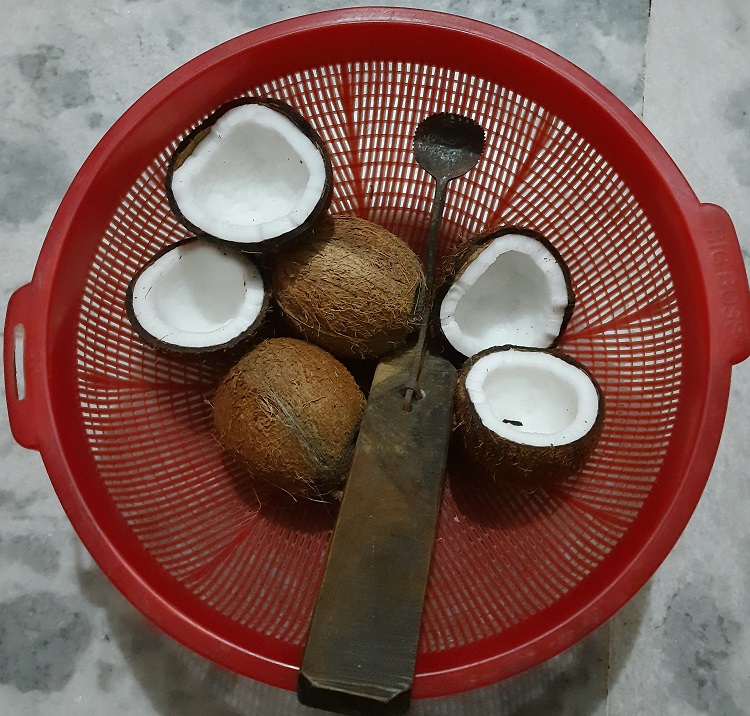 Coconut – 2 medium sizes (You can also use the frozen coconut)
Sugar – 250gms. Adjust it according to your taste
Amulspray Milk powder – 200gms (You can also use Milkmaid instead of Amulspray)
Cardamom – 10 small
Milk – 200 ml
Ghee – 2 teaspoon
How to Prepare Narkel Naru
Break the coconuts in halves carefully and keep aside the coconut water separately in a bowl.
Grate the coconut finely using a coconut grating machine.
Put a deep bottom pan on the oven.
Once the pan is hot, pour the coconut into it.
Maintaining a medium flame, keep stirring the coconut for 5 minutes.
Pour the coconut water, milk and cover the mixture.
Let it cook for 5 minutes.
Uncover and using a deep bottomed spatula, stir the mixture thoroughly, applying mild pressure. The pressure helps in mixing the granules and the Narus taste better.
Add the sugar and mix it properly. Once the sugar melts, the colour of the coconut starts changing – it reddens up mildly.
Add the Amulspray milk powder and mix it.
Keep stirring in low flame.
Add the ghee and the ground cardamoms.
You will know the mixture is ready when it just starts to stick to the pan.
Switch off the gas before the mixture gets the brownish tinge. The coconut mixture for Narkel Naru is ready.
Please make sure that the mixture doesn't become cool or you will not be able to make the balls. For making the balls, take some water or a little bit of ghee in a bowl. Applying it on your palm while making the balls protects them from the heat. Take a little bit of the coconut mixture and roll it between your palms to form the round shapes.
Coconut Barfi
As an alternative, instead of making Narus, we can also prepare barfis. Apply little ghee on a flat plate, pour the coconut mixture. Flatten it and cut into shapes you want.
The authentic Naru was prepared without Milkmaid or Amulspray milk powder. I remember my granny sitting near the oven, condensing the milk for hours and that Naru had a heavenly taste.
The recipe we shared is comparatively quicker and easier to prepare with ingredients readily available. And it's from Neha's mother's kitchen. She is an innovative and awesome cook who can prepare delicious dishes with limited resources.
If you use any other method, share your recipe with us. We'll be happy to try it out.
Subho Bijoya!!