It's not just about ghontos, chhechkis or chochhoris, Parna's perfectly weaved article will take you on a ride to your memory lanes. Those distinct smells that wafted from our mothers' and grandmothers' kitchens, those aversion towards food until the dearth was felt..and so much more….

Come Indian summer and the winter beauties like carrots, cabbages, cauliflowers and beans go into annual hibernation. Instead, the Bengalis aka the proven gourmets, indulge in finding joy in perfectly cooked thore chhechkis (stir-fried banana stem), mochar ghontos (banana flower curry), dnata chocchoris (drumstick curry), potoler dolma (stuffed ridge gourd) and aam daal/toker daal (lentils prepared with raw mangoes). These regular preparations with commonly available vegetables comprise the Bengali Staple Dishes.
As a kid…
I had a hate-and-bearable feeling for all these preparations mentioned above. I watched Maa cleaning and chopping these vegetables, stirring them in the kadhai with her deft hands while the rice simmered in the handi placed upon another stove top burner. A warm, magical aroma hovered in the kitchen as the cooking went on. As a naïve child, I tried to differentiate the aroma – this one's coming from the boiling rice, that one's coming from that obnoxious dumoor er dalna (fig curry), the other one might be from the frying onions and so on.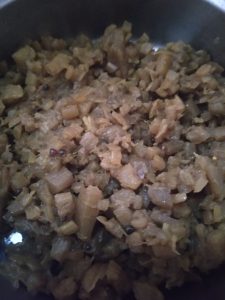 Now, I know that aroma was only of the love that cooked the food. But, no matter how the aroma was, whenever Ma served the dnata chocchoris, I wanted to abandon my plate and run to the backyard. The sole cause was that I hated chewing the drumsticks or pumpkin stems. My parents grew most of these vegetables, specially dumoor, sojne dnata, kumro shaak (pumpkin plant), lau shaak (gourd plant), in the small kitchen garden adjacent to our quarters. The pumpkin or gourd creepers never yielded fruits except for ample leaves and stems for Ma to use in her cooking.
Dida and her magic with the Bengali Staple Dishes
Dida, my maternal grandmother, was an excellent cook. I never got a chance to taste her fish or meat preparations because she turned vegetarian after Boro Dadu, my grandfather, died. I was then just a 5-year-old kid. Her shuktos and kalmi shaaks and paat shaker jhols were simply out of this world. I remember staying with Dida for a few weeks after my ICSE Exams and immersing in those delectable Bengali vegetarian dishes for that entire span.
During that stay, I helped myself with a humble breakfast of Dudh-Muri-Kola or Chire-Doi daily before climbing upstairs to the rooftop room to read the yellow paged storybooks till Dida called me for lunch. As I would re-shuffle the bookshelf to pick up exciting titles, the whiffs of Radhuni seeds (Wild celery seeds) would entertain my olfactory senses. Dida used Radhuni spices to temper Daals and Shuktos that she cooked often. The boiling rice smelt different from that of our house. Maybe, the underground water collected from the garden tubewell did all the magic. Or perhaps it was because of the cook's love potion difference.
However, as I recollect, I realize that my Dida and Ma were true minimalist cooks. They cooked their versions of Bengali Staple Dishes with a few ingredients, optimum oil and optimum water – nothing more, nothing less. I guess it's the same with all our previous generation mothers, aunts and grandmothers. They knew how to create delicious meals with significantly fewer ingredients.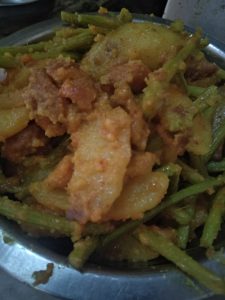 Things changed during Adulting 1.0
As I grew and went out of Bengal, I started loving the same vegetables I did not love before. I was pretty disgusted with the varieties of cereals and pulses we could buy there. The scarcity of 'Bengali' vegetables irked me every time. Even if I caught sights of Mocha (banana flowers), or Thore (banana stems), I didn't know how to clean, chop and cook them back then. The memories of the afternoons when we would help ourselves with the mochar ghonto (banana flower curry with lentil fritters) or dumurer dalna or thore chhechkis (stir fried banana stems tempered with mustard seeds) kept coming back in my mind. I longed to go back home. Therefore, I used to look forward to our weekly/fortnightly Kolkata visits when my mother-in-love (mother-in-law), would prepare the traditional food in ample quantities for us to devour. She packed ready-to-eat dhoka bhajas or chhanar koftas whenever we returned to that god-forsaken Jharkhand town.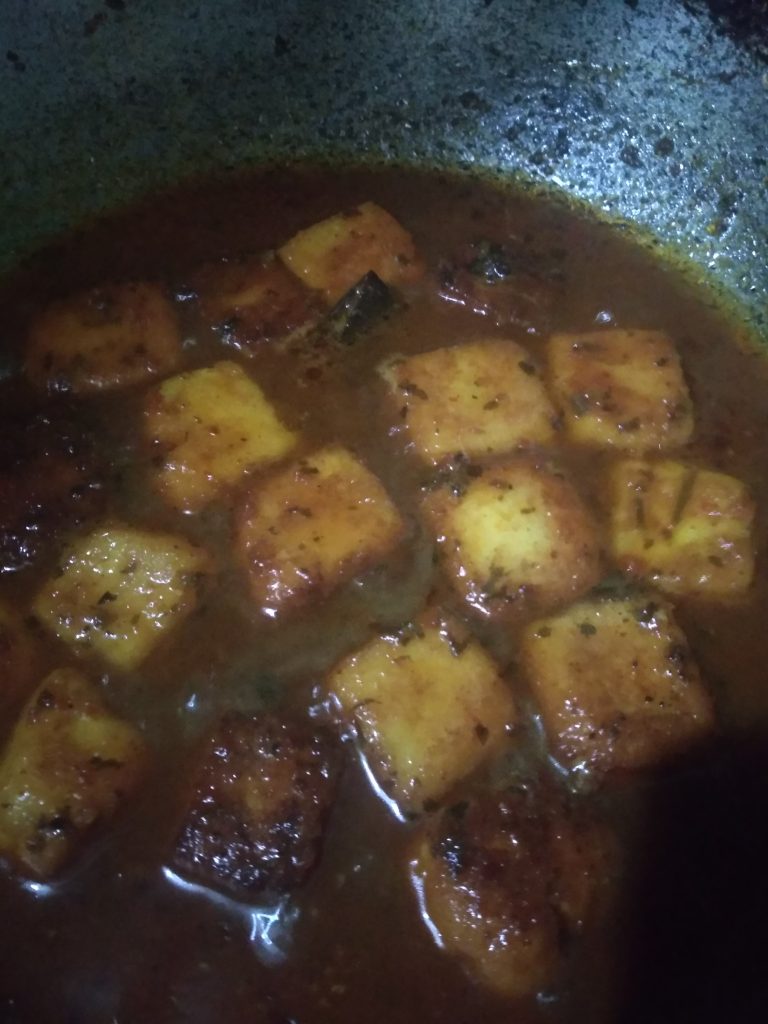 My mornings used to start calling either of my two mothers on the instant recipes they would share as saviours. At the same time, our sole ray of hope of eating good food rested on the occasional paranthas, chilli chickens and weekly pulaos that Avik cooked. I don't even want to think what would have happened if Avik didn't know how to cook.
Then COVID came – Adulting 2.0 and foraying into the world of cooking Bengali staple dishes
Suggested Read: Our journey towards new normal after covid-19 pandemic.

During the first wave of the covid-19 pandemic, life somewhat compelled me to learn the ropes of traditional Bengali cooking from my mother-in-love. She made me realize that cooking is a basic life skill and we must know to cook at least a few simple dishes to survive hunger pangs. Yet, I wasn't truly interested until she fell ill once. However, we were also not interested in investing in a cook because no cook could replicate the taste of her cooked dishes. Like, how to perfectly instruct an outsider to cook a basic dish like Alu Morich with no temperings except a dash of ghee and 'as-you-feel-like' pepper powder sprinkled just before serving?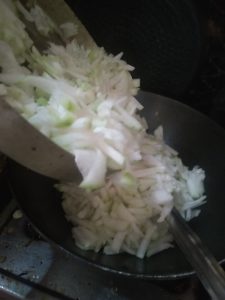 Thus, I took the stride. Every day, I would sit by her side and take diligent instructions on cooking, what to cook and the basic tricks. Over a year, as she recuperated, I kept improving myself on the cooking front and practicing minimalism – less oil, less water, less cooking gas. Gradually, I developed a love for cooking. I tried my hand with the traditional shil nora (grinding stones) when the mixer became defunct in the middle of cooking lunch. By then I learnt that preparing non-veg dishes are one of the easiest jobs in this planet! It's that perfectly-flavoured and balanced shukto or knacha mooger daal that tests your mastery of cooking! I feel amazed nowadays with my ability to retain the memories of the flavours of the food my mother cooked. Perhaps, that's what we call – 'mukhe lege thaka.'
And now…
I am fortunate to cook with my mother-in-love nowadays and to watch her closely while she uses simple cooking tricks. And the one spice that she, too, uses profusely in her meals – is love. It's indeed a magical experience to sprinkle generous doses of love in your food while cooking and it cannot be taught until you start using it yourselves.